"But above all , in order to be , never try to seem."- Albert Camus.
It is literally getting hotter by the day in Bangalore . By the hour in fact. So this post comes just in time. Before the strawberries go out of season and when something straight out of the freezer is just what the doctor ordered. Actually , I doubt any doctor ever advises to have something straight out of the freezer , but a little over exaggeration is a food blogger's right!
So if you are wondering what a frozen strawberry souffle is , you are probably not alone. I first heard of it just a few days ago – and I read, eat , love , breathe , dream desserts. So this is basically a cheat name for a cheat dessert. Neither is it made like a souffle nor does it taste like one. But ofcourse it looks like one !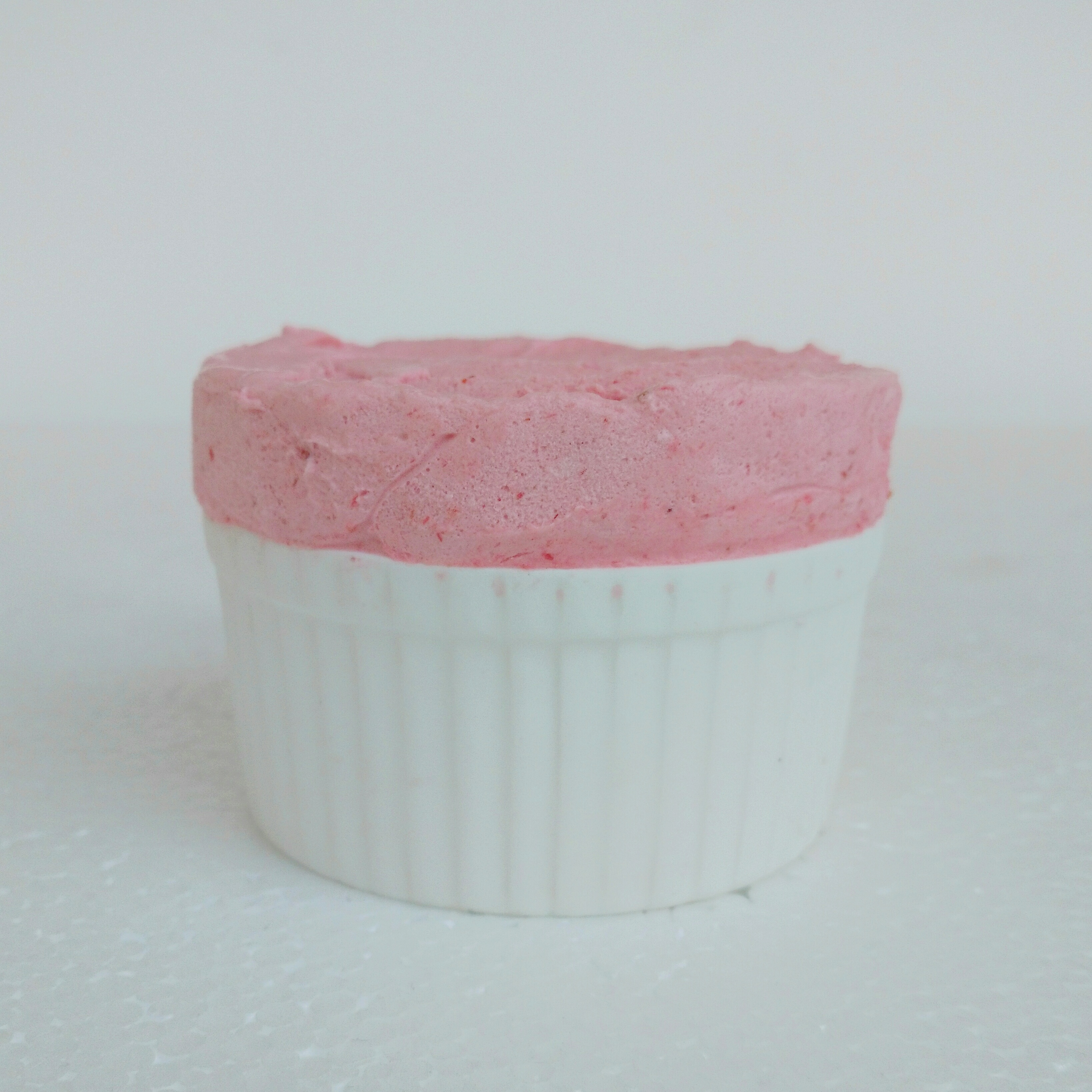 This is a super creamy ,light dessert made with strawberry puree and whipped cream , set using gelatin .The souffle shape is achieved by a simple parchment or foil collar around your serving dish . It tastes a lot like icecream when it's stone cold and a lot like a mousse as it starts melting more. Unlike traditional souffles ,there is no fussing around with egg yolks and whites . And no worries about the souffle deflating on you before it's dessert time. Frozen means it can be made ahead and ready to go when you are ready to eat.
And why are we ignoring that gorgeous gorgeous pink . No food colouring my friends , just the lovely bright hues of the fruit mellowed by the paler cream . Isn't it pretty ?
Frozen strawberry souffle
2017-03-15 16:43:08
Light and creamy chilled strawberry dessert
Ingredients
200 grams or 1 cup straw berries
5 tablespoons granulated sugar
1 teaspoon lime juice
3/4 teaspoon gelatin
1 tablespoon cold water
120 ml or 1/2 cup cold whipping cream
Instructions
Wrap the outside of your ramekins tightly with parchment paper or aluminium foil strips and secure tightly with tape or thread. Each strip should be atleast two inches wider than the height of the ramekin ( so if your ramekin is 2 inches high, the strip should be 4 inches wide ) and should be long enough to wrap around the outside of the ramekin twice.
Using an electric mixer or whisk, beat the cream to stiff peaks. Keep refrigerated until needed.
Purée cleaned strawberries with lime juice and sugar in a blender or food processor.
Strain to remove any grit or seeds.
Sprinkle gelatin over the cold water. Let it rest or bloom for 5 minutes. Then heat on stovetop or in microwave until gelatin dissolves.
Stir gelatin into the strawberry mixture.
Using a spatula , fold a quarter cup of the whipped cream into the strawberry mixture to lighten it.
Fold remaining cream until mousse is even pink throughout.
Fill the mousse into prepared ramekins , making sure the height is well above the lip of the ramekin . Smoothen the tops.
Freeze for atleast three hours.
Serve chilled.
Notes
This recipe makes 4 servings (1/2 cup ramekins) or 2 larger ones (1 cup ramekins).
Adjust the sugar according to the sweetness of your strawberries and cream.
You can use an equal quantity of vegetarian gelatin or agar agar instead of regular gelatin.
When you mix the gelatin, the strawberry mixture colour may change.
FLOURS & FROSTINGS http://floursandfrostings.com/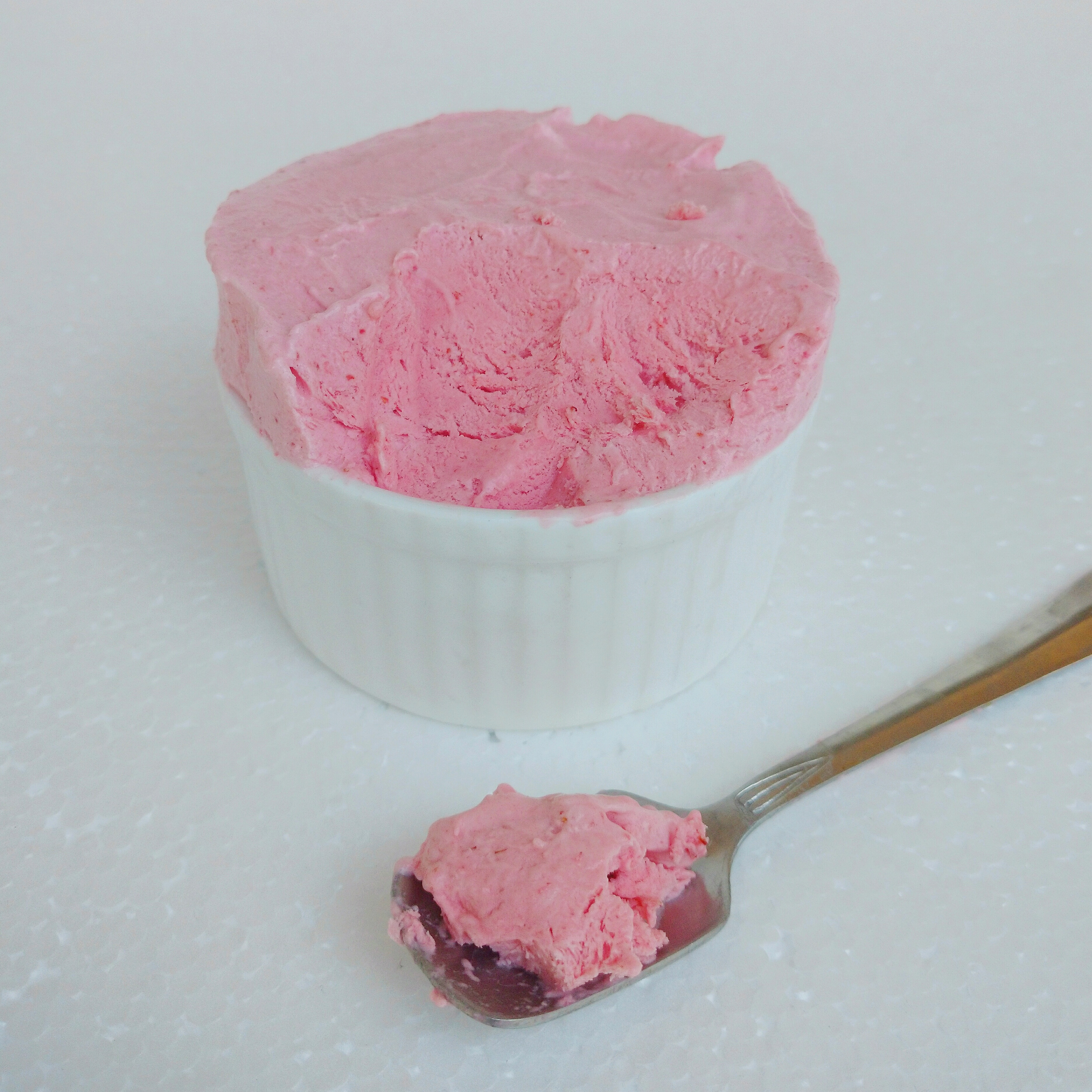 This is a great way to use up the last of the strawberries. or you could freeze some berries and make this when it's actually even hotter (not looking forward to that !).You technically don't need the souffle shaping to enjoy the dessert here but just play along , okay ? What's dessert if not a little fun !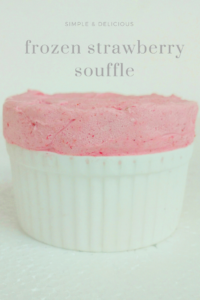 Affiliate links : if you like my serving bowls , you can get similar Ramekins
here !