"Laughter is the closest distance between two people."- Victor Borge .
One problem that we and a lot of our single and couple friends have is making desserts that serve two or three people. You know what i mean right? When there is still a slice of Sunday's chocolate cake in the refrigerator on Thursday ? This is especially a problem when you are on a diet and leftovers of your "cheat day" desserts tempt you the rest of the week.
Usually a whole of mathematics ( dividing a recipe by 4 and 8 to get small servings) goes into solving this . And the better way is ofcourse to share it with neighbours , friends and co workers ! If you didnt know already, let me tell you – the way to anybody's anything is through their stomach!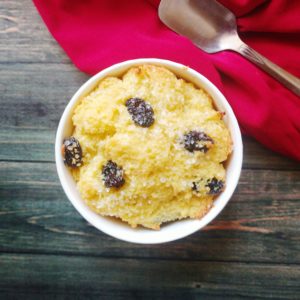 So I have noticed that bread pudding is kind of a polarizing kind of dessert. Some people just don't like the idea of it. Maybe it is because it isn't all that common so it takes some getting used to ? Or maybe it's the thought that it's a dessert made with old bread !
This is not a change-your-world-forever kind of dessert . It's a can't-believe-that-was-so-easy kind of dessert. A lets-have-dessert-because-its-still-wednesday dessert (please tell me that's not a thing in our home alone ) . It's a feel-like-eating-something-different-but-what kind of dessert. It's a please-no-more-chocolate kind of dessert (yes, apparently people are known to have such anti-chocolate feelings!).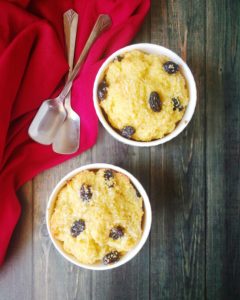 This is a super simple affair. Hardly ten minutes of work and off the puds go to bake. Some slices of leftover bread, that last bit of rum and some everyday ingredients . As I was typing this , I just realised that for someone who doesn't drink , I have quite a few boozed up treats on the blog ! But you could skip the rum and just add more milk in.
And I think it will take u more time to read this post than to get your puddings whipped up and into the oven. So enough chatting , lets get baking.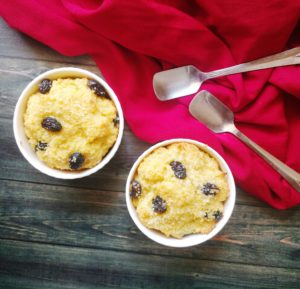 Rum and raisin bread pudding for two
2017-03-11 11:56:38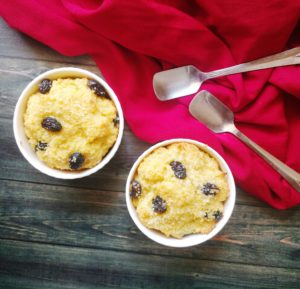 Old bread and that last bit of rum makes this warm and melt in your mouth delicious dessert that is just for two!
Ingredients
4 slices white bread
2 eggs , at room temperature
4 tablespoons milk
2 tablespoons rum
1 teaspoon vanilla extract
2 tablespoons + 1 teaspoon sugar
2 tablespoons raisins
Instructions
Preheat your oven to 180 C / 350 F .
Lightly butter two ramekins or ovenproof bowls (about 1/2 cup capacity) .
Mix together the eggs , milk , rum , vanilla and 2 tablespoons sugar well.
Chop the bread into cubes or squares.
Add the bread and raisins into the custard mixture. Mix well. The bread will crumble . Do not worry about it.
Divide into the two ramekins. Sprinkle the remaining sugar on top.
Place on a baking tray (to catch any overflow) and bake at 180 C / 350 F for 30-35 minutes. The puddings will be fluffed up and lightly brown.
Cool for few minutes . Serve warm or cool !
Notes
You can use any bread that you want that gives you about one cup of cubes.
The puddings will puff up in the oven but settle down as they cool.
These puddings are totally delicious on their own self, but a little whipped cream or ice-cream would be a great accompaniment.
You can skip rum and replace with milk.
FLOURS & FROSTINGS http://floursandfrostings.com/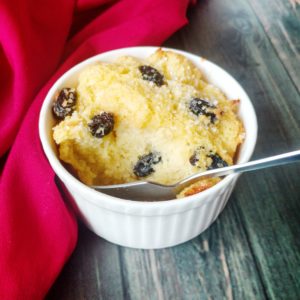 So what do you think ?Bread pudding- Yay or nay ?
If you are looking for desserts for two, but bread pudding isn't your style , you could make these chocolate lava cakes or these red velvet mug cakes if they are more your style!