"The child I was is just one breath away from me." – Sheniz Janmohamed (Firesmoke).
Even as a child , I wasn't too fond of cream sandwiched cookies. As I grew older , I warmed up to Oreos and Bourbons . But even now , between a sandwiched biscuit and a chewy cookie , I'd go for the cookie every single time.
That said, I believe Bourbons are much loved by adults and children alike. Whats not to like , chocolate biscuits filled with chocolate buttercream-like filling ? It is a no brainer really. But I always thought that "Bourbon" was a brandname of the chocolate sandwich cookie sold by Britannia in the purple or gold pack. I was actually surprised to know that Bourbon biscuits are really the generic term for ALL such sandwiched rectangular chocolate cookies . Like you have macarons and chocolate chip cookies, you have bourbons ! They are infact sold in the same shape and size by innumerous brands around the world ! Did you know that ? Don't tell me… i am the only ignorant one?
This recipe for homemade Bourbon cookies is surprisingly not difficult or fancy. It does take a little while though , the dough needs to be chilled , and so do the shaped biscuits . They do really taste very much like the store-bought Bourbons – I much prefer the taste here a tad bit . Not because I am full of myself , but because the homemade version is a lot less sweeter than its commercial counterpart. Ofcourse , these are not as crisp as they are made with butter , but they still have a good snap to them .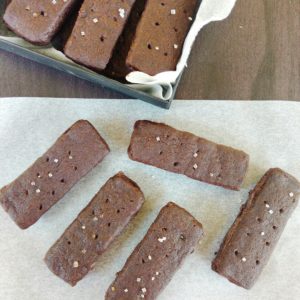 So why should you go to all the effort of making a cookie that you could go to the next door store and buy in a shorter time ? Reason one : it contains ingredients you know and not "emulsifiers " and "preservatives" . Reason two : because it just feels good to recreate a biscuit in your oven that you have eaten all your life out of a packet . So for health sake or for experiment sake, you can give this one a try!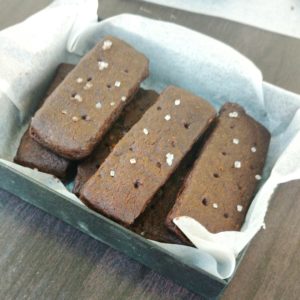 Homemade Bourbon biscuits
2016-11-18 09:26:29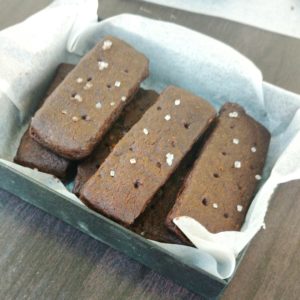 Crunchy chocolate biscuits filled with a smooth chocolate buttercream.
For the biscuits
50 grams or about a 1/4 cup unsalted butter , at room temperature
50 grams or 1/4 cup brown sugar
1 tablespoon honey
1 teaspoon vanilla extract
125 grams or 1 cup all purpose flour
18 grams or 1/4 cup unsweetened cocoa powder
pinch of salt
one tablespoon granulated sugar (for sprinkling )
For the cream filling
28 grams or 2 tablespoons unsalted butter , at room temperature
25 grams or 1/4 cup icing sugar , sifted
10 grams or 1 tablespoon unsweetened cocoa powder
1-2 tablespoons milk
To make the biscuits
Sift together the flour , salt and cocoa powder . Keep aside.
Using an electric mixer or a wooden spoon, beat the butter and brown sugar until light and fluffy .
Add and beat in the vanilla and honey until smooth.
Add the flour- cocoa mixture and beat until it comes together.
Using your hand , bring together to form a smooth , shiny dough.
Wrap in plastic and refrigerate for 30 minutes.
Roll out the dough to about 3 mm thick. Using a cookie cutter or knife, cut off rectangles of about 6 x 3 cms . Re roll scraps of dough and cut until all the dough is used up.
Gently transfer the rectangles to a parchment lined baking sheet , spacing them about an inch apart. Using a toothpick poke 4-5 holes in two columns on the cookies and smoothen the edges out. Sprinkle some sugar on top.
Chill your baking sheet for about 30 minutes , meanwhile preheat the oven to 160 C / 325 F.
Bake for 15 - 18 minutes .
Cool on baking sheet for 10 minutes , then cool completely on wire rack.
To make the filling
Beat the butter until smooth and light.
Sift in the cocoa and icing sugar and beat until light and fluffy.
Add the milk, one teaspoon at time and beat until desired consistency is achieved.
Using a piping bag with the tip cut off or a spoon , spread a little cream on the underside of one biscuit and press gently with another to sandwich!
Notes
The unsandwiched cookies last for 4-5 days but the filled ones retain their crunchiness for about two days when stored in an airtight container. Make sure to store the cookies as soon as they are cool !
The biscuits will still be soft after baking. So handle only after they are cool and firm.
To get smooth edges , use the flat side of a spatula or a knife to press against the cookie edges once you place on the baking sheet.
Skip the salt in the biscuit recipe, if using salted butter.
The recipe can be doubled.
For crisper cookies, bake at 180 C for 12- 14 minutes.
FLOURS & FROSTINGS http://floursandfrostings.com/
Step by step :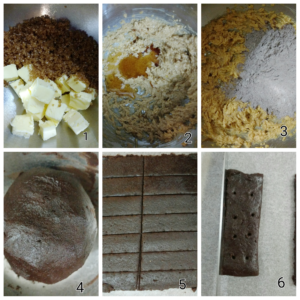 By the way.. how do you like your Bourbons , dunked in coffee or milk ? Or opened up and cream licked off? Either way.. these cookies will do the job well for you ! Crunchy biscuit , smooth buttercream , sparkly sugar and tasty as hell ! Blast from the past these are !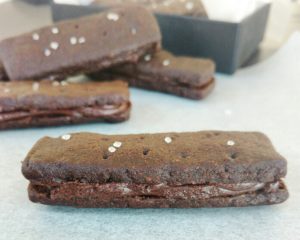 Affiliate links : Just so you know, I have baked these Bourbon cookies in my trusty Morphy Richards 52 Litre Oven
.
Happy baking !