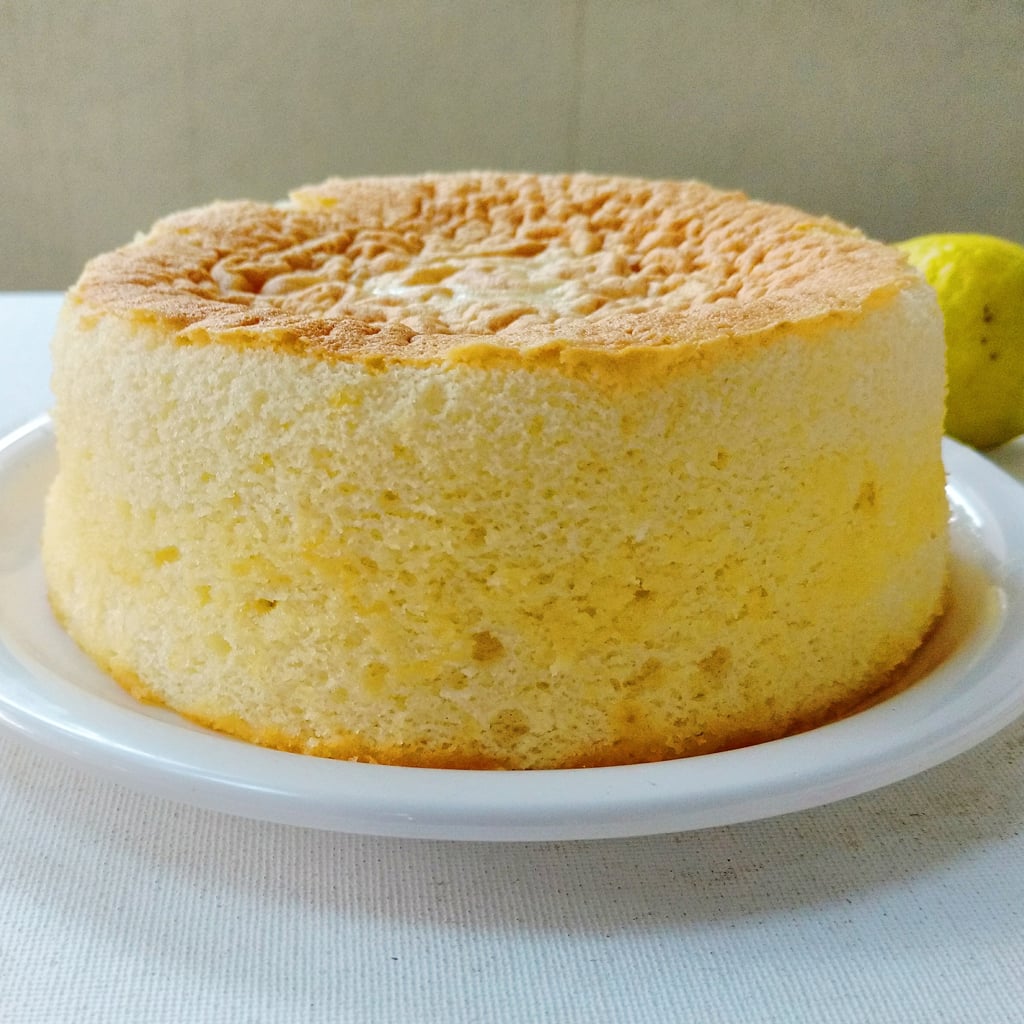 "Cakes are healthy too, you just eat a small slice." – Mary Berry.
In the cake universe, chiffon cakes are like the bridge between batter cakes and foam or sponge cakes.The volume of the cake is achieved through a whipped egg based foam like in a sponge cake , but it has baking powder to help in the rise and a bit of oil. Basically, it involves making a batter with the dry and wet ingredients , and stiffened egg whites are folded into this batter . So the cake is light like a sponge cake but moist and flavourful!
The best of both worlds, if you ask me !
Chiffon cakes are meant to be baked in ungreased tube pans (round pans with a hollow tube in the centre). The tube pans allow for even heating even in the centre of the cake. The baked cake is cooled in the pan upside down so that it maintains the height it has achieved .
Well, I don't own a tube pan (which is why I hadn't tried chiffon cakes until recently) . I used a regular round pan. It worked well enough I thought, the only downside probably being that the cake shrinks quite a bit while it cools. Not entirely sure if this happens with tube pans as well. A few ground rules though. First, make sure that you do not use a non stick pan and don't grease / butter the sides of the pan. The batter has to cling on to the sides and rise . Also, make sure the cake cools completely before attempting to remove it from the pan. And.. make sure you use a tall pan !
Whoever named this cake, hit the nail right on the head! Just like the lightweight fabric, a chiffon cake is really light- almost like cotton! Its texture and flavour makes it good enough to eat on its own , but you could stack it up for a scrumptious layer cake. How good would it be filled with some lime curd ! Citrus is an oft preferred addition to these cakes, and I went the same route using the good ol' Nimbu (Indian lime) .

I should really have tried chiffon cakes earlier ! They are not only easy to make , but kinda fun . If you are an oven peeker like me (are they non-ovenpeeker bakers?) , you will love seeing how this cake rises like a souffle over the top of your pan. Despite the subsequent shrinking , the sheer height of this cake will make you smile. And the light and airy texture makes it a winner !This is THE softest cake I have ever had . And ofcourse, the nimbu worked its magic well here … !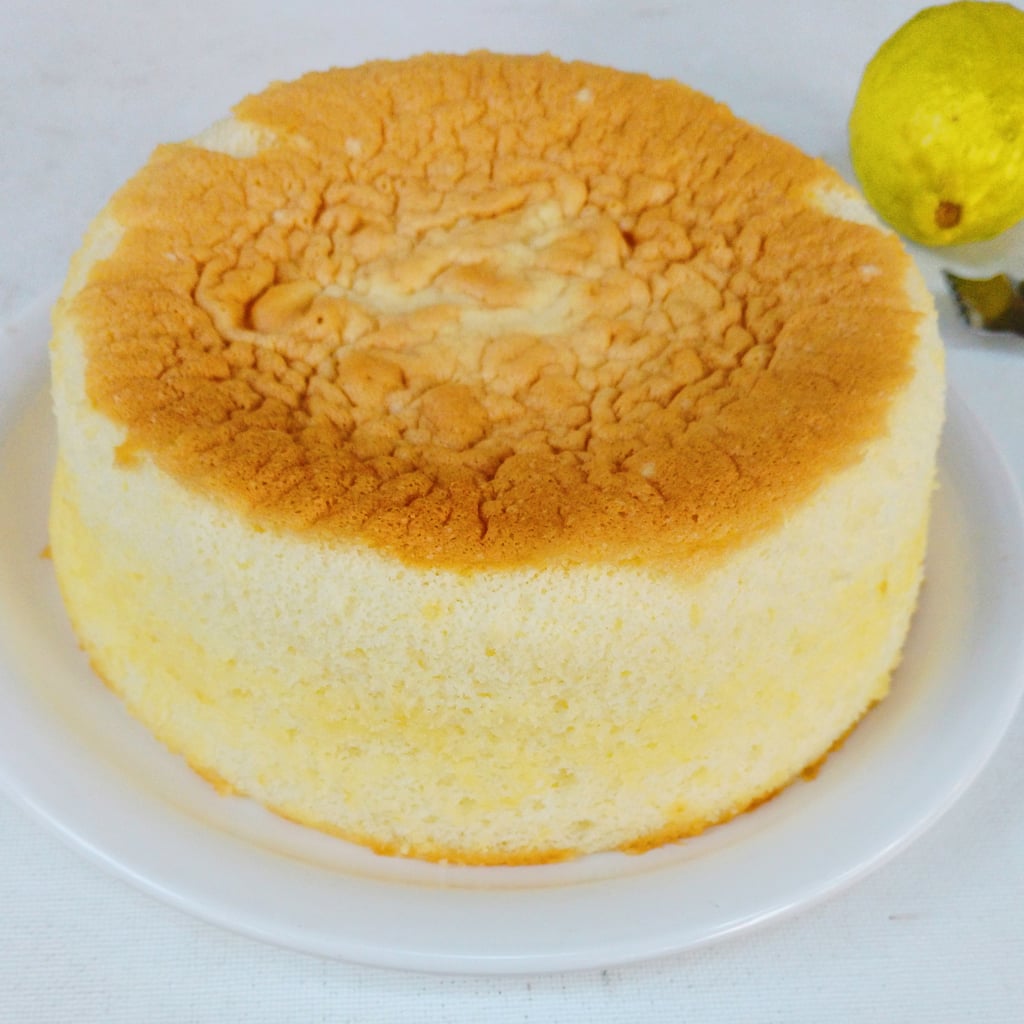 Do you like lime and lemon desserts ? I do ! Love this lemon sponge pudding and this lemon loaf cake! Tangy but so good…!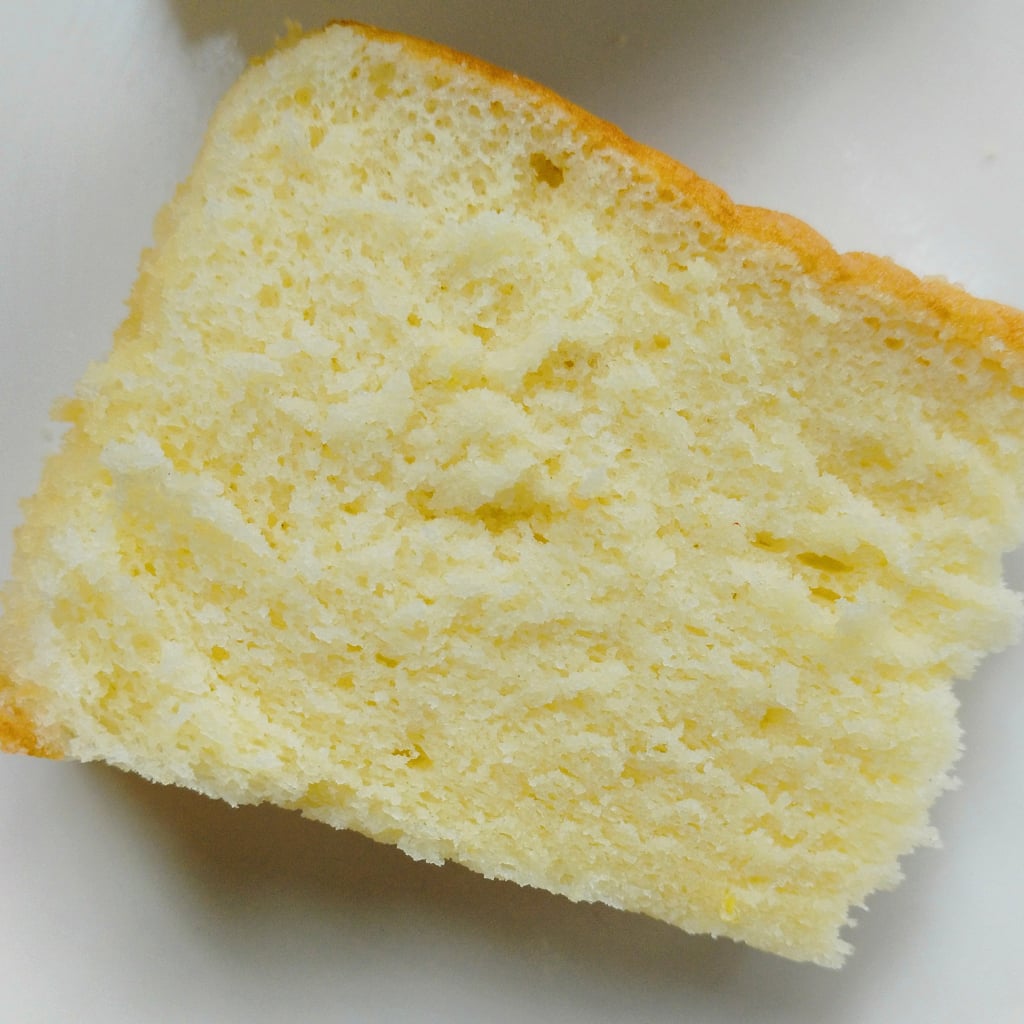 Print Recipe
Lemon chiffon cake
Yum
Light and airy lime chiffon cake !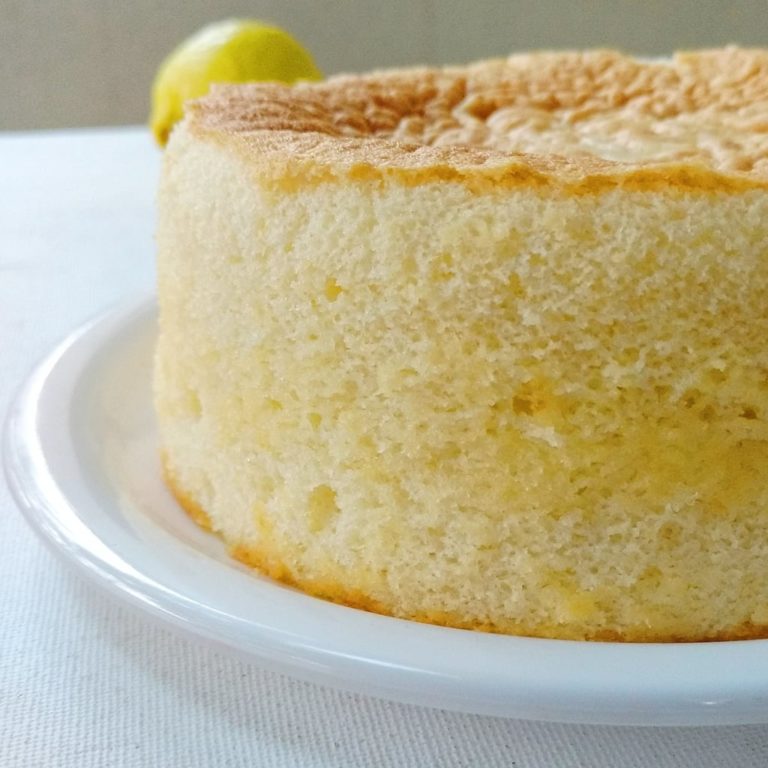 | | |
| --- | --- |
| | |
Preheat your oven to 160 C/ 325 F. Line the bottom of a 6 inch round pan with parchment paper.

Whisk together the flour, baking powder and half of the sugar .

To this, add and whisk in the yolks, oil , juice, zest and water until smooth . Keep aside.

In another bowl , beat egg whites until foamy.

Then add the remaining half cup of sugar and beat until you get stiff peaks.

Gently whisk 1/4th of the whipped egg whites into the remaining batter. Similarly, whisk in the remaining egg whites in 3 or 4 additions.

Pour the batter into the prepared pan and bake for 30-35 minutes until top is brown and springs back when pressed gently.

Cool completely in pan . Then run a knife along the inside edge of pan and remove the cake carefully.

Serve as is , or with whipped cream or a fruity sauce!
This cake can be stored in the refrigerator for 3 days or at room temperature for a day or so, in an airtight container.
The cake will rise really well but will shrink and come way from the edges of the pan when it cools . So dont worry!
I used the zest of a small lime (nimbu) and its juice . You can add more juice if you want a more puckery lime taste . Reduce the amount of water accordingly. I use a zester but if you dont have one, just use a small grater or a sharp knife. Make sure not to get the bitter white pith.
This cake bakes up fast , so keep an eye on it.
If you dont have a high 6 inch pan (atleast 3 inches high), you can bake the same batter in a 7 (2 inches high) pan for about 25-30 minutes for a not-as-tall but still fluffy cake.
About whipping egg whites: for best results , separate yolks and whites when eggs are cold and then bring both to room temperature before using. Make sure your bowls are clean and dry. Use stainless steel if possible. Whip at medium or medium high until stiff peaks. If you upturn the bowl and the whites do not move , you can stop beating !