"You would be amazed by what you can give up, lose, or break, and yet still be a person who gets happy over brownies."- Augustan Burroughs.
Another brownie recipe ! I will not tire of brownies . Making them or eating them . Ever .
By themselves, these are fudgy bites of chocolate bliss. Brownies worthy of "getting-over-breakover" status ! Top them with some marshmallows and they are simply out of this world! Ofcourse the marshmallows get toasted as the brownies bake . Melty marshmallows and fudgy chocolate are definitely a match to reckon with!
I used medium sized marshmallows spaced out on top and then drizzled some more batter on top , but you can just throw on loads of mini marshmallows and have a two – layered brownie .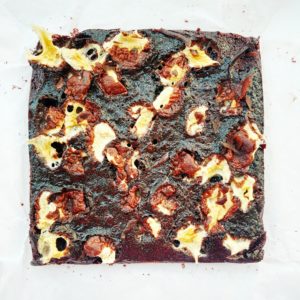 But if you like your treats neat and clean , with prim and proper edges – please look away ! These are unapologetically uneven and messy . But sooooooo good!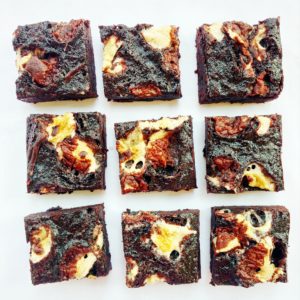 Marshmallow brownies
2017-02-16 17:22:34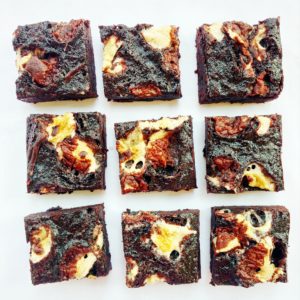 Chewy fudgy brownies topped with toasted melty marshmallows!
Ingredients
112 grams or 1/2 cups unsalted butter
200 grams or 1 cup granulated sugar
1 tsp vanilla extract
2 Eggs
90 grams or 3/4 cups all purpose flour
40 grams or 1/2 cup unsweetened cocoa
1/4 tsp salt
25 marshmallows (medium sized)
Instructions
Preheat the oven to 180 C/ 350 F. Line a 8 x8 inch square baking pan with foil or parchment so that it is longer than the edges of the pan atleast on two opposite sides.
Melt the butter
Whisk in the sugar
Whisk in the eggs, one by one , followed by the vanilla extract.
Add the flour, cocoa and salt and whisk until combined.
Spread almost all the batter in your prepared baking pan.
Press the marshmallows gently into the batter, spacing them evenly . They should be about halfway into the batter.Spread remaining batter on top.
Bake at 180 C/ 350 F for 25-28 minutes. The top will be browned and a toothpick inserted will have few moist crumbs.
Cool completely in pan, lift out and slice .
Notes
These can be stored at room temperature in an airtight container for 3-4 days
If you see the tops of the marshmallows browning too much , cover the top loosely with aluminium pan for the remainder of the baking.
Don't worry , if the marshmallows swell up during baking, they ll settle down as they cool.
Slice when chilled for the cleanest cuts.
If you want to make homemade marshmallows , you'll love my easy corn syrup and glucose free recipe!
FLOURS & FROSTINGS http://floursandfrostings.com/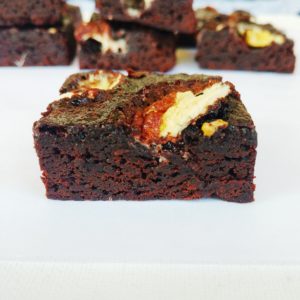 A good batch of brownies are my undoing. So if I say that these are in a league of their own , you HAVE to take my word for it ! Toasty marshmallows atop chewy fudgy brownies – fantastic !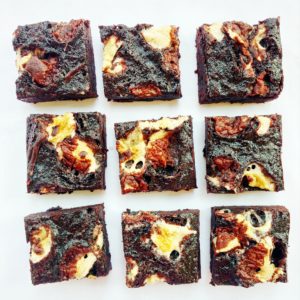 Affiliate links : Just so you know, I have baked these marshmallow brownies in my trusty Morphy Richards 52 Litre Oven
, and here's you can get hold of some marshmallows
!
Happy baking !