"Life is 10% what happens to you and 90% how you react to it."- Charles R. Swindle.
I keep saying I am not the biggest fan of white chocolate yet it consistently features on my blog ! No, it's not culinary hypocrisy. I am just warming up to it.
This is a simple cake . Its a recipe by Elinor Klivans. It's almost like a hot milk sponge with some white chocolate added in. The white chocolate lends a richness and beautiful mouth-feel to a plain vanilla cake. Making it great enough to eat on its own.
You know the most common word to describe cakes has to be moist. I am guilty of this too. Although a moist cake (especially a chocolate one) is a pleasure to eat, all cakes are not made equal and not all good cakes need to be moist.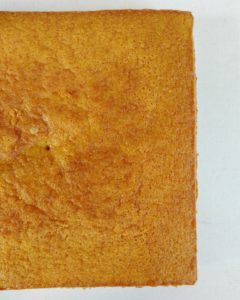 This cake is NOT moist . It is fluffy , it is soft , it is delicious. It would make a great tea time cake .Add in some chips or nuts or swirls if plain is not your style . I have sliced it into three and filled and frosted it into a glorious layer cake. But if I want to add some easy oomph , I just sandwich two halves of the cake with some vibrant fruit curd (or jam) and dust the tops with some icing sugar. Almost Victorian like. And quite instant elegance.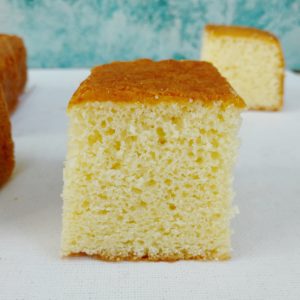 White chocolate sponge cake
2017-02-11 15:38:24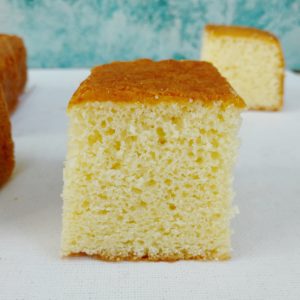 Simple , light white chocolate sponge cake
Ingredients
3 eggs
150 grams or 3/4 cup granulated sugar
1 tsp vanilla extract
170 grams or 3/4 cup chopped white chocolate
180 ml or ¾ cup milk
85 grams or 6 tablespoons unsalted butter
190 grams or 1 ½ cups all purpose flour
1 ½ tsp baking powder
½ tsp salt
Instructions
Preheat oven to 160 ℃ or 325 ℃ . Grease an 8 inch square pan with butter , dust with flour and line the bottom with parchment .
In a saucepan , heat chopped chocolate , cubed butter and milk together until the chocolate n butter have melted. Keep warm.
Whisk together the flour, salt and baking powder . Keep aside.
Using an electric mixer or whisk, whip the eggs with the sugar and vanilla until triple in volume and pale in colour . If you lift your beater or whisk and draw an eight on the top of the batter , you should be able to see the whole 8 before it disappears.
Add the flour mixture and beat on low until combined.
Add the chocolate-butter-milk mixture and beat until smooth.
Pour batter into prepared pan .
Bake for 45 to 48 minutes until a toothpick inserted in the centre comes out dry. The top will be golden brown and edges will be coming away from the sides.
Cool in pan for ten minutes and gently unmould. Cool completely.
Notes
This cake can be stored in an airtight container for 2 or 3 days. Refrigeration makes it a little dry.
Couverture or compound chocolate both work fine but couverture lends a better flavour.
Make sure your pan is atleast 2.5 inches high.
This cake might be too sweet for some people , especially depending on what chocolate you use and if you are frosting it. Consider reducing the sugar by 1/4 cup or so if you don't want it too sweet.
FLOURS & FROSTINGS http://floursandfrostings.com/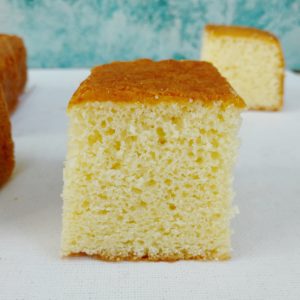 It may seem simple, but this cake is really good! And I almost fell in love with that crumb!
Speaking of love, what are your plans for the romantic holiday coming up? I am not a very Valentine-sy person per se, but I would use any reason to celebrate. If you are looking for easy ways to sweeten it up , do have a look at some options for V-day desserts that wouldn't take up most of your day! And if you are single , all the better for you – you don't need to share!

Affiliate links : Just so you know, I have baked this white chocolate sponge cake in my trusty Morphy Richards 52 Litre Oven
and have used Cocoacraft White Couverture Chocolate
.
Happy baking !