"Everyone is kneaded out of the same dough but not baked in the same oven" – Yiddish Proverb
These are my very first no bake cookies . No bake cookies are a great option when you have a cookie or chocolate craving (or a Nutella craving in this case) and are in no mood to switch on the oven . You could of course have a piece of candy or a spoonful of Nutella ( I ALWAYS stop at ONE spoonful ;-P) , but these cookies take just a little bit more of your effort and time , and taste so much more yum !
It takes only a few every day ingredients – milk, butter, cocoa , sugar – for the cookie base. You bring them to a boil on the stove top and let it heat for a couple more minutes. This is necessary so that the chocolate mixture holds the cookie together so don't rush through this. You add in the Nutella and vanilla . And them dump in heaps of oats . I used quick cooking as I had them on hand , but many recipes use good old fashioned rolled oats or cornflakes instead.
I tweaked this recipe ever so slightly . Quite happy with the end result. I mean its chocolate + butter + sugar + Nutella , its a cookie that comes together in minutes , you have one pot to clean , its crunchy and delicious – whats not to be happy about
See? 10 minutes and you have cookies! So easy even a kid can make them . Perfect for the days you want to give your dear oven a break. The heavenly taste of Nutella is there and all the wholesomeness of those oats! These taste way too good for something thats way too easy!
I made these for July's Creative Cookie Exchange where all of us are resting our ovens with delicious No bake cookies! Check out below what the others have made!

Print Recipe
No bake Nutella cookies
Yum
Yum No bake Nutella cookies ..way too good for something that's way too easy!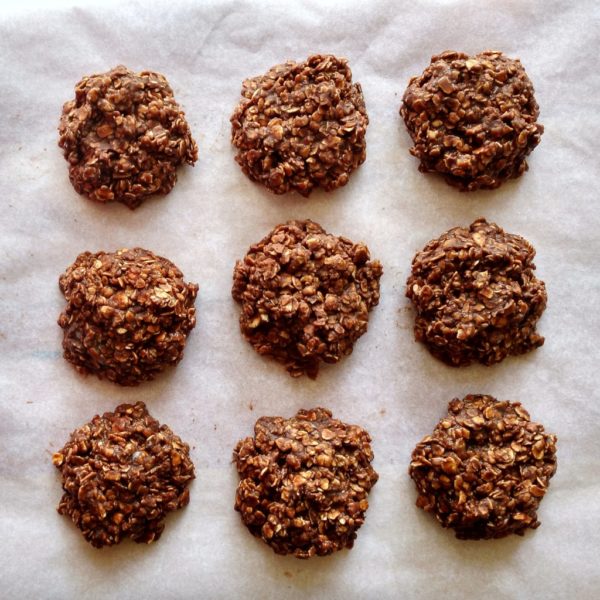 | | |
| --- | --- |
| | |
Heat together the butter, milk, sugar and sugar in a thick bottomed saucepan on the stovetop. Bring to a rolling boil and heat while stirring for 90 seconds to 2 minutes more.

Take off the heat and stir in the Nutella and vanilla .

Mix in the oats . Mix in one cup first and add more until all the oats are covered and held together in a thick mass.

Drop tablespoonfuls of this "batter" on a parchment lined sheet .

Let cool at room temperature for 30 minutes or so until set.
Step by step Tutorial:
Also:
Store in an airtight container for upto 4 days.
You can chill in the freezer if you are in a rush or eat warm too.
You can replace the same amount of corn flakes or old fashioned oats .