"Books are a uniquely portable magic." ― Stephen King.
How are you guys doing !What are you up to !
I have been doing a lot of reading lately. I have been an avid reader since I was a kid but in the last couple of years or so , somehow I haven't been hitting the books. The last week I read two lovely books and it might seem silly, but I just feel mentally invigorated. A good book will do that to you.
Plus the weather in Bangalore is so brilliant right now, chilly evenings with the rain pouring outside. Love to pull my comfy armchair next to the open balcony , tuck my feet under me and lose myself instantly in my literary fictional world.
You know what else the weather is perfect for ? Warm Doughnuts and the aroma of cinnamon !
If you turn up your nose at fried and sugary stuff , I am afraid you should probably give this page a pass. These Doughnuts are made with an enriched dough , deep fried to golden glory, filled with sinful Nutella and if that wasn't enough , they are rolled in cinnamon sugar !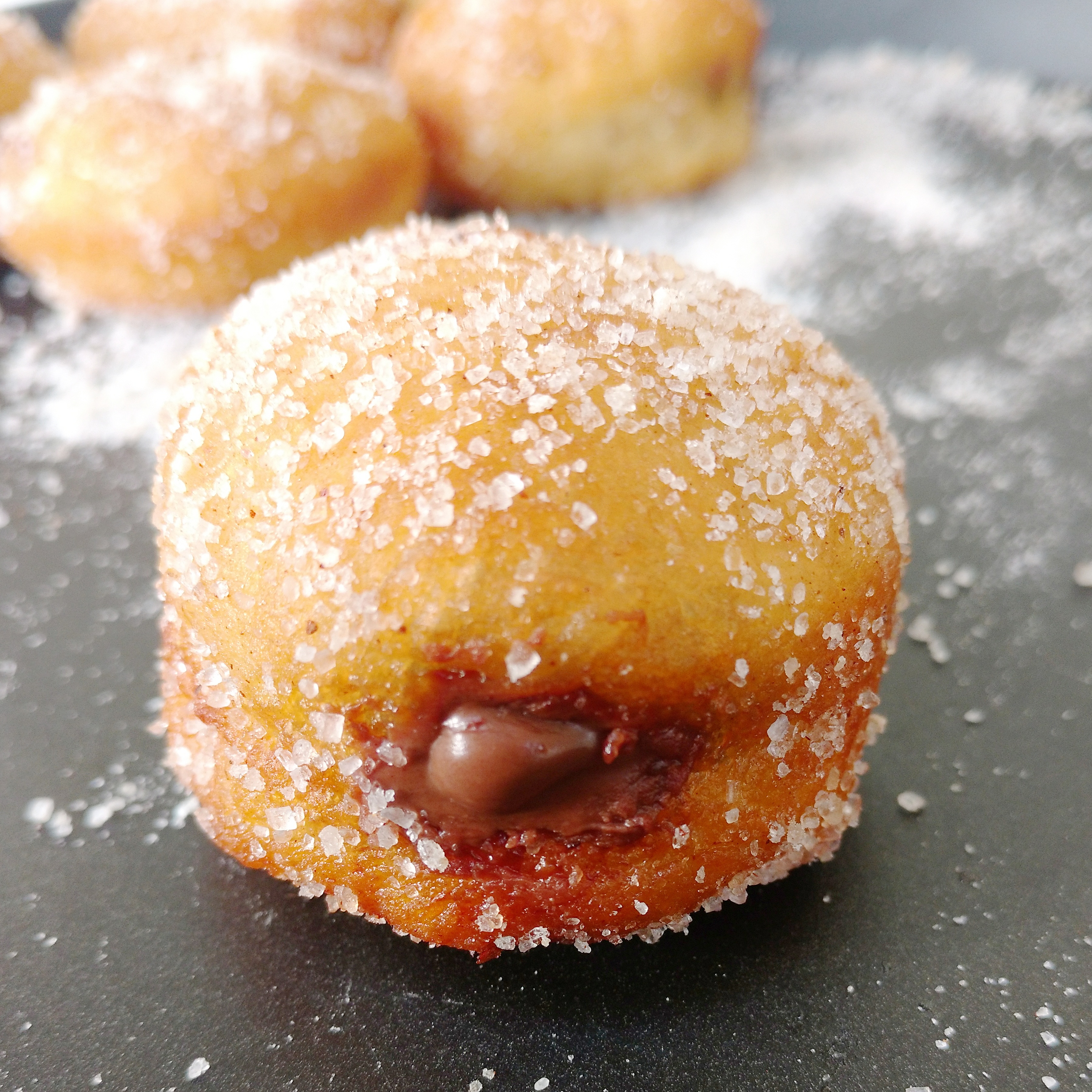 There is only one way to make these healthier and that's to share them with others so you don't eat them all yourself ! That is a real and imminent danger with these Doughnuts – trust me on that.
I already have a basic doughnut recipe on the blog. I made mini Doughnuts this time around . A much better size to nosh on I feel.. especially with a rich filling and a sweet coating. You could make any size you want of course. Doughnuts seem like a lot of work , but they really are not. And homemade doughnuts are so gratifying !
I am a big fan of cinnamon and used Sprig's true cinnamon here- amazing aroma and flavour . Do adjust the amount of cinnamon as per your taste . Cinnamon and Nutella are a gorgeous combination – But truth be told , if you are having these warm , they are really delicious with just the cinnamon sugar . But then if you are indulging, you might as well do it right . So bring on that Nutella jar !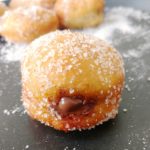 Nutella-filled cinnamon sugar doughnuts
2017-08-23 12:27:32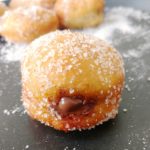 Wonderfully airy doughnuts filled with Nutella and rolled in Cinnamon sugar !
Ingredients
250 gm or 2 cups all purpose flour
25 grams or 2 tablespoons sugar
30 grams or about 2 tablespoons butter
5 grams or 1 teaspoon active dried yeast
5 grams or 1 teaspoon salt
1 egg
75 ml or 1/3 cup milk
60ml or 1/4 cup water
For the cinnamon sugar
2 teaspoon cinnamon powder or small length cinnamon stick
50 grams or 1/4 cup granulated sugar
For the filling
1/2 cup or small jar Nutella
Instructions
Warm the milk and water together until lukewarm . If you dip your finger , it should be warm enough to let it be in for 5 minutes but too hot to keep it in any longer (105 F - 110 F on a thermometer)
Add a teaspoon of the sugar and the yeast and let it rest until frothy. This is called blooming and can take 5 -15 minutes depending on your yeast.
In a large bowl , mix together the flour, salt and remaining sugar .
Add the egg , butter and yeast mixture .
Mix until the dough comes together and then knead until smooth . This will take 5- 8 minutes.
Grease a bowl with a little oil, place the dough and cover with a damp cloth. Let it rest for about an hour or doubled.
Once doubled , knock off the air in the dough by lightly punching it .
On a well floured surface , roll the dough to about 1/2 inch thick.
Using a round cookie cutter (or any lid) cut off rounds and place on a tray or plate with about 2 inches in between. Dip your cutter/lid in some flour so that the dough releases easily.
Once you have cut all our doughnuts , cover and let rest for 45 minutes for so or until doubled in size.
Pulse together the cinnamon and sugar in your mixer once or twice so its small granules and well mixed . Keep aside in a bowl or plate.
Heat about 3 inches oil in a wok until moderately hot and fry the doughnuts in batches. Flip them over once golden brown on one side and take them out when golden brown on the other side too.
Drain on a kitchen towel or tissue.
While still warm, roll in cinnamon sugar .
If filling the doughnuts , fit a piping bag with a small round tip and fill with Nutella . Make a small hole in the side of the doughnut and fill until the doughnut feels heavy and you can't fill anymore .
Notes
I used a 1.5 inch round cutter and got about 40 doughnuts of about 2 inch diameter.
These are best served the same day or next but can be stored in an airtight container for 2 days.
You can fill them before hand but roll in sugar just before serving or else the sugar will get absorbed into the doughnuts in some hours.
You can warm them in the microwave.
To make Nutella more easy to work with , you can warm it up over stovetop or microwave.
You can simply mix together the cinnamon and sugar if using castor sugar - adjust amount of cinnamon according to your tastes. 2 teaspoons might be too strong for some.
FLOURS & FROSTINGS http://floursandfrostings.com/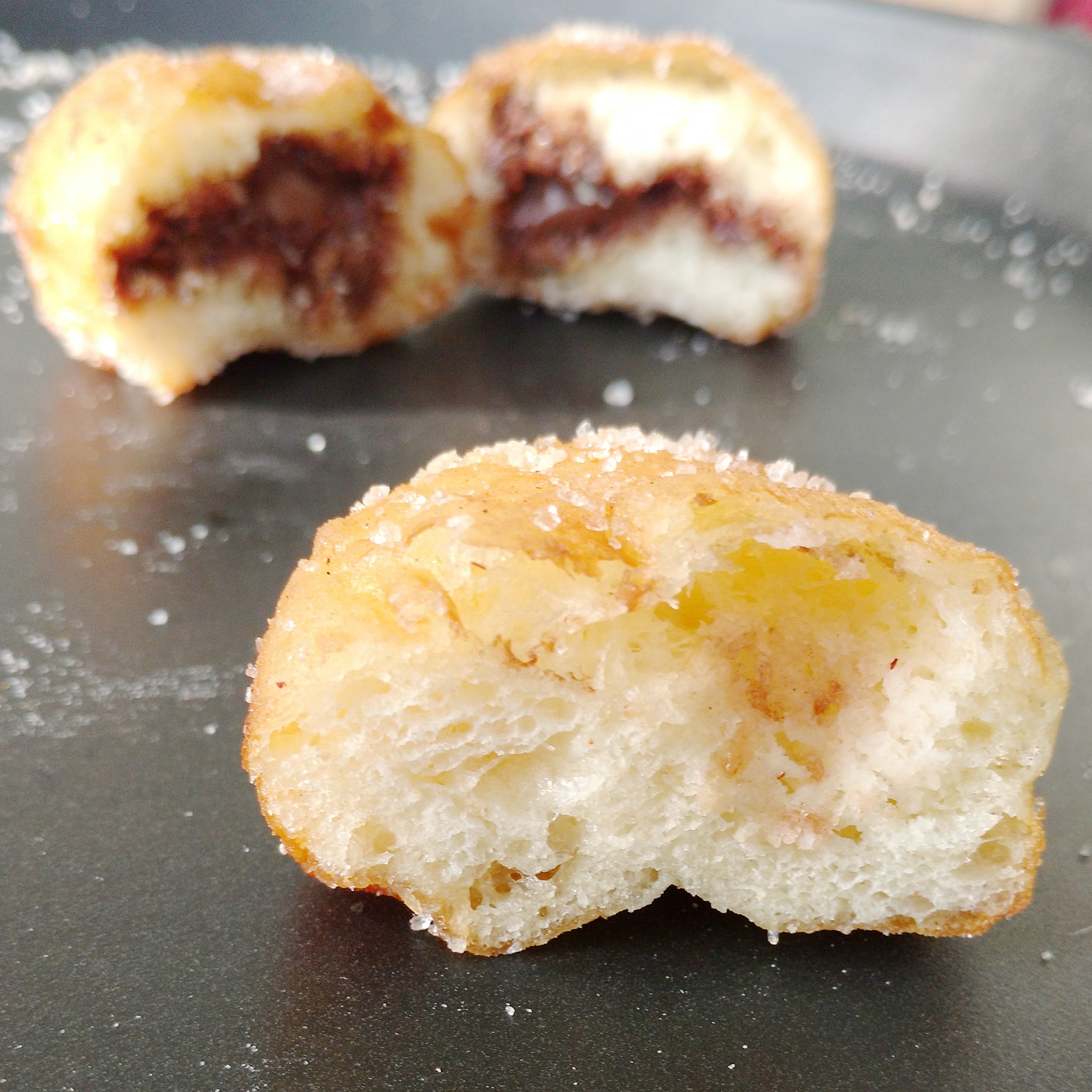 These doughnuts are wonderfully airy and light… so there are infiNitely versatile. You can have them plain , ringed ,with the cinnamon (or plain sugar) , glazed , filled . They are best served the same day or the next. I love them warm ofcourse with the nutella all gooey and the cinnamon all spicy sweet !