"My tastes are simple. I am easily satisfied with the best. "- Winston Churchill
Thick , fudgy brownie = good
Crushed oreos = good
Good + good = Great
See?..its simple mathematics.
Like I have told you before , I never tire of making brownies. The only thing I don't like about brownies is cutting them neatly ( or trying to cut them neatly).
Now , why would anyone crush up cookies and mix them into a brownie batter ? Because I am telling you to ! Actually me and the million others before me who have made these or similar brownies .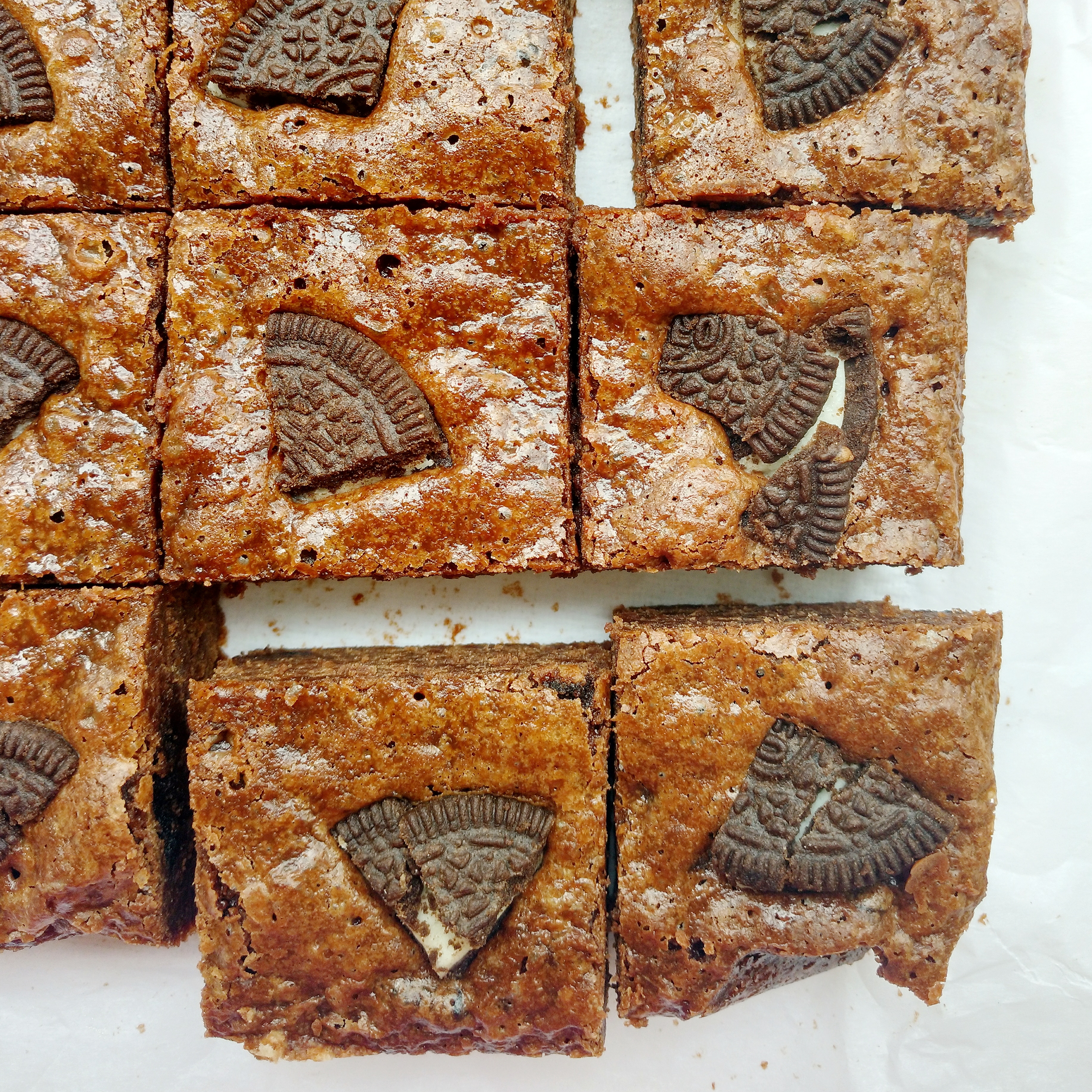 Any brownie lover would be crazy about these. The batter comes together in a saucepan with a whisk in a matter of minutes. It is rich and everything a brownie should be. The chopped up oreos lifts it up a notch , the pieces playing peekaboo through the cut edges and adding a crunch to break up all that fudginess. You could keep the oreos whole or in large chunks if you want the bits to be more visible. Regardless, this recipe from "simply decadent brownies" is going into my ever increasing list of favourite brownies!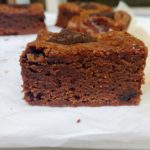 Oreo Crunch Brownies
2018-06-09 13:34:29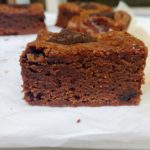 Chewy brownies with chopped up Oreos !!!
Ingredients
120 grams or about 2/3 cup dark chocolate
165 grams or ¾ cup unsalted butter
3 eggs , at room temperature
200 grams or 1 cup granulated sugar
1 tsp vanilla
125 grams or 1 cup all purpose flour
½ tsp salt.
Around 10 oreos or sandwich cookies
Instructions
Grease the bottom of an 8 x 8 inch square pan with butter or non stick spray. You could also line the pan with parchment paper or aluminium foil. Preheat oven to 180 C .
Chop up the oreos. You could keep them as big as you want. I chopped each cookie into 4 quarters . Keep aside
In a medium saucepan , melt together the butter and chocolate (both chopped to small pieces).
Mix in the sugar .
Mix in the eggs , ONE BY ONE , until each is properly incorporated.
Mix in the vanilla.
Add the flour and salt , and mix in until you cant see the flour anymore.
Fold in the chopped oreos.
Pour batter into the prepared pan. Bake at 180 C for 28-30 minutes. A tooth pick inserted in the centre will come out with a few moist crumbs .
Cool completely in pan for atleast an hour before slicing.
Notes
These can be stored in an airtight container at room temperature for 3 days and in the refrigerator for upto a week
For cleanest cuts , cool brownies completely and use a sharp knife. Wipe the blade between cuts.
My measuring cup is 240 ml
FLOURS & FROSTINGS http://floursandfrostings.com/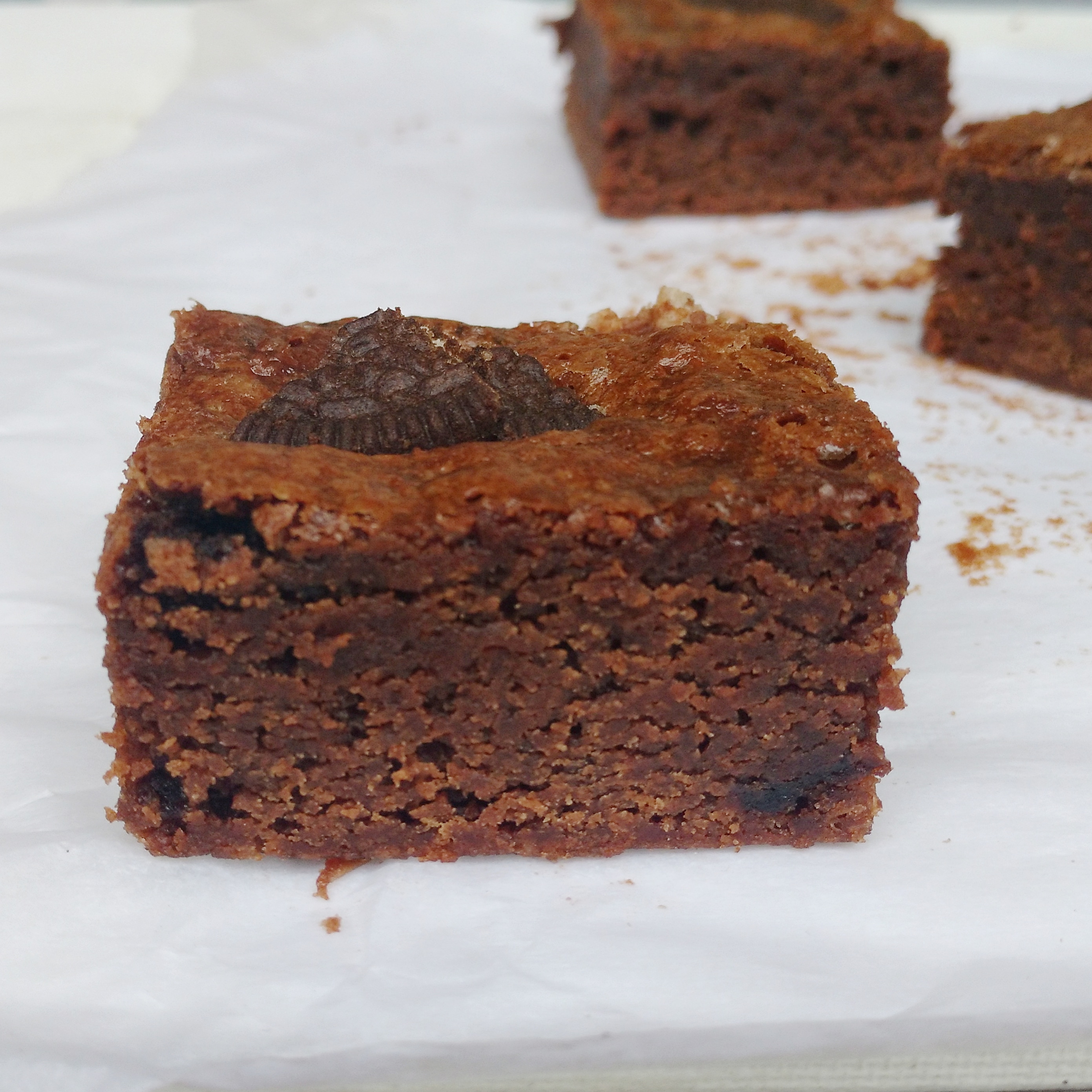 This brownie ticks all the boxes for me : thick , super fudgy , rich , deeply chocolatey , cracked top. Add to that they are loaded with oreos , I had to resist polishing them all off myself.Not that I ve ever eaten a pan of brownies myself. I havent. Trust me .