"It's amazing what you can see when you just sit quietly and look." ― Jacqueline Kelly.
I know the title of this post holds a tall promise to keep , I am hoping these brownies will do justice to it. I think so atleast.
While it's getting easier to find good vegan recipes , particularly for baking with chocolate , the perfect texture in vegan or egg free brownies alluded me until now. I have managed some excellent truffle brownies and a great cakey one , but a really good chewy-fudgy brownie seemed out of my grasp ! For a brownie connoisseur like me (connoisseur is too fancy, read brownie maniac) , brownie mediocrity is not acceptable. It had to be fudgy , the edges needed to be chewy , it had to be rich , it had to have an ever so crackly top.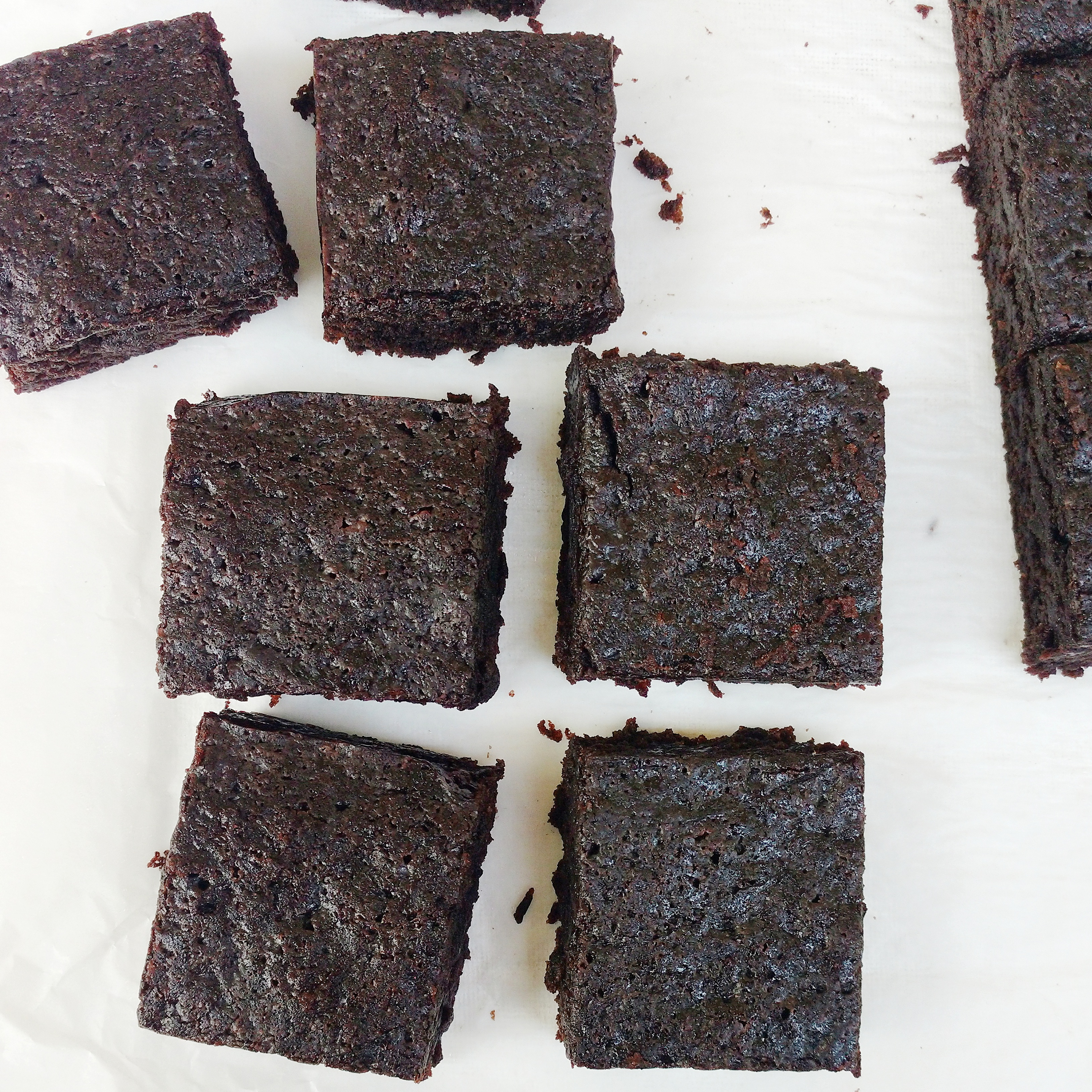 And this one ticks all those boxes ! Big time. And it doesn't have any vegetables or beans or anything from the fresh produce section in it ! Its just regular ingredients . Be sure to use vegan friendly flour and sugar according to the diet you follow. There is a tad bit of baking powder in there , which you can skip but it does its job well here.
And what's better , these will probably be the easiest brownies you make too . How about that ! And i made a simple step by step video – do check it out below!
Although I loved these vegan brownies , two reasons I almost didn't post them. One is because I couldn't click pictures that shared just how good they looked ! And the more important one – I had taken a snapshot of this recipe (I have altered it a bit ) from some site a long time back and now just cannot seem to find the website . So I won't be able to give credit to the original maker ( which is a big NO in my book ) , but I am still trying to track the site down.
But I just had to share them with you- because I just had to.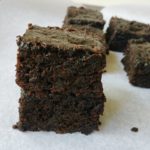 The most amazing vegan brownies
2017-04-29 13:08:52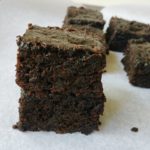 Fudgy brownies with chewy centres - the most amazing vegan brownies ever !
Ingredients
190 grams or 1 1/2 cups all purpose flour
250 grams or 1 1/4 cups granulated sugar or organic sugar
1/2 teaspoon baking powder
1/2 teaspoon salt
45 grams or 1/2 cup cocoa powder (unsweetened or dutch processed)
180 ml or 3/4 cup oil
180 ml or 3/4 cup water , at room temperature
1 teaspoon vanilla extract
1/2 cup chocolate chips or toasted nuts (optional)
Instructions
Preheat your oven to 180 C or 350 F.
Like a 8 inch pan with parchment paper or butter and grease well.
In a large bowl, whisk together the flour, salt , sugar ,baking powder and cocoa.
Add the oil, water and vanilla,and stir until smooth .
Stir in the chips or nuts if using.
Pour batter into the prepared pan . It will be thick. Smooth the top.
Bake for 35 to 40 minutes until a toothpick inserted in centre comes out with few moist crumbs .
Cool completely in pan.
Notes
These brownies will last for 4 to 5 days at room temperature.
Make sure you slice when they are cool or even chill for half an hour or so before slicing.
You can also bake in a 9 inch square pan for 28 to 32 minutes for thinner brownies.
Use vegan flour and sugar if you prefer.
I used chocolate chips and the brownies were just sweet enough. You can reduce the sugar but be careful because that will change the texture of the brownies to more cakey-fudgey.
FLOURS & FROSTINGS http://floursandfrostings.com/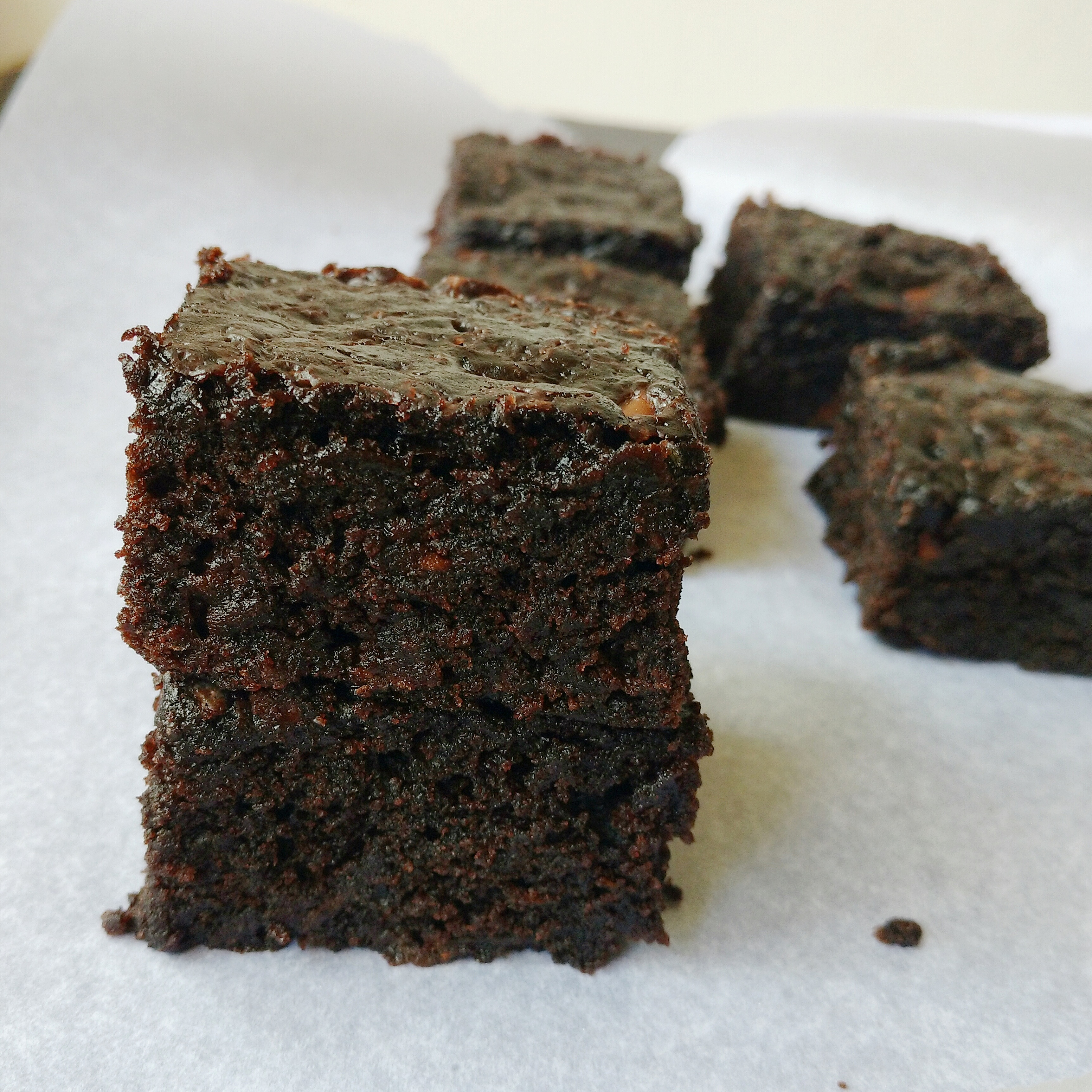 There is no way that anyone who has these brownies will guess these are vegan. I am sure the butter and eggs in my fridge have some serious self esteem issues when they shared space with a pan of these !
Affiliate links : Just so you know, I have baked these vegan brownies in my trusty Morphy Richards 52 Litre Oven
. I also use and love Cocoacraft Cocoa Powder.
Happy baking !