"Anything is good if it's made of chocolate."- Jo Brand
This post is almost an afterthought. Here I was experimenting with eggless brownies with little luck . Either they turned out far too thin or they were so gooey you needed a spoon to eat them with or they were delicious , but there were just not brownies.. just chocolate cakes ! Which was the story here.. the batter didn't transform into the fudgy brownie that I was rooting for , but this absolutely yum cake which was surprisingly liked (and gorged on ) .
This is one of those cakes that you can make when you need a cake quick. Here's how the story goes: you think "chocolate cake" – in the next ten minutes, you preheat your oven while mixing the batter – into the oven it goes for less than half an hour – you eat "chocolate cake" !
As I sat up in my recliner with my book and a slice of the cake (yup, lazy ol me ) , I thought it was good enough to post about. But was this a fudgy chocolate cake or a cakey brownie. What exactly is the difference between the two? After bouncing to and fro… I gave up.
I shall agree with Shakespeare here… whats in a name ? Its cake, its chocolate , its easy and its yum. Oh, and its chocolate !
This is a honest to goodness kind of chocolate cake that is good for a emergency cocoa fix ! Its moist and fudgy and really good !!!
Fudgy cake or cake brownie ? You let me know… I will go with the fudge cake for now !

Print Recipe
Eggless chocolate snack cake
Yum
An easy , delicious snack cake with an identity crisis - is it a fudgy chocolate cake or a cakey brownie ?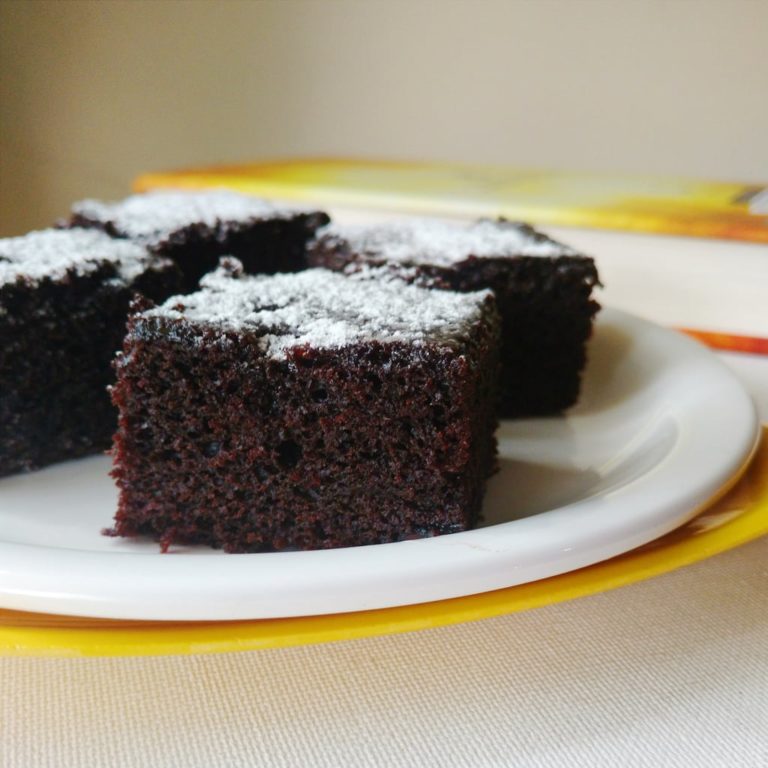 | | |
| --- | --- |
| | |
Preheat the oven to 180 c/ 350 F. Butter and flour a 8 x 8 inch square pan or line it with aluminium foil long enough on the sides to pull out later.

In a mixing bowl, whisk together the flour, sugar , cocoa , baking powder , baking soda and salt.

Add the oil and whisk-the mixture will be clumpy.

Add the milk and vanilla. Whisk until smooth .

Fold in chocolate chips if using.

Pour batter into prepared pan and bake for 24-26 minutes until the top springs back when touched and a toothpick inserted into the centre comes out clean.

Cool in pan. Slice . Dust with icing sugar / cocoa powder and serve!
Step by step Tutorial:
Also:
This can be stored in room temperature for 2-3 days.
This cake would taste awesome with some ganache as well