"There are two kinds of fools: those who can't change their opinions and those who won't." – Josh Billings.
I am quite opinionated about lots of stuff. If I make up my mind about something , I find it hard to change it. Like I hate green beans (don't cook it, don't eat it , don't touch it ) , I don't like long hair on men (just don't ) , I don't like anyone below 16 wearing heels (somethings are meant for grown ups) , I don't like neck tattoos (almost anywhere else is fine!) and I don't like that actor that everybody else adores ( overdressed and super loud) . My friends get annoyed at me for having too many such issues with random things like this ! My reasons don't have to make sense. Its just the way I am.
Do you have pet peeves as well?
Why am I telling you all this ? Because I am in a chatty mood. And because for the longest time , I wouldn't consider baking white chocolate brownies (blondies) . All white chocolate ? Nah… it would be far far too sweet. No ways I would like it. Turns out . I was wrong. As I often am.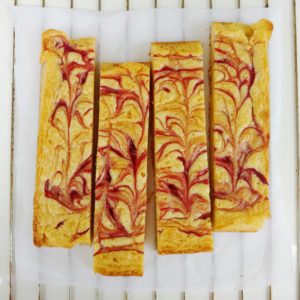 A friend of mine made some blondies the other day and although i didn't get to taste them , they looked great and I trust her palate . So I gave in and I did have some nice white chocolate I had picked up ages back . The blondies were so good . They were dense and fudgy (like a brownie ) and when you make them plain , they even have the characteristic crackly tops that brownies get. And because there is no brown sugar , it doesn't have a butterscotch taste like some other blondies I have tried (with and without egg). Both are still quite good though !!
And to my great surprise, these blondies weren't that sweet. Not much more than your good ol brownies. This time around , I swirled in some fresh strawberry puree just to keep things interesting and for that pop of colour. One of my better ideas ! The slight tang of the strawberries were the perfect match to the white chocolate. You could add in a handful of white chocolate chips or some nuts . Macadamia nuts go well with white chocolate, I hear. I should try that next time.
And there will be a next time. Because this recipe is definitely a keeper!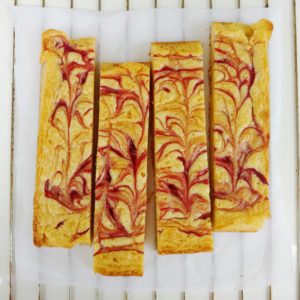 Strawberry and White chocolate blondies
2017-01-28 02:44:28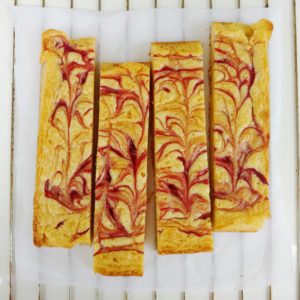 Rich and chewy white chocolate blondies!
Ingredients
180 grams or 1 cup white chocolate
115 grams or 1/2 cup unsalted butter
100 grams or 1/2 cup castor sugar
2 eggs
1 tsp vanilla extract
Pinch of salt
125 grams or 1 cup all purpose flour
Optional
5-6 strawberries
2 teaspoon sugar
Instructions
Preheat your oven to 180 C/ 350 F. Line a 8 inch square baking pan with parchment paper or foil, keeping two opposite sides of the parchment long (to help pull out after baking).
If using the strawberry , blend the strawberries with the sugar to get about 1/4 cup of thick puree. Consistency should be as close to a ketchup as possible. Chill this until using.
Chop up the chocolate into very small pieces, cube the butter .
In a bowl placed over a pan of little simmering water (bottom of bowl shouldn't touch the water) - this is called double boiler, melt the chocolate and butter until smooth. You can do the same in a microwave at low power . Stir frequently whichever way you use.
To this melted mixture , stir in the sugar with a whisk.
Add the eggs , one by one, stirring well after each addition.
Stir in the vanilla .
Add the flour and salt , stir in until combined.
Pour batter into the prepared pan.
If using strawberry , add large dollops of the puree all over the top , leaving some space between drops.
Run a knife through the batter in a zig zag manner , connecting the dots to swirl the puree in.
Bake for 25- 28 minutes until a toothpick inserted in centre comes out with a few moist crumbs. The edges will be a light golden brown.
Cool in pan completely and then slice!
Notes
These can be stored for about 3-4 days in an airtight container.
If you like brownies or blondies with a lighter, cake-ier texture , Beat the sugar , vanilla and eggs together until light. Stir in the chocolate-butter mixture , and then the flour .
To make your own castor sugar , just grind or process your regular granulated sugar for one pulse.
If your strawberry puree is too thin , you can reduce it by heating for a few minutes in a saucepan. Cool before using.
I used couverture white chocolate (a link to the brand i used is below the post), you could use Compound chocolate as well.
FLOURS & FROSTINGS http://floursandfrostings.com/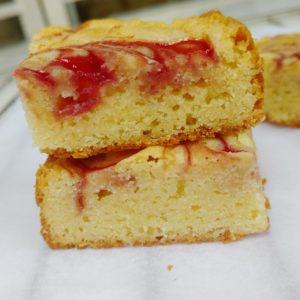 This is THE blondie recipe you need to try right now ..with or without the strawberry . Probably with. Its chewy , its rich , its sooooooo good! This is one time I didn't mind being proven wrong !
Affiliate links : to make these blondies , i used Cocoacraft White Couverture Chocolate
!