"We'll be friends forever, won't we, Pooh?" asked Piglet.
"Even longer," Pooh answered."
This post was a long time coming. I wanted to make white chocolate truffles for a virtual friend (actually a real friend made on the virtual world) for a while now. Like I have said before , I find plain white chocolate far too sweet for my taste . I toyed with the idea of pairing it with lime or coconut . Since like a true blue Mangalorean , grated coconut can be found at any given time in my freezer or fridge – coconut it was !
These truffles are a little more labour intensive than your usual- 'set ganache then shape ganache then roll in cocoa' –truffles . But I really do believe they are every bit of that extra effort. These to-die for truffles are made with a ganache of white chocolate , desiccated coconut , coconut milk and a bit of rum , dipped in dark chocolate and rolled in more desiccated coconut!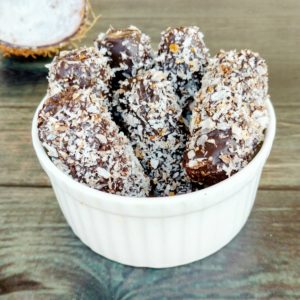 The coconut milk replaces the usual cream here to give the strong nutty flavour.
The desiccated coconut gives a little textural contrast or crunch to the creamy white chocolate . You can skip it too (only if you have to!) . Fresh coconut drastically cuts down the life span of these truffles. So I'd stay away from using it here. And drying the coconut takes hardly a few minutes in any case.
There is just enough rum to do its job and not enough to make it all boozy. And its totally optional.
The truffle is then shaped (I did rods, you can do balls ) and dipped in Dark chocolate . I thought coating in white chocolate would be a little overkill , but if you like white chocolate , go ahead!
The final rolling of the coated truffle in desiccated coconut is absolutely up to you. But it tastes better , looks better and totally covers up any botched chocolate areas , if you (like me) aren't an expert chocolate dipper!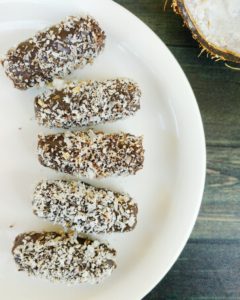 If you enjoy the Bounty or Almond Joy candy bars , you will love these !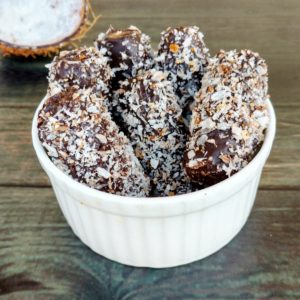 White chocolate and coconut truffles
2017-01-31 12:20:12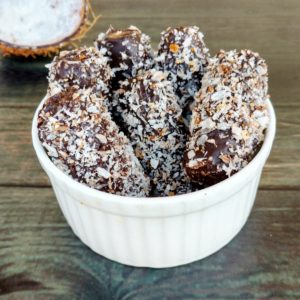 Delicious bite sized treats for the chocolate and coconut lovers !
Ingredients
170 grams or 1 cup white chocolate, chopped
1/2 tablespoon rum or vanilla extract
3 tablespoons coconut milk
30 grams or 1/2 cup fresh grated coconut
100 grams or about 3/4 cup dark chocolate ,chopped
Instructions
For the desiccated coconut : Preheat your oven to 200 C / 400 F. Spread the coconut on a parchment lined baking sheet in as thin a layer as possible.Heat in the oven for 5-6 minutes until dry and the edges are turning golden brown. Mix the coconut up every couple of minutes. You can also toast the coconut in a dry wide pan on low heat , stirring often , for few minutes. Let cool.
Chop the white chocolate into as small pieces as you can.
In a double boiler ( bowl placed over a pan of simmering water with the bottom of the bowl not touching the water) or in the microwave , melt the chocolate until smooth. Stir often while melting to prevent burning.
Add the coconut milk , half of the desiccated coconut and the rum /vanilla . Mix until smooth.
Cover and keep aside for few hours or until set and shapeable.
Once the ganache is set , roll into desired shapes and set aside.
In a double boiler or microwave , melt the dark chocolate.
Using a fork , dip each truffle into the melted chocolate , remove . Tap the fork against the edge of the bowl to shake off excess .
Immediately roll the coated truffle into the remaining coconut , and place on a parchment lined sheet to dry.
Repeat with all the truffles !
Notes
These can be stored in an airtight container for a week.
The ganache can be stored for 2-3 days before shaping and dipping .
This recipe gave me 15 decent sized truffles. The recipe can be doubled.
You can of course use ready available desiccated coconut. Use only half the amount if you do not wish to coat the truffles .
Reheat your melted chocolate every few minutes so it stays liquid and is easy to work with.
FLOURS & FROSTINGS http://floursandfrostings.com/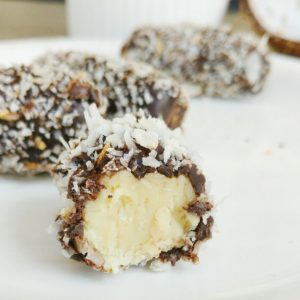 The nuttiness of the coconut against the creaminess of the two kinds of chocolate is absolutely dreamy! These are really perfect bite sized treats – to eat or to gift !
Affiliate links : To make these truffles , I used Cocoacraft White Couverture Chocolate
!