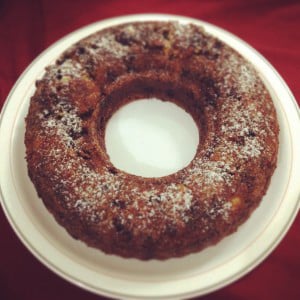 "If you buy bananas , they will go black before you eat them ". That should be one of Murphy's laws. I mean , like seriously. Each and every time we buy bananas, I see them blackening on my counter before we eat them all.
But you won't hear me complaining. Because banana is one of favorite ingredients in baking. So if i don't mash up those overripe fruits into some Mangalore buns ( u shud try them if you never have) , then i fold them into some bread or cake or cookies…
Now bananas play a lot of roles in a baked good.They act like a binder, makes the batter creamy , adds rise and of course add that yummy flavor. Its strange, I don't like to eat bananas as such, but love them in my bakes. Am I the only one ?
This cake is absolutely delicious. Its a quick one bowl recipe ( plus a saucepan ). And this is the first time  I tried browned butter in a recipe, And am officially in LOVE with it. I do not exaggerate. It tastes and smells nutty and butterscotch and so great! Its a moist cake with choco chips sprinkled in the batter ( which you could leave out and it would still taste as great) and needs no adornment or icing. Sprinkle some icing sugar to make it look fancier.. or like me , to cover the parts where your cake stuck to the pan !
Recipe courtesy : Adapted from the Fine cooking cookbook
You'll need:
150 grams or 2/3 cups butter
200 grams or 1 cup sugar
2 eggs ( cold or warm doesn't matter here)
1 tsp vanilla
2 medium bananas (around 2/3 cup when mashed)
145 grams or 1 1/4 cup all purpose flour
1 tsp baking soda
pinch of salt
1/2 cup chocolate chips
Lets get started:
Butter and flour your tube / bundt pan well. I used an 8 cup tube pan. Preheat oven to 180 degrees .
Mash up the bananas with a fork or your fingers or however you want. Just get them as smooth as possible. As you can see, I didn't really do that !
Melt the butter in a saucepan and let it heat for 5-10 minutes until it turns dark brown and there are brown deposits on the bottom of the pan. It ll have a lovely nutty aroma.
Strain the browned butter through a sieve into your mixing bowl so that you remove those brown bits. Let it cool for a few minutes until warm.
Add in the eggs and the sugar. You can use cold eggs as the butter is quite warm. Whisk until smooth. Don't worry about the sugar not getting dissolved
Add the vanilla and stir
Add the bananas and whisk well. Your batter will be thick and lumpy now.
Sift in the flour, baking soda and salt.
On top , add the choco chips.Fold in gently until you no longer see the flour. This is so that you fold in dry ingredients and choco chips in one go and there s less risk of you over mixing.
Pour batter into your pan. Heat at 180 for 40-45 mins or until a toothpick inserted comes out with few moist crumbs sticking to it.
Don't you love that lovely brown crust! Let it rest for 15 mins on a rack. Then invert the pan and remove the cake on a rack. You may need to loosen the edges with a knife.
Let cool completely . Dust with some icing sugar if you want or just cut off a chunk and dig into that moist yumminess..!
You ll love this cake.. I promise you !