"If you buy bananas , they will go black before you eat them ".
That should be one of Murphy's laws. I mean , like seriously. Each and every time we buy bananas, I see them blackening on my counter before we eat them all.
But you won't hear me complaining. Because banana is one of favorite ingredients in baking. So if i don't mash up those overripe fruits into some Mangalore buns ( u shud try them if you never have) , then i fold them into some bread or cake or cookies…
Now bananas play a lot of roles in a baked good.They act like a binder, makes the batter creamy , adds rise and of course add that yummy flavor. Its strange, I don't like to eat bananas as such, but love them in my bakes. Am I the only one ?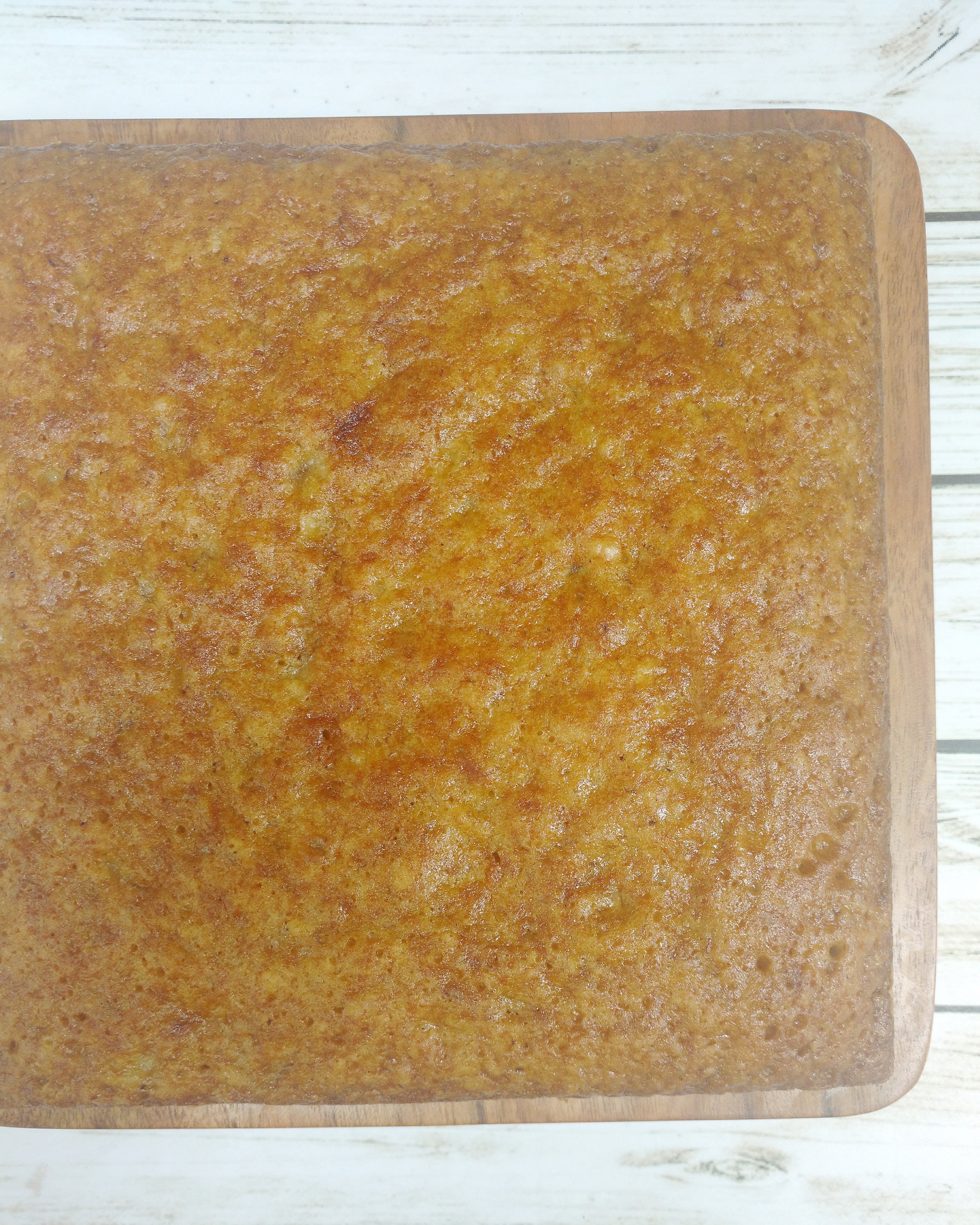 This cake is adapted from Fine cooking and is absolutely delicious. I have made a step by step tutorial that you can check out here. And this is the first time I tried browned butter in a recipe, And am officially in LOVE with it. I do not exaggerate. It tastes and smells nutty and butterscotch and so great! Its a moist cake with choco chips sprinkled in the batter ( which you could leave out and it would still taste as great) and needs no adornment or icing. Sprinkle some icing sugar to make it look fancier.. or drizzle on some chocolate !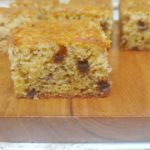 Brown butter chocolate chip banana cake
2017-09-08 10:26:19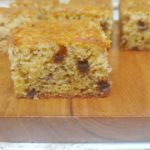 Moist and delicious cake with the yumminess of banana and nuttiness of browned butter !
Ingredients
150 grams or 2/3 cups unsalted butter
150 grams or 3/4 cup granulated or castor sugar
2 eggs ( cold or warm doesn't matter here)
1 tsp vanilla
2 medium bananas (around 2/3 cup when mashed)
160 grams or 1 1/4 cup all purpose flour
1 tsp baking soda
pinch of salt
1/4 to 1/2 cup chocolate chips
Instructions
Preheat your oven to 180 C / 350 F. Butter and flour a 8 inch square pan . Line the bottom with parchment (optional).
In a saucepan , melt the butter and continue heating until it turns brown and there is a nutty smell (be sure not to burn it !)
Take off heat and strain into your mixing bowl. Let cool.
Meanwhile , mash your bananas and keep aside.
In a small bowl, whisk together the flour, soda and salt well,
Take a tablespoon of the flour mixture and dust your chocolate chips with it.
Into the browned butter, whisk in the sugar. It won't all dissolve.
Whisk the eggs , one by one , until smooth.
Whisk in the vanilla and mashed bananas
Add the flour mixture and chocolate chips.
Whisk until just combined.
Pour batter into prepared pan
Bake at 180 C / 350 F until well browned on top , a toothpick inserted in the centre comes out clean . The cake should spring back when touched.
Cool in pan for 5 mins. Unmould and cool completely on a wire rack.
Notes
This cake stays well in an airtight container for 3-4 days.
You can also bake this in a 8 inch round or a tube / ring pan .
The dusting of the chocolate chips is so that they don't settle to the bottom of the cake.
The sweetness of your cake depends on the ripeness of your bananas. Its best to use overripe bananas with brown spots
FLOURS & FROSTINGS http://floursandfrostings.com/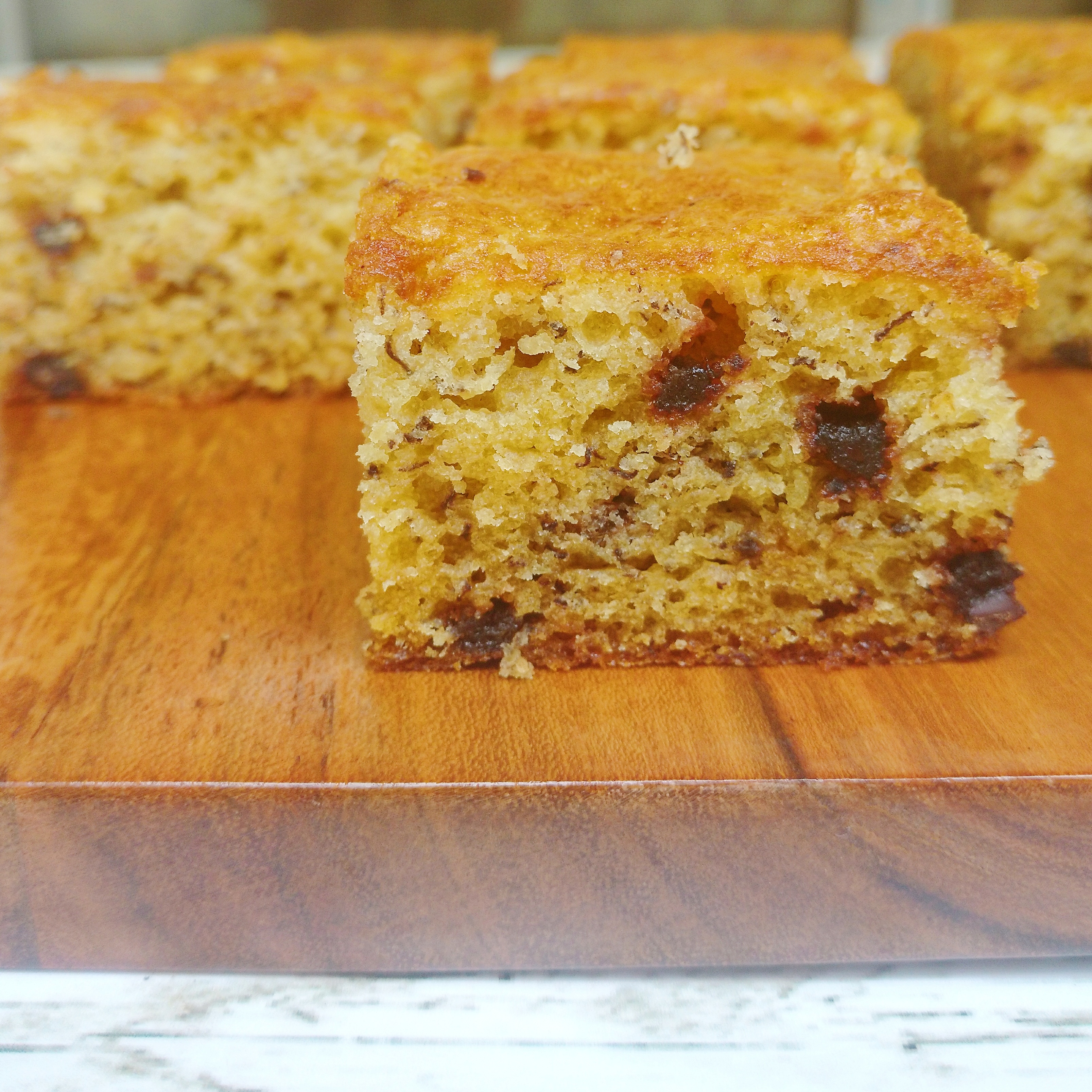 I adore how rustic this cake looks. The brown crust , the flecks on banana on the inside and of course the half melted chocolate chips. Tastes better than it looks !
You ll love this cake.. I promise you !
Affiliate links : Just so you know , I made this cake in my trusty Morphy Richards
and used Dark Chocolate Chips
.
Do check out a step by step tutorial to the cake !