"Life is not always a matter of holding good cards, but sometimes, playing a poor hand well." – Jack London.
I generally don't consider myself a "technical" baker but I have been away from home and I just realised how dependent I actually am on my baking paraphernalia! I am staying with loved ones and I did have a convection microwave at my disposal, but I felt almost handicapped without my weighing scale, my trusty roll of parchment and my usual pantry of baking ingredients . Sounds silly and fussy na.
Moving on…I was in the mood for baking , and I wanted to make do with what i had on hand. This was how I baked a couple of years back , before i started hordeing all the baking pans , tools and goods that i could get my hands on!
So a opened ( and half used ) box of custard powder caught my eye , and I knew cookies were the easiest things to try. With the custard powder, went in some powdered sugar (regular sugar powdered in the mixer grinder) , a good amount of butter (salted no less) and some flour. Some mixing with a spoon and then the hands knead their magic. A greased metal plate worked as good as my usual cookie tray would have.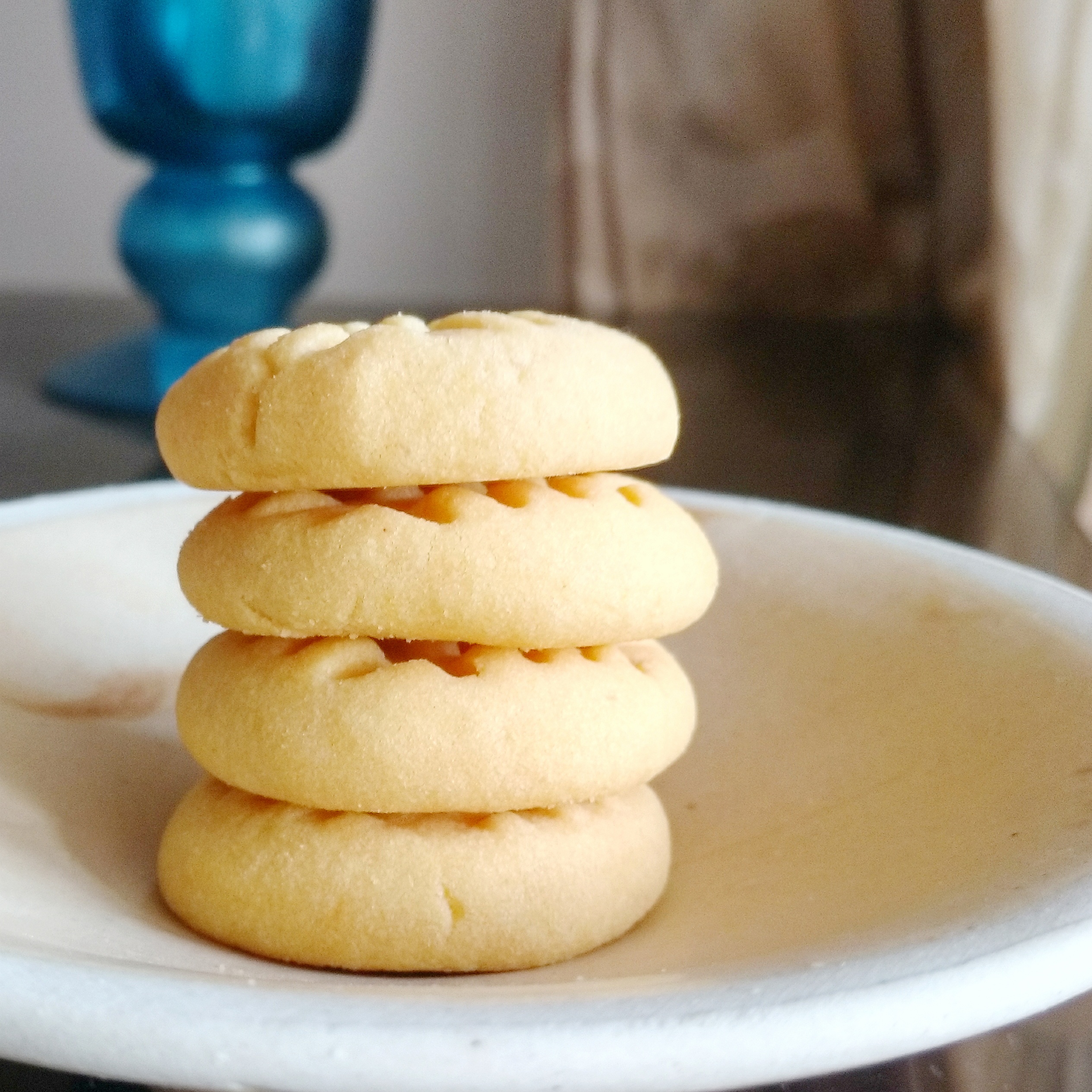 The cookies were a hit. Such cookies made with custard powder are also called Yo – Yos in some countries I believe and are sandwiched with a buttercream or fruity filling .I personally find them just yum on their own but feel free to slather some jam or leftover buttercream between two and relish them.
The cookies in themselves are tender and melt in your mouth. Not too sweet and a pleasant vanilla flavour. The colour is a nice yellow , the depth of which depends on the custard powder you use. You can add a dash of vanilla extract for a added flavour but a good quality custard powder doesn't need it. Likewise , add a pinch of salt if using unsalted butter. Be wary while using salted butter as some brands can be quite salty.
Taste the dough at the end and add more sugar if you think it needs it. Like you need an excuse to taste cookie dough!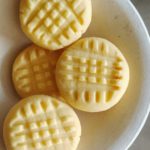 Four ingredient custard cookies
2017-11-30 11:45:32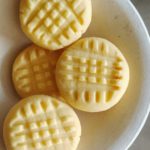 Simple and easy melt-in-your-mouth cookies made with custard powder
Ingredients
35 grams or 1/4 cup custard powder
75 grams or 1/3 cup salted butter, at room temperature
90 grams or 3/4 cup all purpose flour or maida
30 grams or 1/4 cup icing sugar or powdered sugar
1/2 teaspoon vanilla extract ( optional)
Pinch of salt ( if using unsalted butter)
Instructions
Preheat your oven to 180 C / 350 F. Grease a cookie sheet with butter or line with parchment.
In a bowl, mix together well or whisk the flour, icing sugar and custard powder (with salt if using).
Add the butter (and vanilla if using) , mix together until a soft dough forms. You can use your hands to bring the dough together.
Divide the dough into equal sized balls (about 2 cm diameter).
Place on cookie sheet and press down slightly with a fork to make lines on the cookie. You can press the fork down again in the other direction to form the crisscross pattern.
Bake for 16- 20 minutes until the cookies are firm. The edges may slightly brown and the bottom will turn a light brown.
Cool on the cookie sheet for a couple of minutes and then completely on wire rack.
Notes
This recipe makes 20 cookies of about 4 cm diameter. You can double the recipe if you wish.
The cookies do not spread much so can be placed on the cookie sheet with only an inch or so gap between them.
If using salted butter , taste the final dough and add more icing sugar if you want . Some brands of butter have more salt than others.
FLOURS & FROSTINGS http://floursandfrostings.com/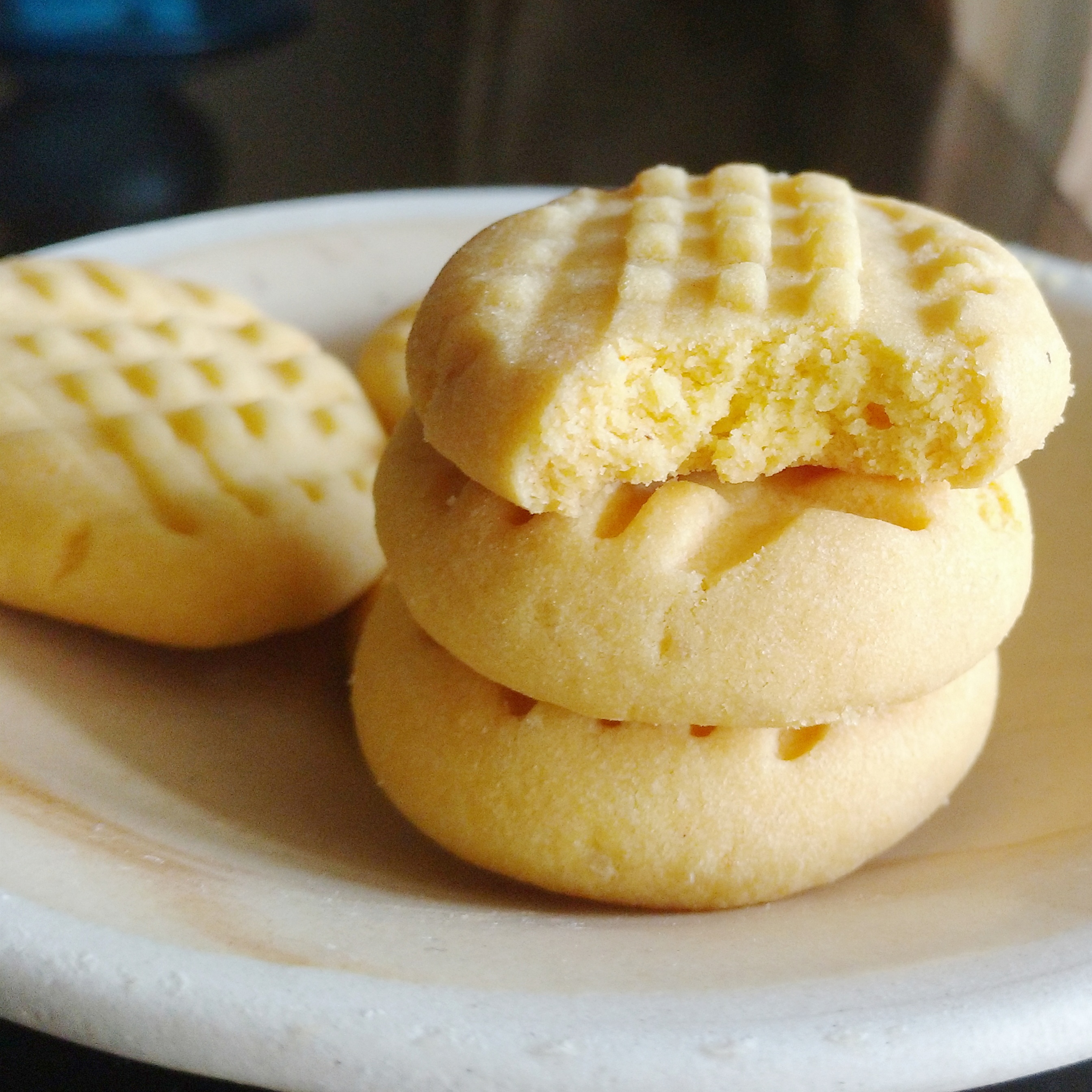 If you like the idea of few ingredient cookies, you will like these condensed milk cookies too… They are a completely different mouth feel- rich , chewy – but just as good !