"Nothing is too much trouble if it turns out the way it should."… Julia Child
I cannot tell you the number of times I have attempted to attempt a biscotti recipe . Always changed my mind because my everyday baking style is generally 'fast and easy'. A cookie whose name itself meant "twice baked" was probably not for lazy ol' me.
Ya well, I stand totally corrected. These biscottis are so ME ! Crunchy is how I like my cookies best . The deep and dark chocolatiness of it. And they keep well for so long that you can gift them (which I did! ) or keep them in the cookie jar for whenever the munchies hit you (which in our house, is far too often) . And i need my house to smell like freshly baked cookies And as it turned out, although it is a much more time intensive project than most cookies, most of the time is baking time which leaves you free to carry on with whatever else you want.
A biscotti is an Italian cookie which is baked as a log until firm and then sliced , and baked again. The second baking draws out all the moisture in it , so that its crisp and crunchy .
I chose to go with a chocolate biscotti for this creative cookie exchange and if you are wondering why the dark is "dark" in the title, its because the biscotti doesn't really have dark chocolate in it, just cocoa. But the final taste is that of a deep dark chocolate and there s of course that gorgeous dark colour . The pistachios are for that jolt of colour and flavour both. Wish I had tossed in more though , would liked a more green speckled look.
This recipe adapted from Alice Medrich is pretty flexible when it comes to add ons , so feel free to substitute your choice of nuts , toasted or untoasted , salted or unsalted, or a similar amount of chocolate chips or even dried fruit. Or go with a handful of each of them ! Or leave it plain . Still tastes pretty darn great !
These cookies have a fine closed grain and a tender crunch . The texture is light but the chocolate flavour is rich and not too sweet. This super crunchy biscuit is perfect for dunking into your coffee or milk. A great addition to your Christmas cookie platter or gift hampers . Or just to get your daily chocolate fix!
CREATIVE COOKIE EXCHANGE!
Biscotti (or mandelbrot or any other twice baked cookie by any other name) are one of the perfect Holiday tin cookies! They last forever, and there are so many ways to make them festive. So we've got you covered–sweet, savory, low fat, loaded with decadence, you name it, we've got it! Happy Holidays!
You can also use us as a great resource for cookie recipes. Be sure to check out our Pinterest Board and our monthly posts (you can find all of them here at The Spiced Life). You will be able to find them the first Tuesday after the 15th of each month! Also, if you are looking for inspiration to get in the kitchen and start baking, check out what all of the hosting bloggers have made:
Almond Lemon Biscotti by Basic N Delicious
Banana Walnut Biscotti by Upstate Ramblings
Chocolate Almond Biscotti by Karen's Kitchen Stories
Chocolate Toffee Biscotti by Live Bake Love
Currant Walnut Biscotti by Magnolia Days
Dark Chocolate and Pistachio Biscotti by Flours and Frostings
Gingerbread Biscotti by Food Lust People Love
Gluten Free Chocolate Biscotti by What Smells So Good?
Holiday Biscotti Bar by The Spiced Life
Honey Beescotti by Oven Delights
Mocha Biscotti by A Baker's House
Orange Pistachio Biscotti by 2 Cookin' Mamas
Parmesan Black Pepper Biscotti by A Shaggy Dough Story
Peppermint Kahlua Chocolate-Dipped Biscotti by All That's Left Are The Crumbs
White Chocolate Dipped Gingerbread Biscotti by Christmas Tree Lane
SaveSave

Print Recipe
Dark chocolate and pistachio biscotti
Yum
Dark chocolate biscotti with pistachios !!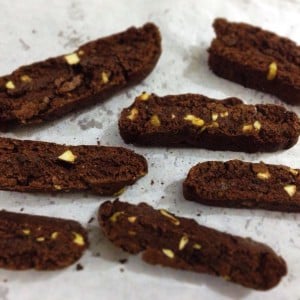 | | |
| --- | --- |
| | |
Preheat your oven to 140 C or 300 F . Line a baking tray with parchment or grease with butter.

Shell and chop up your pistachios . Keep aside.

Whisk together the flour, cocoa , baking soda and salt.

With a mixer or a wooden spoon , cream the butter and sugar until light and fluffy. This will take 3-5 minutes with a mixer and longer by hand.

Mix in the eggs and vanilla until smooth.

Add in the dry ingredients and fold .

Shape into two logs (each about 25 x 5 cms) . Place on baking sheet and bake at 140 C / 300 F for 30 minutes. It ll be firm but spring back on touching

Slice obliquely (about an inch thick) using a serrated knife. you can use a sawing motion. I just cut straight down.

Place the slices on a unlined and ungreased baking sheet. Bake at 140 c/ 300 F for 15 minutes .

Turn the slices over and bake for another 15 minutes. Cool completely
Also:
Store in an airtight container for 2-3 weeks.
Depending on how thin or thick you want your biscotti , you can shape your log higher or flatter. It won't change the first baking time. Change the second baking time ( = or - 5 minutes depending on the size)
These times yield a very crunchy biscuit. For a softer cookie , bake 10 minutes each side.