"As long as there was coffee in the world, how bad could things be?"
― Cassandra Clare, City of Ashes.
It's no secret that I am a coffee lover and since I posted the Masala chai icecream, I was dying to post something with coffee in it . I almost felt like I was cheating on my favourite beverage ! If you love your cup of daily java as much as I do , you will know exactly what I mean !
This months Creative Cookie Exchange came exactly at the right time. The theme was Warm Winter drinks. In some things , I am quite a creature of habit , and when it comes to drinks in winter , I rarely stray away from hot chocolate or coffee in some glorious form or another . These Cappuccino Biscotti fit the bill exactly for me . Robust coffee flavour with chunks of dark chocolate . So good.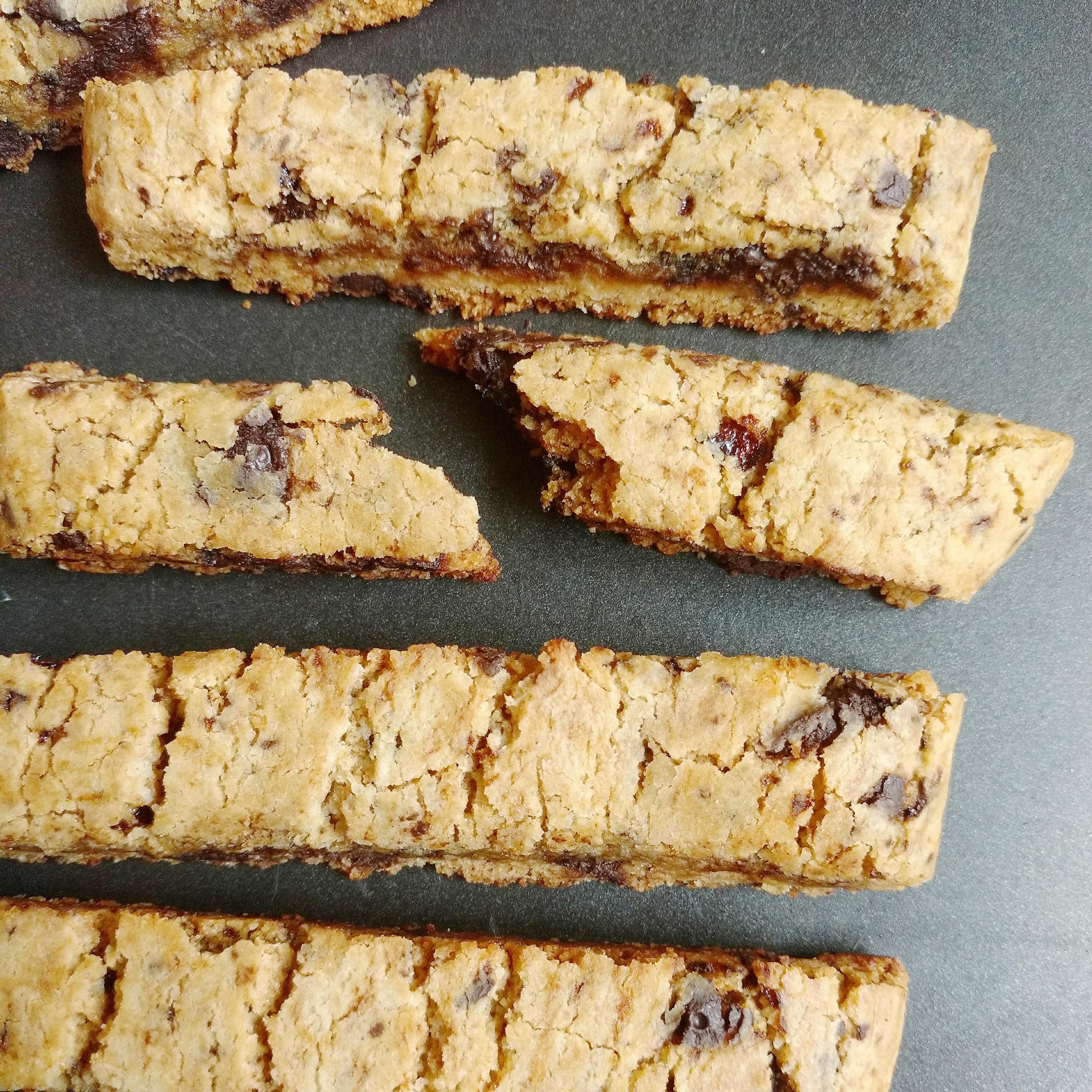 Biscotti or the twice baked Italian cookies do take a little bit more baking than the regular cookie ( twice the amount to be literal!) . But I honestly don't mind. They are crunchy and deliciously dunk-able in your cup of tea or coffee . I hear the Italians dip them in wine too , i am yet to try that though.
With these Cappuccino biscotti though , there is no need for that cup of coffee to dip into. The coffee is right in the cookie. How great is that.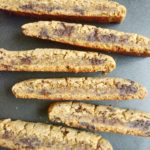 Cappuccino Biscotti
2017-10-17 11:40:56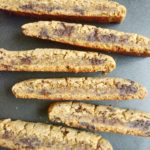 Crunchy Italian cookies with robust coffee flavour and plenty of chocolate chunks !
Ingredients
125 grams or 1 cup all purpose flour
1 tablespoon instant coffee powder or espresso powder
1/2 teaspoon baking powder
1/4 teaspoon salt
28 grams or 2 tablespoons unsalted butter , at room temperature
100 grams or 1/2 cup granulated sugar
2 tablespoons milk , at room temperature
1 teaspoon vanilla extract
50 grams chocolate chips or chunks (optional)
Instructions
Preheat your oven to 180 C or 350 F.
In a bowl, whisk or sift together the flour, baking powder, salt and coffee/ espresso. Keep aside.
With a wooden spoon or electric mixer , beat the butter and sugar together until light and fluffy. This will take 4-5 minutes.
Beat in the milk and vanilla extract .
Add the flour mixture and beat until a soft dough forms.
Add the chocolate chips or chunks if using and mix into the dough.
Form a log approximately 2 inches wide ,1 inch high and 10 inches long on a parchment lined baking sheet.
Bake for 18- 20 minutes until the top is cracked .
Remove from oven and let cool for 10 minutes or so. Reduce oven temperature to 120 C / 250 F.
When the log is cool enough to handle , slice it obliquely into pieces of 1 inch thickness (from one short end to another).
Place the slices (cut side up) on the parchment lined baking sheet .
Bake at 120 C/ 250 F for 10 - 15 minutes.
Let cool for few minutes on the baking sheet and then completely on a wire rack.
Notes
This makes a dozen long cookies. You can double the recipe and make two logs of same size and follow the recipe as such.
The cookies will last for a week in an airtight container.
The more the width of your cookie log , longer will be your final cookies . The more the height , thicker will be your final cookies.
While slicing your cookies, a serrated or bread knife works best. Some crumbling is inevitable.
You can reduce the coffee powder if you wish.
FLOURS & FROSTINGS http://floursandfrostings.com/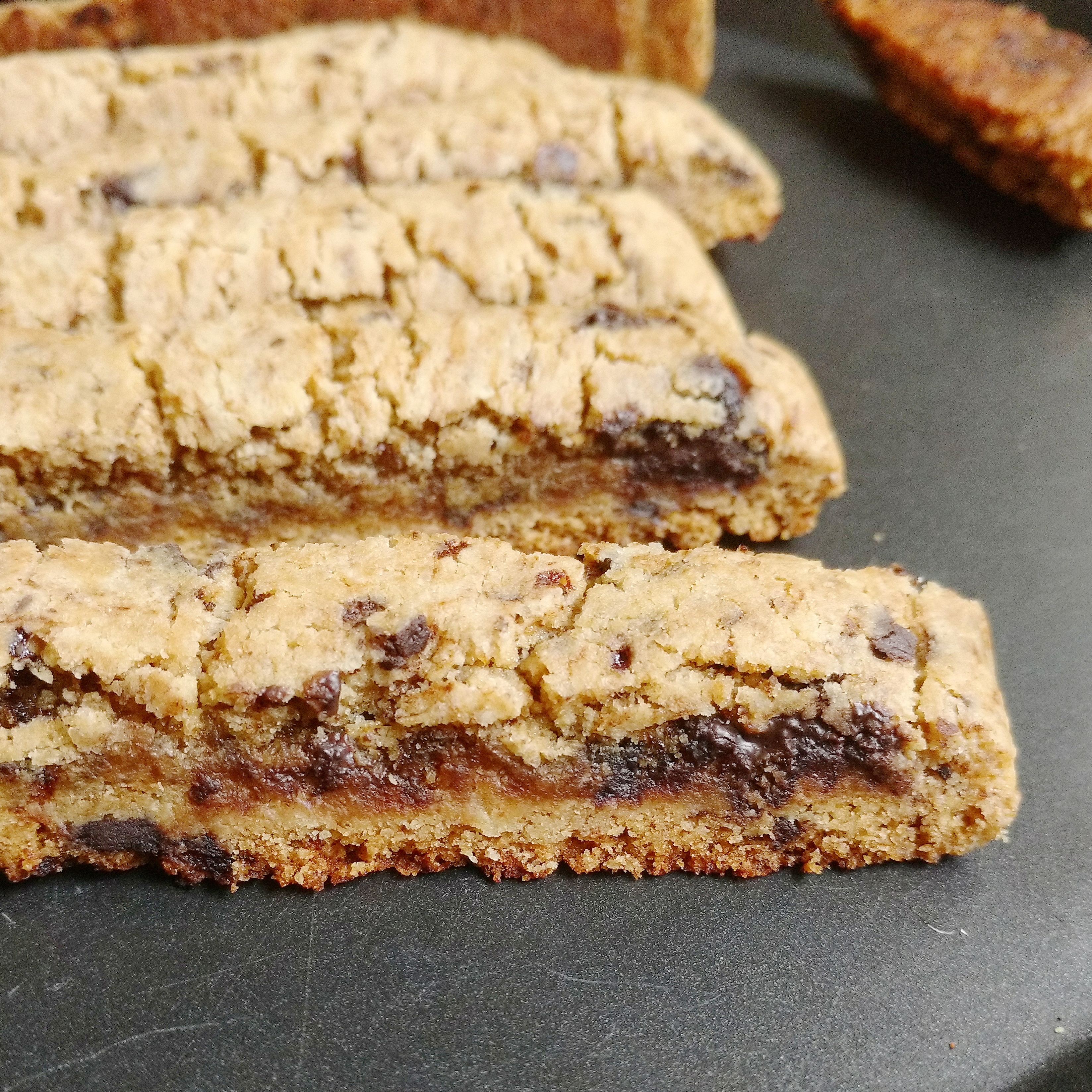 These biscotti are perfectly crisp and rustic in texture and quite intense in flavour. I do think I might have overdone it with the chocolate chunks . This is surely one caffeine loaded cookie !
Creative Cookie Exchange !
It's fall–that means it is time to turn on the ovens, time to start baking, and time to start enjoying all those piping hot drinks you've been avoiding! We've decided we are going to help inspire you with all three of those with our cookies that have been inspired by warm cold weather drinks.
You can also use us as a great resource for cookie recipes. Be sure to check out our Pinterest Board and our monthly posts (you can find all of them here at The Spiced Life). You will be able to find them the first Tuesday after the 15th of each month! If you are a blogger and want to join in the fun, contact Laura at thespicedlife AT gmail DOT com and she will get you added to our Facebook group, where we discuss our cookies and share links.
If you are looking for inspiration to get in the kitchen and start baking, check out what all of the hosting bloggers have made: