"A book reads the better which is our own, and has been so long known to us, that we know the topography of its blots, and dog's ears, and can trace the dirt in it to having read it at tea with buttered muffins. "- Charles Lamb
The saga of the overripe bananas continues ….
In the past , I have come up with some pretty darn good ways of dealing with blackening bananas – like banana bread , wholewheat chocolate banana muffins and chocochip banana cake .
This time, I made me some easy eggless banana muffins. They are so simple , they are soft and tender , they are pretty darn good.
Speaking of muffins, how strange it is that one word could mean so many things. It could ofocurse mean this baked quick bread or it could be an endearment for someone you adore or it could be the extra fat hanging on your sides (another sad saga that continues …) or other things that I would rather not write over here ! Really strange .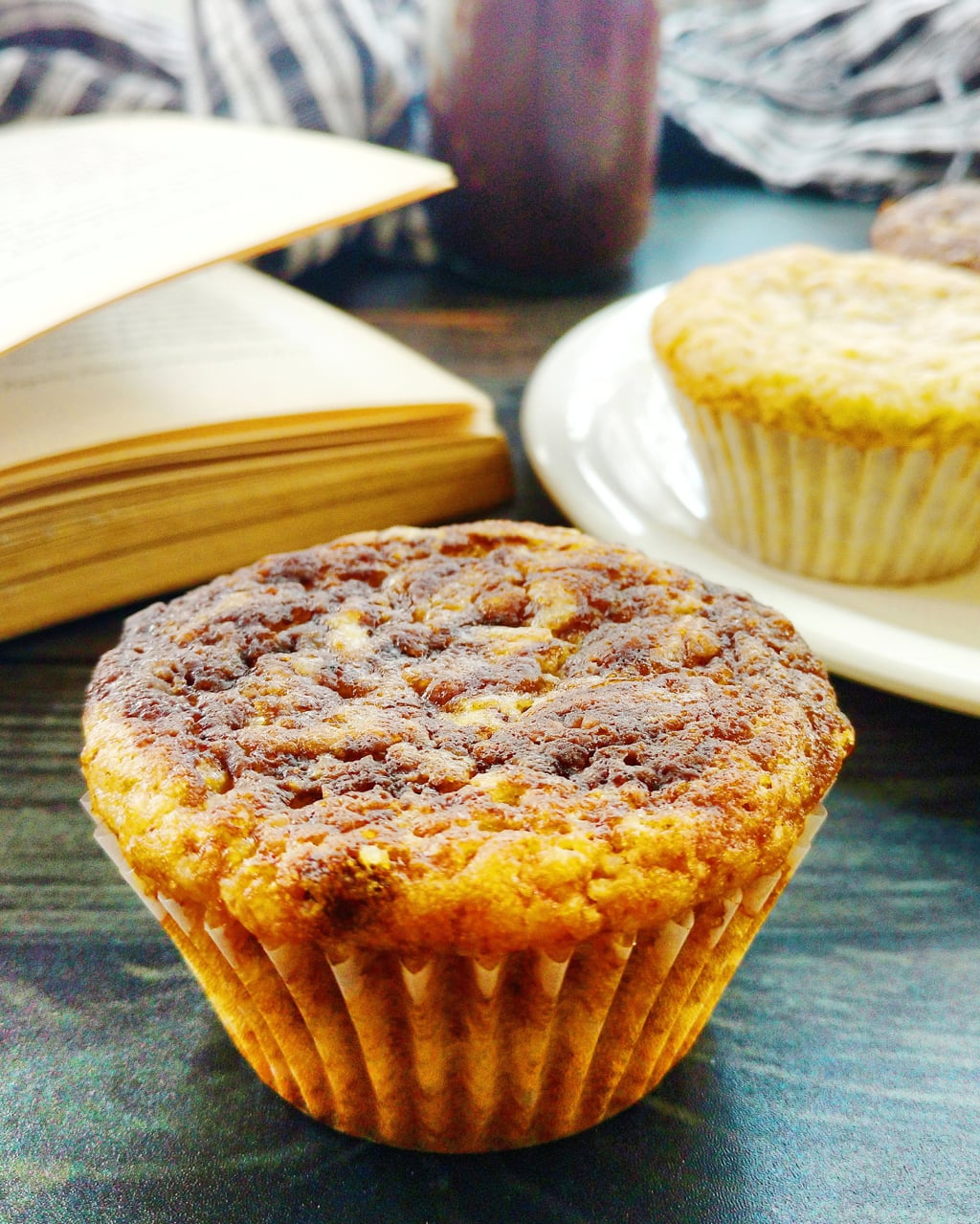 Lets stick to the baked kind of muffin today. Now since the poor muffin has no trustworthy frosting for support, it perpetually stands the risk of being too plain. I of course, don't think these are plain. But I did swirl a little bit of my homemade almond-ella to make it more special. You could use Nutella , peanut butter or chocolate chips instead.
The nutty chocolate swirl addition to the muffins also give you an excuse to eat dessert for breakfast. Muffins are legit breakfast food right !
Mission rescue overripe bananas successful ! These are so delicious and moist . Yum . Anyone who thinks muffins are plain, definitely should eat their words !
If you are looking for even healthier muffins , hop over to Quiche "n" tell and check out her amazing recipe for Oats and Avocado Muffins!

Print Recipe
Easy banana muffins
Yum
Quick and easy muffins that take care of that overripe banana , and a swirl of nutty chocolate makes them even more irresistible !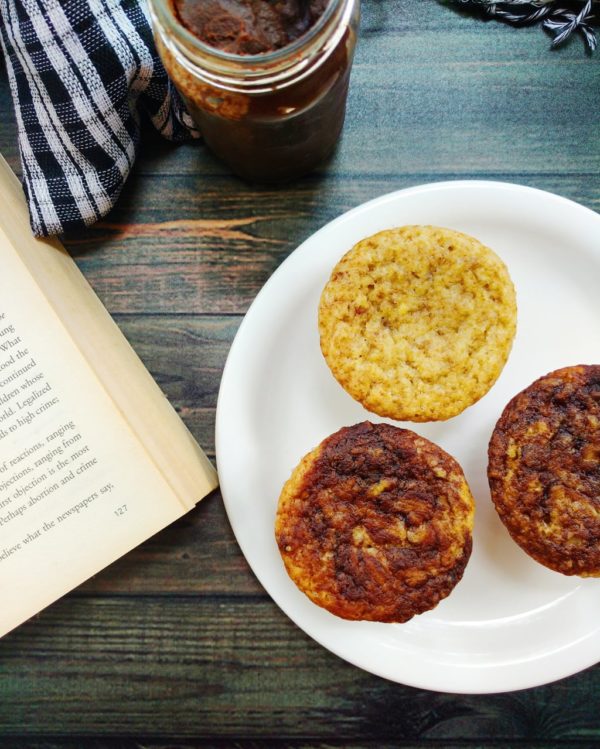 | | |
| --- | --- |
| | |
Preheat your oven to 180 C or 350 F. Line a muffin pan with paper liners (or grease and dust)

Whisk or sift together the flour, baking soda and salt. Keep aside.

Whisk the mashed up banana , sugar , yoghurt , oil and vanilla in a bowl.

Add the flour mixture and whisk until JUST combined.

Fill the liners about 3/4 th full. If using , add a teaspoon of Nutella or chocolate on top and swirl with a knife or toothpick.

Bake for 18 to 22 minutes until toothpick inserted in centre comes out clean.
These can be stored 3-4 days in an airtight container.
If you find mashing up the banana difficult, just blend with the yoghurt in a mixer and continue.
The recipe can be doubled.