"Nothing in life is a piece of cake; well, except an actually piece of cake."- Hira Fathima Ahmad.
Have you seen that viral video of some bakers cutting humungous pieces of cotton cheesecakes ? Pictures of Japanese cotton cheesecakes have lured me for long but I have kept away because I find cheesecakes tricky beasts. The water baths, the baking and the cooling, the fear of cracking and shrinking . And lets not forget the heaps of calorie laden cream cheese that go into them !
Ya well… I should have atleast taken a look at the recipes for it, because turns out Japanese cheesecakes actually don't have that much cheese in them. And a whole lot of research , and some trial and error gave me some pointers on how to make the process as stress free as possible . You know , if you stress over things like cheesecakes :-). I do . Often .
Some details about the baking. If this isn't your first cheesecake , just skip to the recipe !
First the pan :It is ideal to bake cheesecakes in a round springform pan as they are so soft .That way you can just open up the sides and release the cake when its done . But not everyone has a springform pan and also you need to double line the outside of your pan with foil so that the water from the water bath does not seep into your cake. An easier way is to use a loaf pan. Just line with parchment long enough on both sides and you can just lift out the cake when done ! You can do it either ways. I tried it in a regular round pan but found it an ordeal to get it out and then too with lot of crumble – age.
Waterbacth : You need a bigger pan than your loaf or springiform pan . You fill the outer one with hot water so that the water level is halfway up your inner pan. This ensures the gentle loving baking that a cheesecake needs!
Preventing cracks : I am not too paranoid about my cheesecakes developing cracks . Its like the crinkly tops of brownies or the crack on a pound cake. But to make sure you have less or no cracks , make sure you know your oven temperature well. If you think it runs hotter, bake at a lower temperature for longer.
Cooling : Once done , your cheesecake will shrink. To prevent it from shrinking too much , cool it gradually . Hence ten minutes in the oven with the door ajar , then to room temperature and finally atleast 3 hours in the refrigerator. The chilling time is required for the cheesecake to set.
Cutting the cake : You will see all sorts of tips about this from cold knifes to hot knifes to dental floss . My way : take the sharpest knife you can find, slice in one motion and wipe before the next cut. Heating the knife over a flame also helps. Again , the loaf pan works out here as its so much easier to slice !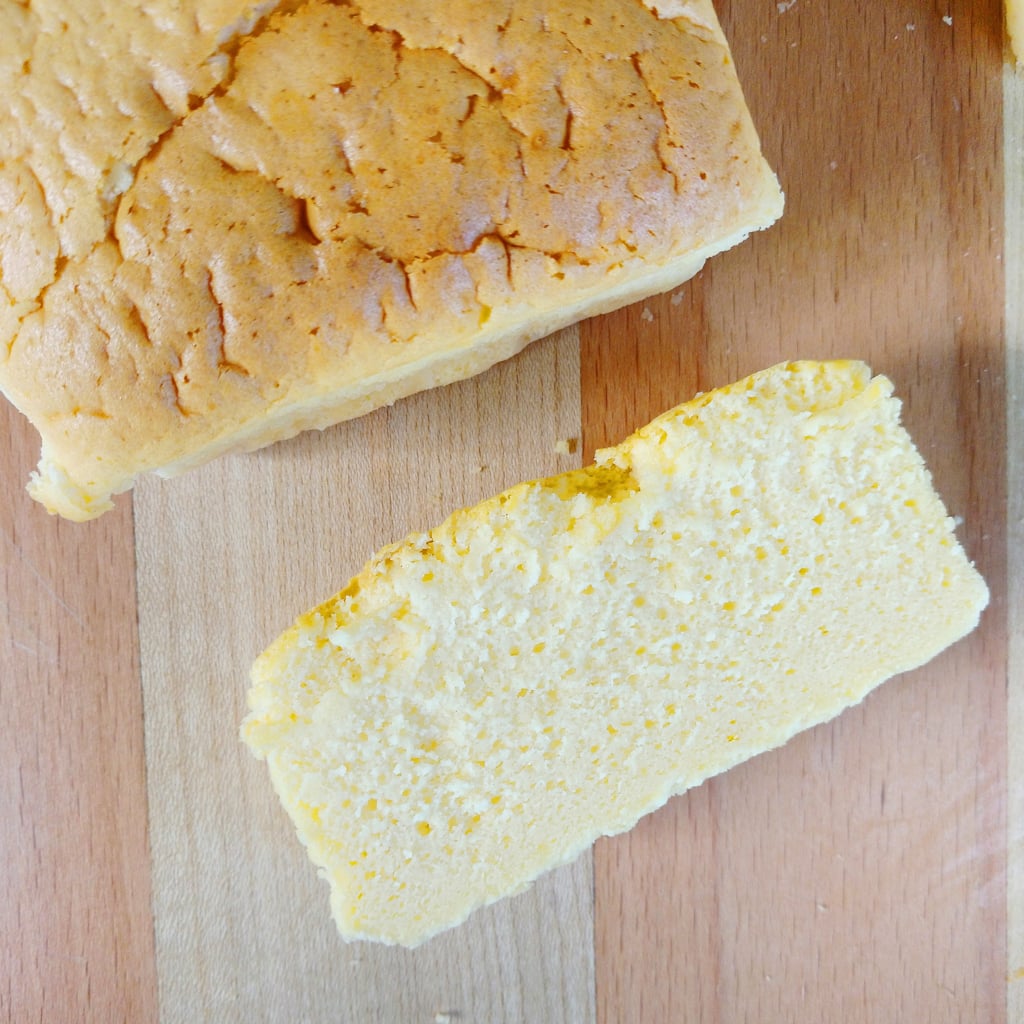 Have I scared you with too much info already ? I hope not – because this cake is worth making and having atleast once. The texture is so so soft , they should call it cloud cheesecake . And it is neither too sweet nor tart. This recipe is a combination of several ones I found on the net . Infact, as I wanted to submit this for a fusion desert competition , I used some homemade Rabdi instead of the plain milk to give me a pretty lip smacking "Rasmalai" like Japanese cotton cheesecake !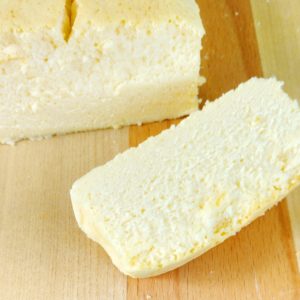 This is without a doubt the fluffiest cake I have made. Its uber soft and simply melt in your mouth. I was so pleased with the taste of my Indian avatar as well , the texture is a little smoother and tastes gorgeously like Rasmalai ! Best of both worlds !
If you like cheesecakes but would rather not bother with water baths and temperatures , try these super easy no bake oreo cheesecake or pleasing pastel cheesecake .

Print Recipe
Japanese cotton cheesecake (with a Rabdi twist)
Yum
Light and unbelievably soft Japanese cotton cheesecake with an Indian twist 🙂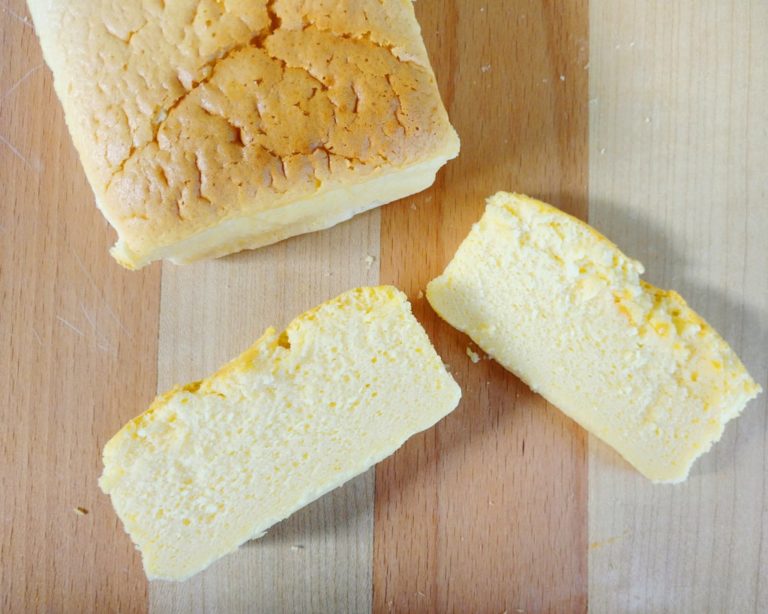 | | |
| --- | --- |
| | |
Preheat your oven to 140 Celsius. Line a 9 x4 inch loaf pan with parchment paper such that it overlaps the sides and can be used to lift out the cake later.

To make the rabdi, in a wide thick bottomed pan , heat the milk along with the sugar , cardamom, and saffron. Bring to boil. Using a spatula, gather the cream that forms and stick it to the side of the pan. Lower the heat to medium or low and continue heating the milk, removing the cream at regular intervals as above. When the milk has reduced to about 1/2 cup ( a third of the original volume), take off heat.

Transfer the rabdi (reduced milk and collected cream) to a bowl.

Add the cream cheese and butter to this rabid or milk if you are making a plain cheesecake . Place the bowl on top of a saucepan with an inch of water (double boiler) and place the saucepan on medium heat.

Whisk the mixture while heating in this manner until the cream cheese and butter has melted.

Cool this and then whisk in the egg yolks (and zest if using)

Sift in the flour and cornflour to this eggyolk- cheese-rabdi mixture. Whisk until smooth.

In another bowl, beat the egg whites until foamy.

Add the granulated sugar in portions and continue beating until stiff shiny peaks form (if you upturn the bowl, the whipped egg whites will not move!)

Fold in the egg whites into the earlier mixture gently, in three or four additions.

Pour into the lined pan. Place the pan in a bigger pan and fill the outer pan with hot water up to half way up your loaf pan.

Bake at 140 C for 40-45 minutes or until top is browned and the cheesecake is set.

Cool in oven with door ajar for 10 minutes.

Remove from pan by pulling out the parchment paper , and cool completely on a wire rack.

Chill for at least three hours in the refrigerator before serving . Wipe the knife after each cut on the cheesecake, to have neat cuts.
Step by step tutorial:
This cheesecake stays well for about 3-4 days in the refrigerator.
If using springform pans , use two 6 inch round ones and bake for 35-40 minutes , or one 8 inch one and bake for 40-45 minutes . Line the bottom and sides with parchment. Make sure you line the bottom and sides of your pan with foil so no water leaks in. Cool in pan before removing the sides . Remove parchments and cool completely before chilling.
If you are making a plain cheesecake , lemon zest or orange zest keeps it from becoming too plain ! Also add 2 tablespoons more sugar if you like your desserts sweet!