"Fool me once , shame on you.
Fool me twice , shame on me."
A fool is an English dessert , which is classically made with stewed fruit and some whipped cream. In my mind it is a slightly more upscale version of fruit with cream ? Many variations on the fool exist , the easiest being pureed fruit mixed with whipped cream for a cool mousse-like dessert.
I don't know why anyone would call a dessert a fool . I am thinking maybe because it looks like a custard but isn't ? That the person is fooled when it looks like something and tastes like something else ? Or maybe the eater is fooled by how easy this dessert is ? The real origin of the name maybe from the French word "fouler" which means to press or mash. So it makes sense that a dessert that is primarily mashed fruits would be called this!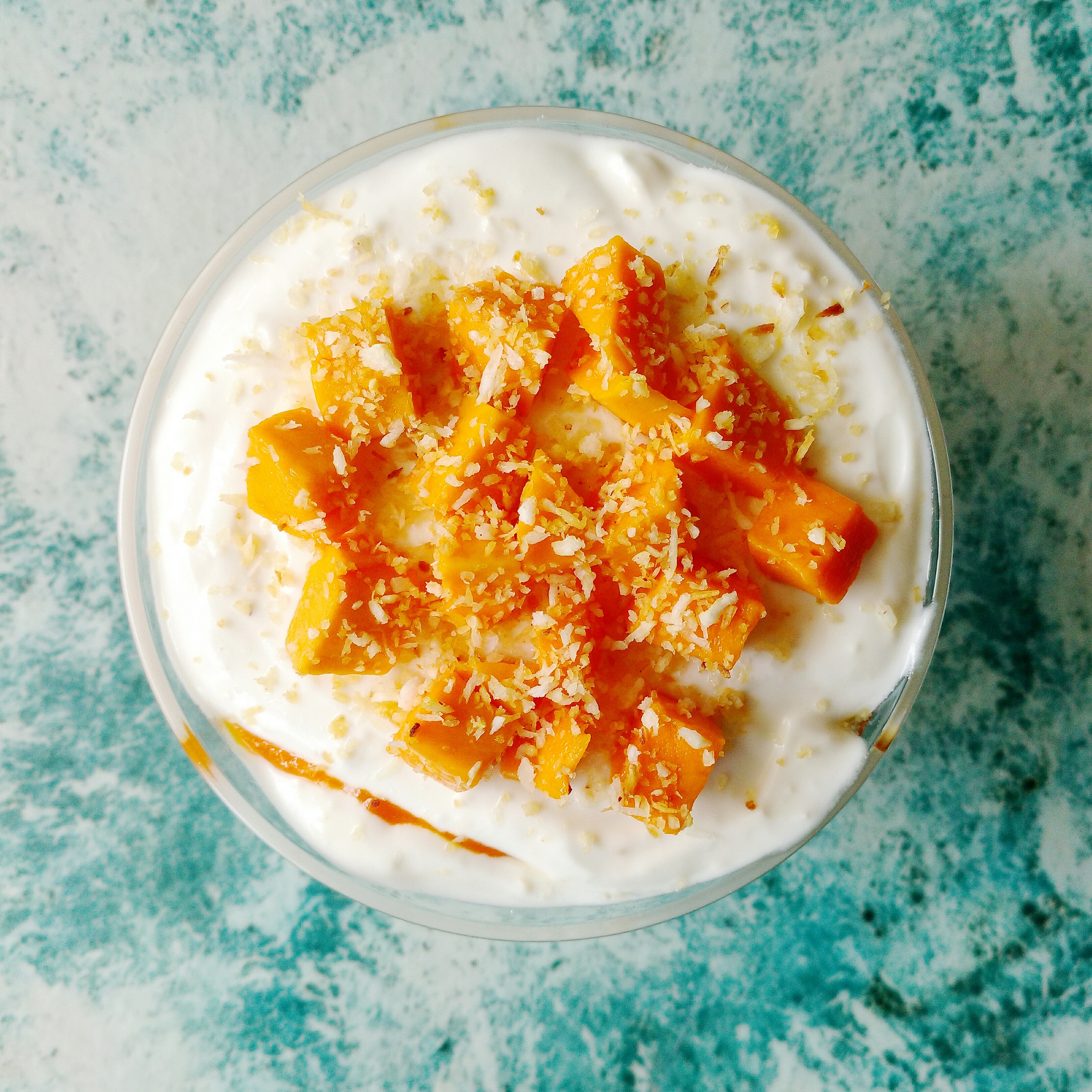 My fool is a tropical inspired fool… coconuts and mangoes . And I added some yoghurt to give the whole thing some complexity. The toasted coconut is crunchy, the seasonal mangoes are refreshing and the yoghurt lends its characteristic tang.
And just to punctuate the dessert… arent the white and yellow layers pretty !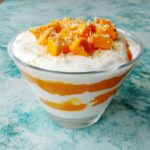 Mango and coconut yoghurt fool
2017-04-24 12:33:38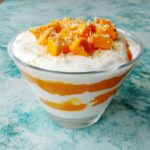 Light and refreshing dessert with the tropical flavours of mango and coconut!
Ingredients
1 mango
2 tablespoons coconut milk
2 tablespoons dessicated coconut
120 ml or ½ cup cream, chilled
120 ml or ½ cup yoghurt
3 tablespoons granulated sugar
2 teaspoons lime juice
For garnish /(optional)
Some mango chunks
1 tablespoon toasted coconut
Instructions
Peel the mango and chop the flesh into small chunks. Heat the mango with the lime juice and one tablespoon of sugar in a saucepan. Being to a boil and simmer for 5 to 6 minutes until the mango is broken down or is really soft. Take off heat and cool to room temperature.
Whip the chilled cream with the sugar with a whisk or electric better until soft peaks.
Add the coconut milk, toasted coconut and yoghurt and whisk for a minute until smooth.
In your serving bowls, spoon a couple of tablespoons of the cream , a tablespoon of the the mango , keep alternating in this way.
Chill for 30 minutes .
Top with some chopped mango and toasted coconut.
Serve cold!
Notes
This can be made 2 days ahead.
This makes 2 generous servings, multiply as per your need.
To toast or dessicate fresh coconut , dry toast in a pan on stovetop or bake in a preheated oven at 180 C for 6 to 8 minutes until light brown.
You can use light or fresh cream. Chill the cream in the bowl with the whisk or beaters in the freezer for 10 minutes for easiest whipping.
You can use any yoghurt but the thicker the yoghurt, better is the texture.
You can leave out the coconut milk if you want.
FLOURS & FROSTINGS http://floursandfrostings.com/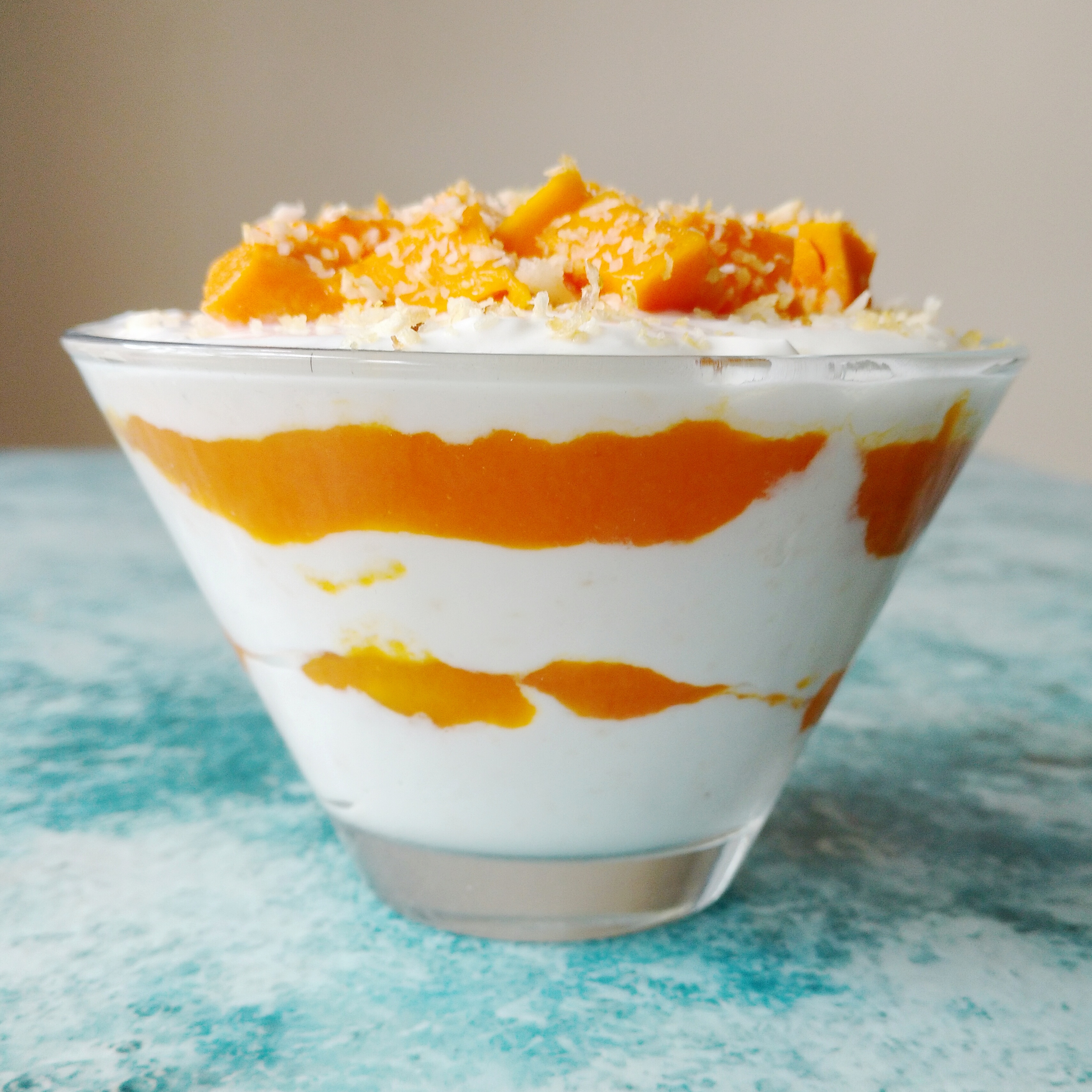 You know when in summers , you have people over and you want to serve dessert but most options are too heavy to enjoy in the smoldering heat. And if you don't want to go frozen ( like
icecream
or
frozen yoghurt
or
semifreddo
) , this fool might be your answer. Its light , chilled and of course really tasty…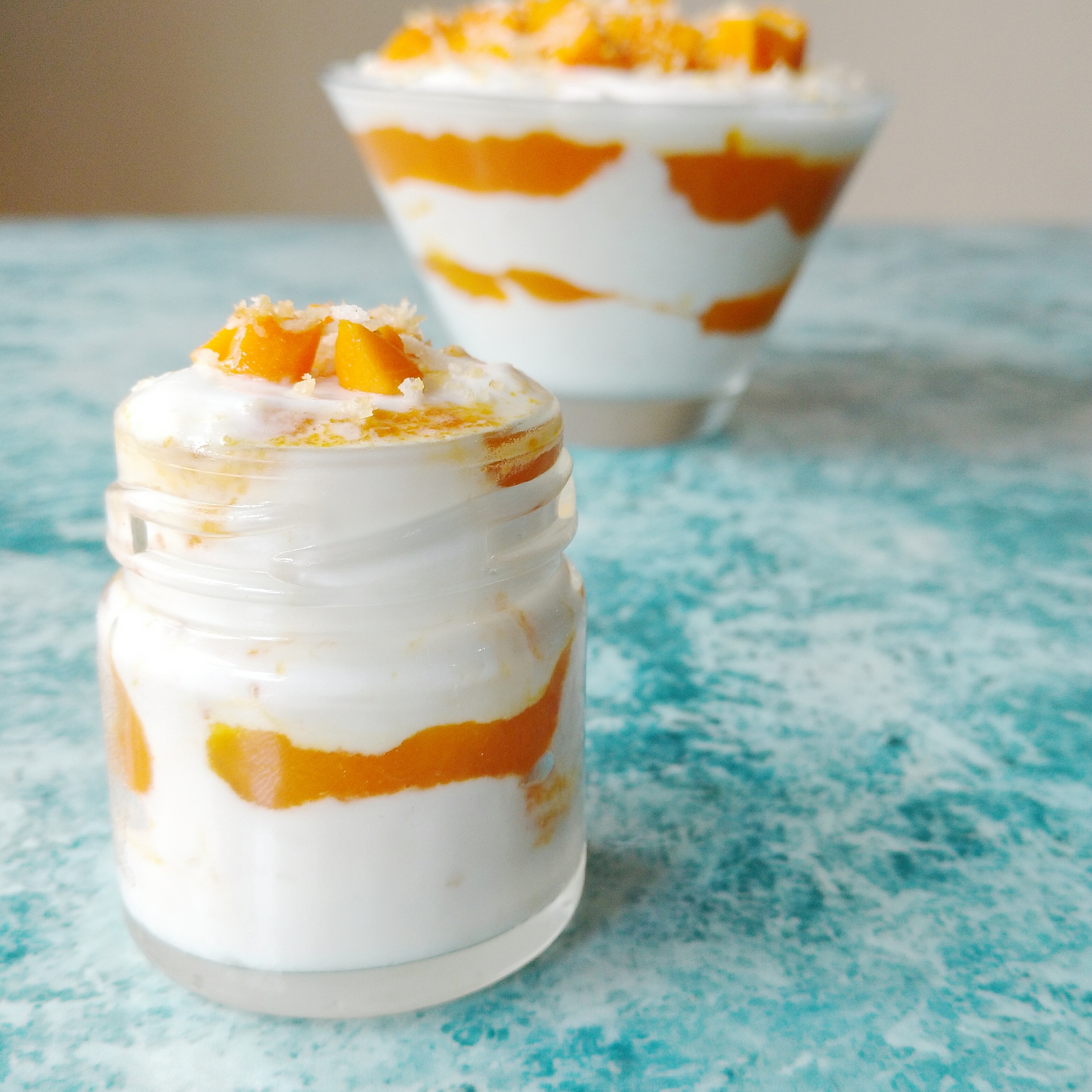 Affiliate links : I used this Desiccated Coconut
in this fool 🙂