"Health food may be good for the conscience but Oreos taste a hell of a lot better."- Robert Redford
Cookies and cream seems to be a recurring theme on the blog. Brownies and fudge and cheesecake and now cake. I don't like eating Oreos as much as I like crushing them and chopping them and putting them in things !
This cookies and cream cake is an old favourite with a make over – layers of an oft made devil's food chocolate cake with a chocolate sandwich cookie buttercream. You could go a step further and fold chopped up Oreos into the cakebatter. Or maybe some ganache over the top. But in the spirit of uncomplicating things , just the Oreo buttercream and the cake make a great combination ! What this cake lacks in sophistication, it makes up for in taste !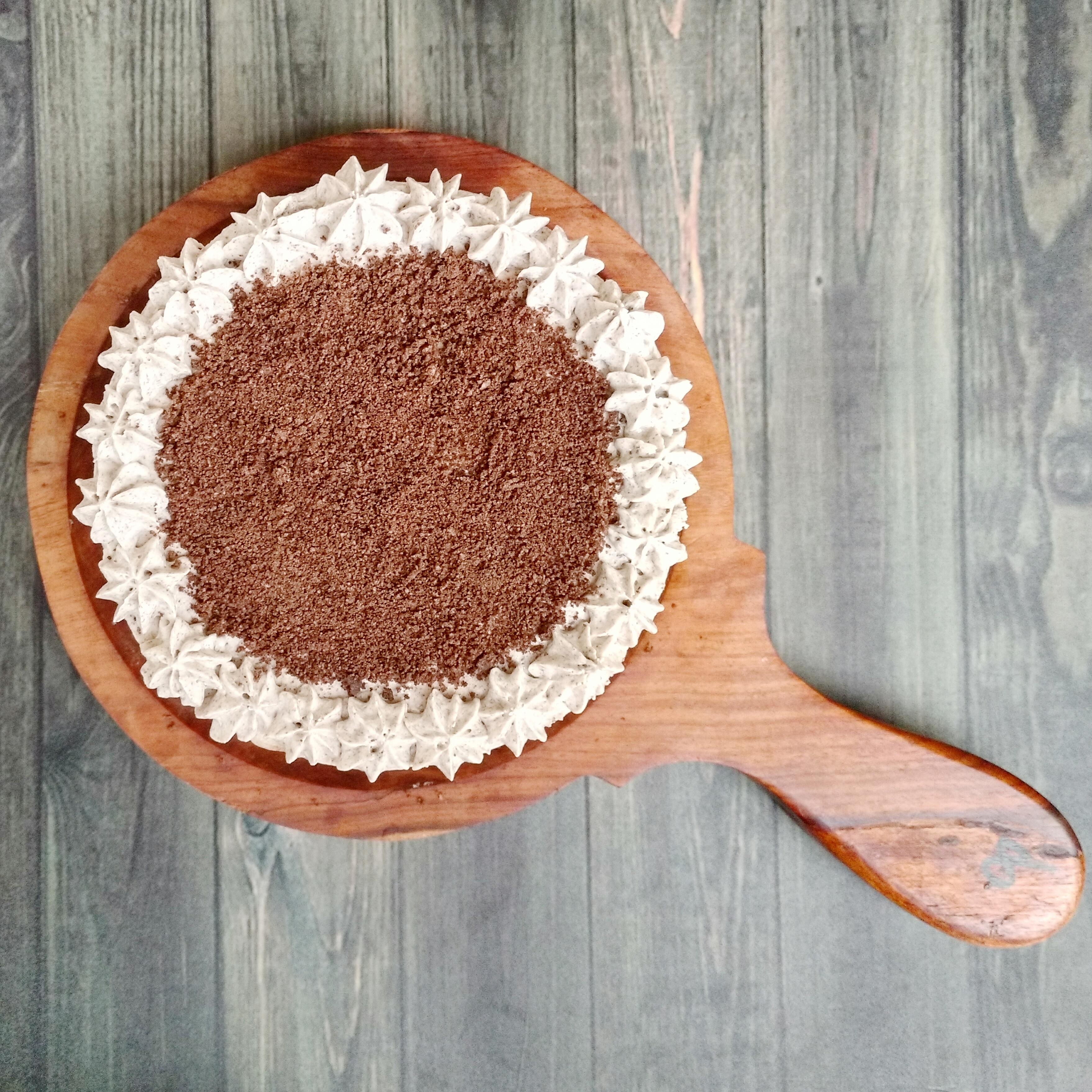 The cake is one I have made many times before. I paired it with the Nutella ganache for my 100th post Ferrero Rochers cake. There is a reason it keeps making a come back in my kitchen. An almost one bowl, one whisk and minimal fuss cake which bakes up into dark and moist decadence . Its versatile and delicious . Enough said.
The oreo buttercream is really a simple one. Butter , loads of sugar , a splash of milk and the crushed up Oreos. It holds well and pipes up good. But don't use too small a piping tip or some cookie bits getting stuck in the nozzle will annoy you to no end.
The buttercream is sweeter than I usually like or make . But the cake isn't too sweet , so it offsets the sugar in the buttercream well – so it's all one good mouth full of cookies and cream . And cake !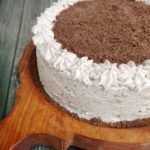 Cookies and cream cake
2017-04-22 07:13:05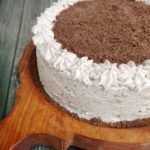 Moist devil's food chocolate cake layers filled and frosted with delicious oreo buttercream
For the cake
45 grams or 1/2 cups cocoa
120 ml or 1/2 cup water boiling
125 grams or 1 cup all purpose flour
150 grams or 3/4 cup granulated sugar
3/4 tsp baking soda
1 tsp baking powder
1/2 tsp salt
1 egg , at room temperature
1/2 cup yoghurt , at room temperature
1 tsp vanilla extract
1/4 cup or 60 ml oil
For the buttercream
165 grams or 3/4 cup salted or unsalted butter , at room temperature
300 grams or 3 cups icing sugar
2 tablespoons milk
1 teaspoon vanilla extract
5-6 oreos or other chocolate sandwich cookies (plus extra for decorating)
To make the cake
Preheat oven to 160 C/ 325 F.
Butter and flour a 6 inch round pan well and line the bottom with parchment paper.
Dissolve the cocoa in boiling water until smooth . Let cool to room temperature.
In a bowl, whisk together the flour, baking powder, baking soda , salt and sugar.
Add the cocoa mixture and egg . Mix until smooth.
Add the yoghurt , oil and vanilla. Mix until smooth.
Pour batter into prepared pan and bake for 42- 48 minutes until a toothpick inserted in centre comes out clean.
Cool in pan for five minutes , unmould and cool completely before slicing .
To make the buttercream
Sift the icing sugar and keep aside.
Using a wooden spoon or electric mixer , beat the butter for few minutes until pale.
Add the sifted icing sugar in 3 additions and beat well after each addition until smooth. Scrape the bowl as needed.
Add the milk and vanilla .
Beat for 5-6 minutes or until desired consistency.
Crush the oreos into a powder (using a processor, blender , rolling pan or your hands) .
Beat in the crushed oreos until evenly distributed.
To assemble the cake
Slice the cake horizontally into three layers.
Spread about 1/4 cup of buttercream over one slice , top with the second and repeat.
Spread buttercream over top and sides of assembled cake and smoothen using a spatula.
Decorate as desired ( I piped small rosettes and spread crushed oreos in the centre)
Notes
The unfrosted cake lasts for 3-4 days in an airtight container. The iced cake stays well for 2-3 days refrigerated.
You can also bake in a 7 or 8 inch pan for 35-40 minutes at 180 C . You will be able to slice each into two layers.
The buttercream is enough to fill , frost and decorate a 6 inch cake , and to fill and frost a 8/7 inch cake.
If your buttercream is not holding shape, add more sifted sugar . If its too stiff, add more milk.
Chill the cake before slicing to make liife easier for you
FLOURS & FROSTINGS http://floursandfrostings.com/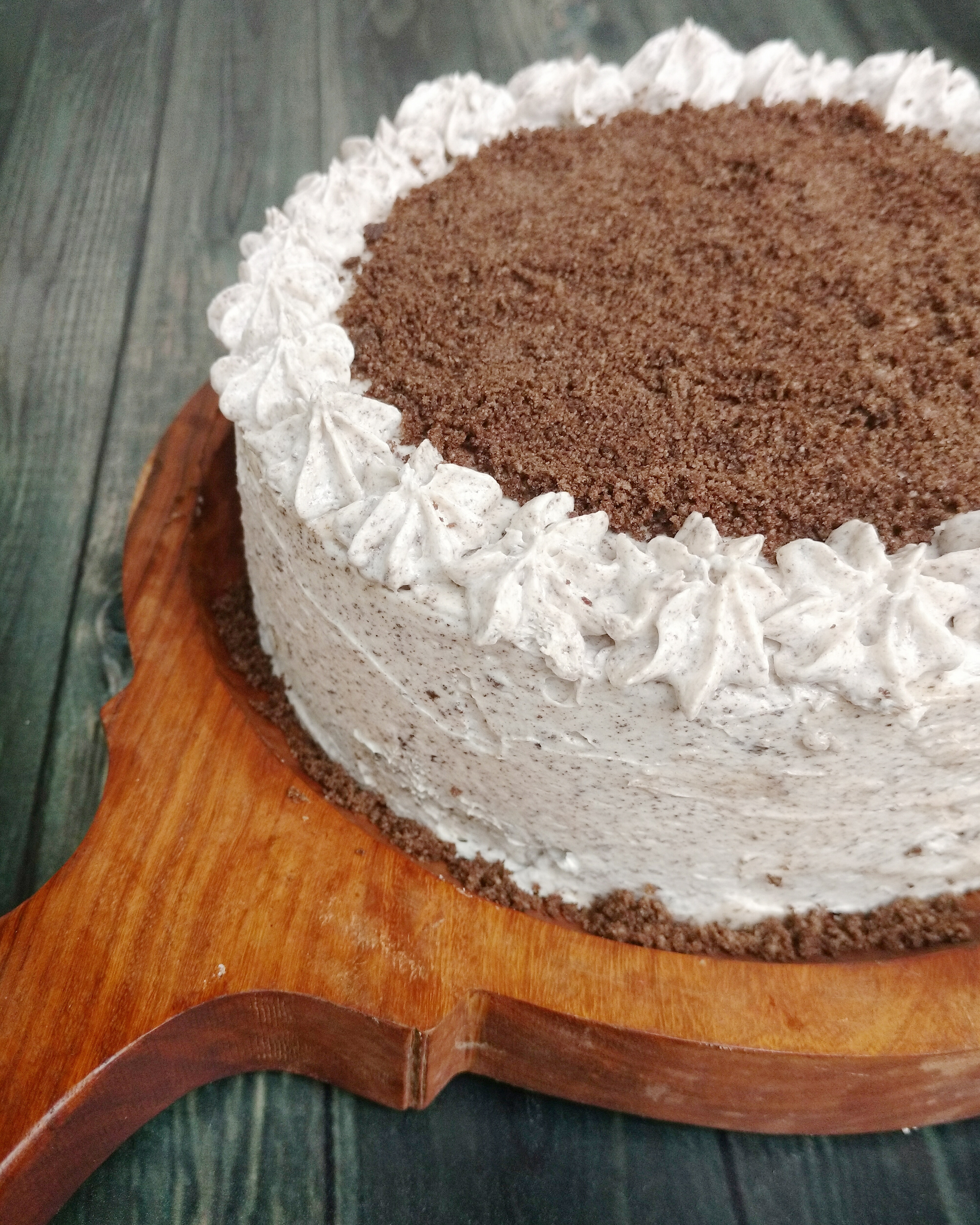 The cake layers are really moist and insanely chocolatey. The juxtaposition of the buttercream with the cookies and cream makes this a sure fire hit among chocolate loving kids and adults alike !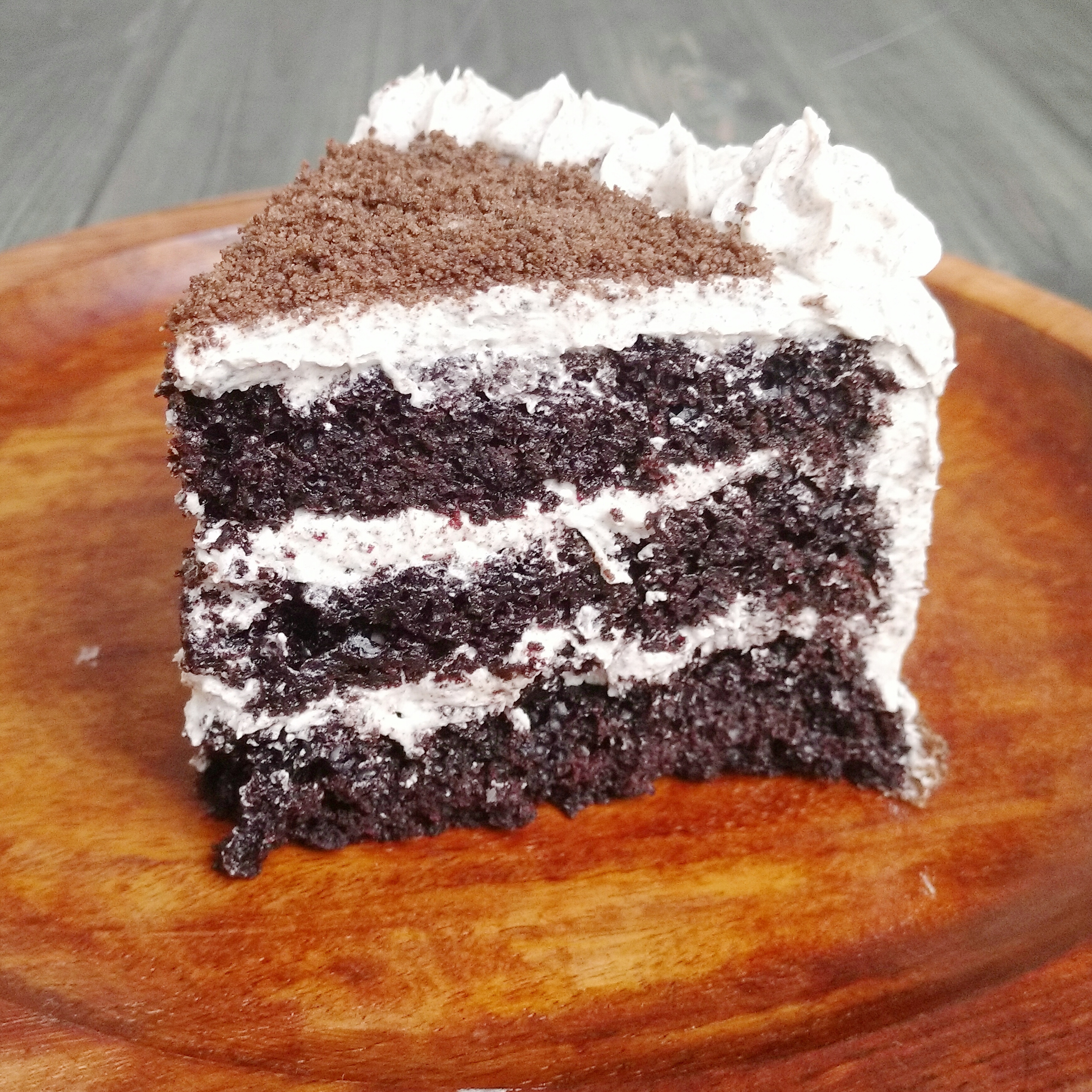 Affiliate links : Just so you know, I have baked this cake in my trusty Morphy Richards 52 Litre Oven
and used ( and love!) Cocoacraft Cocoa Powder.
Happy baking !