"After about 20 years of marriage, I'm finally starting to scratch the surface of what women want. And I think the answer lies somewhere between conversation and chocolate" – Mel Gibson.
Ever since I blogged about these amazing egg free vanilla cupcakes from xfallenmoon's blog , I have received quite a few requests for egg free chocolate cupcakes . So , I did what any good blogger would do… or any blogger who aspires to be good would do… I got down to work!
Some recipe testing later (some dense , some gluey , some good but not great ) and after my co workers literally got tired of eating chocolate cupcakes ( I think I need some new guinea pigs!) and after I most probably depleted most of Whitefield's cocoa supplies, I finally found one that I liked enough to share ! This one is only slightly adapted from the Baking Bites blog . Its light , moist and chocolatey !!! Its made with cocoa and is a beginner's dream one-bowl , one whisk bake . My chocolate sated colleagues were reaching for seconds !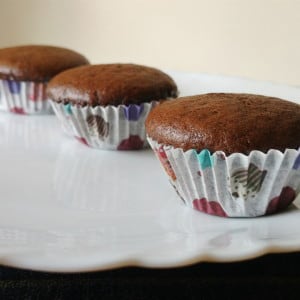 The plan was to frost this and then share but I was so happy with how the cupcakes developed those smooth tops that I couldn't resist typing this down right away . I have found that a few things work for me with cupcakes to get that nice little dome. One is resting the batter . If I let the prepared batter be at room temperature for 15-20 minutes and then bake , they rise much more smoothly. I read up about it and apparently it works for others too. Also if you develop cracks in your cupcakes , try baking them at a lower temperature (160 C ) for slightly longer . That helps me .
I am not sure if I am done with my search for the perfect eggless cupcakes but this one is really really good I thought. You' ll need to give your verdict.
Eggless chocolate cupcakes
2018-10-26 05:17:13
Moist eggless chocolate cupcakes!
Ingredients
190 grams or 1 1/2 cups all purpose flour
20 grams or 1/4 cup unsweetened cocoa powder
200 grams or 1 cup granulated sugar
1 tsp baking soda
1/4 tsp salt
240 ml or 1 cup buttermilk (*for substitutes, see below)
60 ml or 1/4 ml vegetable oil
1 tsp vanilla extract or essence
1 tsp vinegar
Instructions
Line your cupcake pan with cupcake liners or grease the cavities. Preheat oven to 180 C / 350 F.
Whisk together the flour, cocoa , baking soda , salt and sugar in a large mixing bowl.
Add the oil, buttermilk , vanilla and vinegar . Whisk until smooth.It is a thick batter.
Fill the cupcake liners 2/3rd full . Bake at 180 C / 350 F for 20-22 minutes . A toothpick inserted in the centre should come out dry. Cool completely before frosting!
Notes
These can be stored in an airtight container for upto 5 days
* for 1 cup buttermilk , use 1/2 cup yoghurt and 1/2 cup water . Or fill a one cup measure with 1 tablespoon vinegar (or lemon juice) and fill the rest of the cup with milk. Let stand for 5 mins and you have 1 cup buttermilk substitute!
You can substitute the 1/4 cup oil with 1/4 cup melted and cooled butter as in the original recipe.
My measuring cup is 240 ml
.
FLOURS & FROSTINGS http://floursandfrostings.com/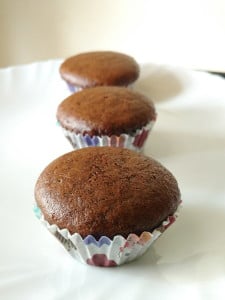 These are deeply chocolatey and delicious ! Oh, if you haven't seen those
egg free vanilla cupcakes
, you must have a look ! And if egg free and chocolate is what you are looking for , it doesn't get easier than this
wacky cake
! Happy baking all !