"Keep your face always toward the sunshine – and shadows will fall behind you." – Walt Whitman.
I know of people who wait for their bananas to over ripen so that they can bake with them. Some even store some away from family members so they don't get eaten accidentally! I have the opposite problem. Every time we get home bananas , they are completely forgotten until , they are riddled with black spots and they are far too ripe to eat on their own .
So that's the reason banana keeps visiting the blog on a semi regular basis. Banana bread is of course a winner always. If you are thinking of cake , you can choose between the fabulous brown butter banana chocolate chip cake or the flavourful caramelised banana coconut cake. Then there are the muffins -wholewheat chocolate banana or just banana. And oh. Banana and walnut biscotti .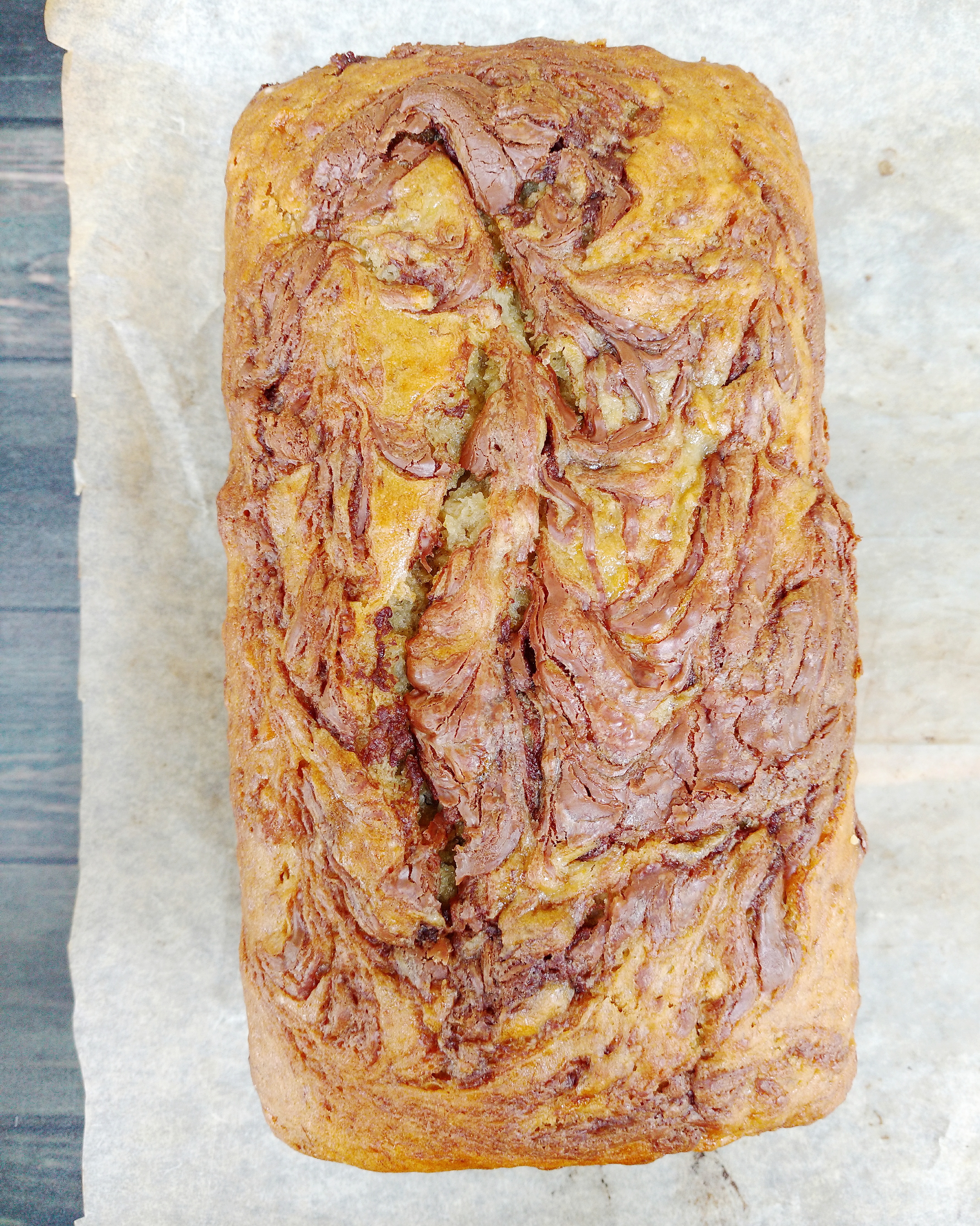 When blackening bananas beckoned me from my fruit bowl last week , I was looking for new recipes to put them to good use yet again. But then I thought why not try an egg free version of the all time favourite banana bread.
It was an experiment that yielded delicious results. It's dense and moist as any good banana bread should be. The banana flavour is strong and hearty. I added some Nutella swirl because I do like a little something extra in my banana bread. You can skip the Nutella or use the cinnamon raisin swirl like i did here . Or throw in a handful of chocolate chips or chopped nuts . Anything you want really !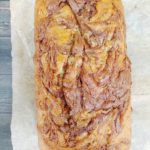 Eggless banana bread ( with Nutella swirl)
2017-10-21 13:02:03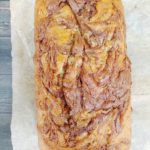 Dense and moist eggless banana bread !
Ingredients
125 grams or 1 cup all purpose flour (maida)
3/4 teaspoon baking powder
1/4 teaspoon baking soda
1/4 teaspoon salt
3/4 cup mashed bananas (3 medium bananas)
1/4 cup yoghurt , at room temperature
60 ml or 1/4 cup vegetable oil
100 grams or 1/2 cup granulated (or castor) sugar
1 teaspoon vanilla extract
4 to 5 tablespoons Nutella (optional)
Instructions
Preheat your oven to 180 C or 350 F. Grease a 7 x 3 inch loaf pan well. Dust with flour.
In a bowl , whisk together all the dry ingredients - flour , salt , baking powder and soda.
In another bowl, whisk together the sugar , oil , mashed banana , yoghurt and vanilla.
Add the liquid mixture to the dry ingredients and mix until smooth.
Pour about 1/3rd of the batter into the prepared pan.
Add two tablespoon of Nutella and swirl it in lightly with a skewer or knife.
Add more batter and swirl in another two tablespoons of Nutella.
Pour in the remaining batter , smooth the top , add one tablespoon of Nutella and swirl it in.
Bake for 40- 45 minutes at 180 C / 350 F until a skewer inserted in the centre comes out dry.
Cool in the pan for 10 minutes.
Unmould gently and cool completely on a wire rack.
Notes
You can double the recipe for a 9 or 10 inch loaf pan. Bake for 50 to 60 minutes. You can bake the same recipe in a 9 x 10 inch pan too but it will be a much shorter loaf.
The bread stays good wrapped well for 4 to 5 days.
The sweetness of the bread depends on the ripeness of the bananas. Use the ripest banana for best result.
If Nutella is difficult to spread, microwave or heat for few seconds .
If you 'd rather not use Nutella, consider adding 3/4 teaspoon of cinnamon in with the dry ingredients or folding in 1/2 cup of chocolate chips or toasted nuts into the batter before pouring into the pan.
FLOURS & FROSTINGS http://floursandfrostings.com/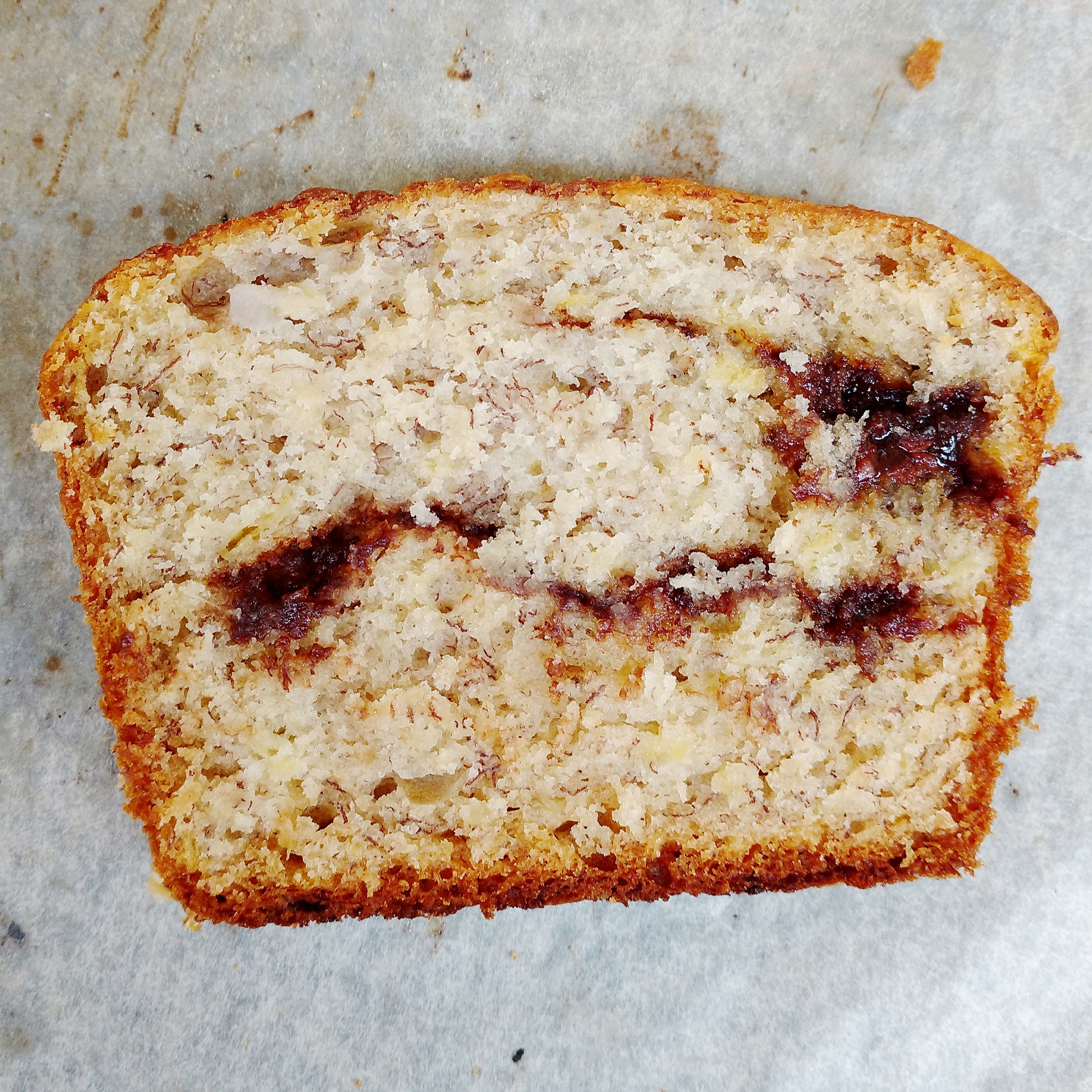 I do love how easy this banana bread is . I have tried it twice already – once with double the recipe so I could give the loaves away to some friends. I think next time , I ll try it with some brown sugar for a even deeper colour and flavour. But then , why mess with a good thing ?