"One of the biggest myths is that people slip on banana peels as often in real life as they do on Tv!".
You know you are a baker when you are glad to see spots on your bananas ! One of the best ways to put those ripening fruit to good and delicious use is to make some.. What else but good ol' banana bread ! I say good ol' but the truth is that I first heard of banana bread only around two years back when I started baking and stalking baking blogs. Then I saw it making its way into bakery displays and dessert counters.
In fact , I m not sure why it's called banana bread ? It's more like a cake made in a loaf pan. Every baker worth their salt probably has a favourite recipe. This is one , I ve kind of made my own after trying several. I don't know if it's the best , but it's pretty darn good ! Moist and scrumptious.
I have added in cinnamon raisin into the basic bread because the husband is fond of raisins. And I am so not ! That's just optional but I just find that the spice adds a little something extra to the bread instead of it being all sweet .
The bread has a wonderful aroma as it bakes and even when you have a slice after a day. It's a moist , sweet bread and the edges are to die for. The flavour of bananas is robust . And the bits of the cinnamon n sugars when you get it , takes it to another level. Was a little disappointed that a lot of the raisins sank to the bottom . But the ones who like raisins loved it in the bread. Others, me included, just picked them out !
Print Recipe
Cinnamon raisin banana bread
Yum
Moist and delicious banana bread with a delightful cinnamon and raisin swirl!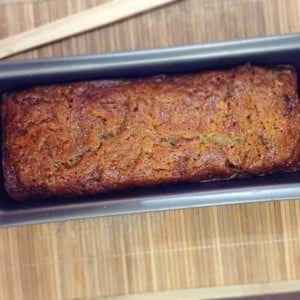 | | |
| --- | --- |
| | |
Preheat your oven to 160 C . Grease and dust your loaf pan with flour. Mash up the bananas. You could also purxe9e it in a mixer. I just like the extra flavour of bits of banana in the bread.

If you are using the cinnamon raisin , melt the butter and mix in the sugars until thick. Add the raisins .

Sift together all the dry ingredients like flour , salt , soda and sugar in a large bowl .

Whisk together the honey , eggs , oil , milk , vanilla and bananas in another bowl until smooth.

Add the liquid mixture to the dry and whisk until smooth.

Pour batter into prepared pan.

Now add the cinnamon and raisin. You could swirl it in or just add it on top . Or alternate part batter and mixture as I have done.

Bake for an hour to an hour ten mins at 160 C until toothpick inserted in centre comes out with few moist crumbs. Cool in pan 5 mins and then on a rack until completely cool.
Also:
Adjust the cinnamon and raisins acc to your taste. Or omit all together.
The bread keeps well wrapped at room temperature for three days