"Too much of a good thing is just about right . " – Jerry Garcia .
Another day. Another chocolate cake. At the rate at which I am using up cocoa and chocolate in my kitchen some days, I do wonder if I ever will get tired of too much chocolate in my life . Wait , its me. So thats near impossible.
I have lost track of the number of requests I get for a good eggless chocolate cake or eggless vanilla cake. While the search for a good vanilla cake is still on (and doesn't seem to be ending anytime soon!), I think this chocolate cake is worthy of sharing. And worthy of you trying of course.
Eggs work in different ways in recipes (sometimes as a binder, sometimes for leavening, sometimes for richness and of course for flavour) and I am generally not one to advocate just dumping in some yoghurt or flax instead – unless it serves the exact same purpose the eggs did in the bake. For me a good eggless bake is not one which is "good enough" inspite of not having eggs. It is one that is GOOD, and just happens to not have eggs.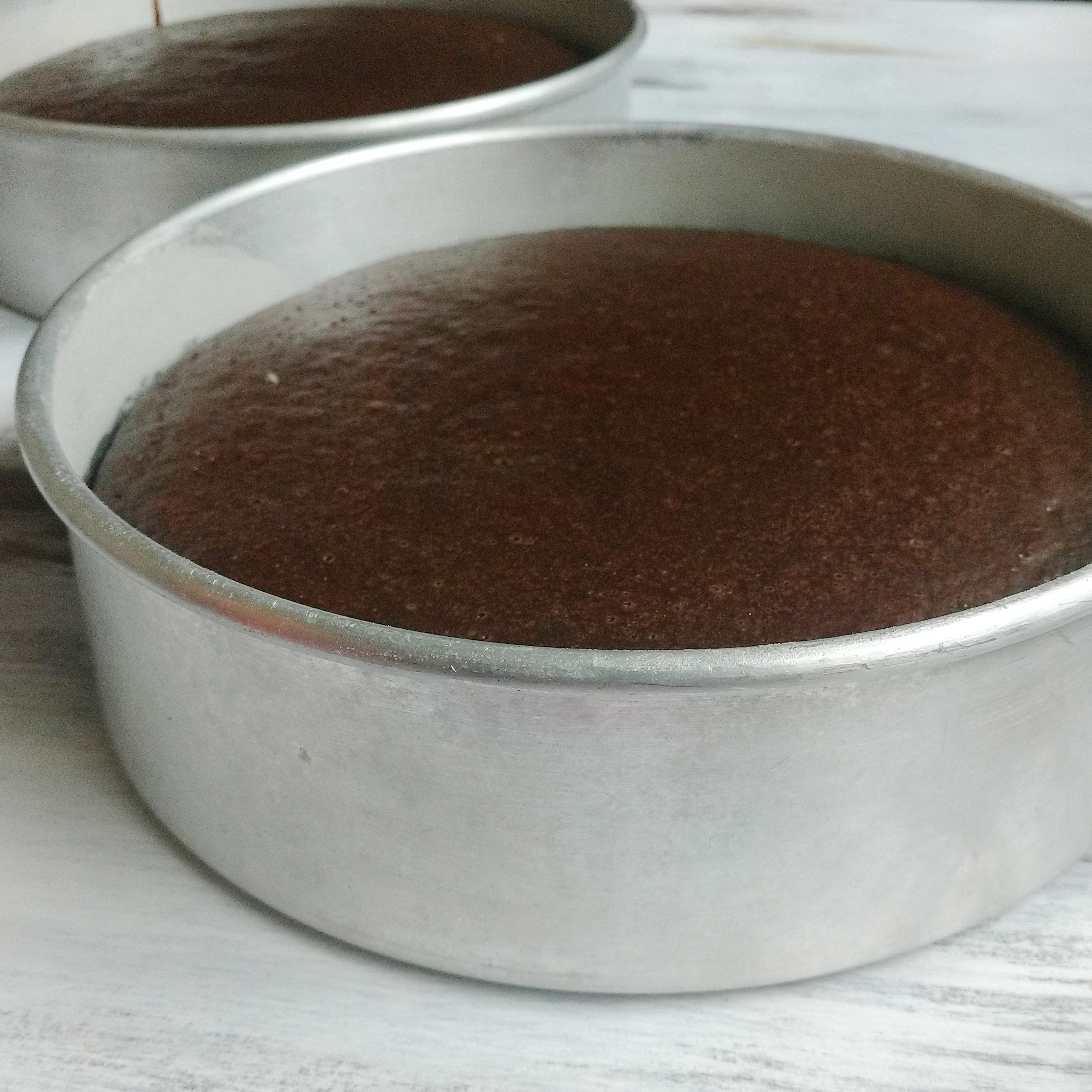 This is one such good cake. Scratch that . It is pretty darn good! It's moist and yet light. It has a deep chocolate flavour . It's not too sticky or fudgy and works a charm in layer cakes . And its a one bowl recipe. Yippee for no extra dishes to clean!
Its pretty versatile when it comes to pan sizes too. This cake makes two good 8 inch or 7 inch rounds. The recipe can be halved and you could bake the whole recipe in one square pan too. But I have found that thinner egg free bakes just have a better texture. Just something I have noticed in my own baking, not sure if there is a scientific explanation for it . There probably isn't.
The aeration in the cake comes from the reaction of baking soda in the recipe with the vinegar . There seems to be quite a bit of vinegar but don't worry , you won't taste it ! The vinegar is added in right at the end and you will see bubbles come up in your batter as you stir. So make sure you bake the cakes as soon as the batter is ready or else you will lose some of the height and texture. For a step by step tutorial, do check out this .
Onto the recipe – which is a mix and match , trial and error result of too many that I have come across and tried .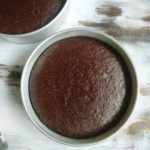 One bowl eggless chocolate cake
2017-09-28 11:41:51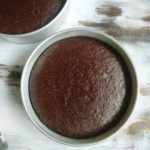 Really easy and equally delicious eggless chocolate cake
Ingredients
280 grams or 2 1/4 cups all purpose flour
300 grams or 11/2 cups granulated sugar
60 grams or ¾ cup unsweetened cocoa powder
1 tsp baking soda
½ tsp baking powder
½ tsp salt
240 ml or 1 cup milk, at room temperature
240 ml or 1 cup water , at room temperature
120 ml or ½ cup vegetable oil
2 tablespoons vinegar
1 tsp vanilla extract
Instructions
Preheat your oven to 180 C or 350 F . Butter and flour two 7 inch round pans . Line the bottom with parchment ( optional).
In a large bowl , whisk together the dry ingredients - flour, sugar , baking powder , baking soda , cocoa and salt.
Add the liquid ingredients - water , milk , oil , vanilla and vinegar.
Whisk until smooth.
Immediately divide among your two pans and bake for 25 to 35 minutes until the top springs back when touched and a toothpick inserted in centre comes out clean.
Cool in pans for 5 minutes and then gently unmould and cool completely on wire rack.
Notes
This recipe can be halved for a single layer. But if you have a small oven or one pan, don't leave the batter lying around. It won't give the desired result. Just bake half the recipe twice.
The whole recipe can be baked in 8 or 9 inch square pan for 40 to 50 minutes at 160 C/ 325 F.
You can use apple cider or regular vinegar.
You can use cool coffee instead of the water or substitute ¼ cup of it for some rum.
My measuring cup measures 240 ml.
FLOURS & FROSTINGS http://floursandfrostings.com/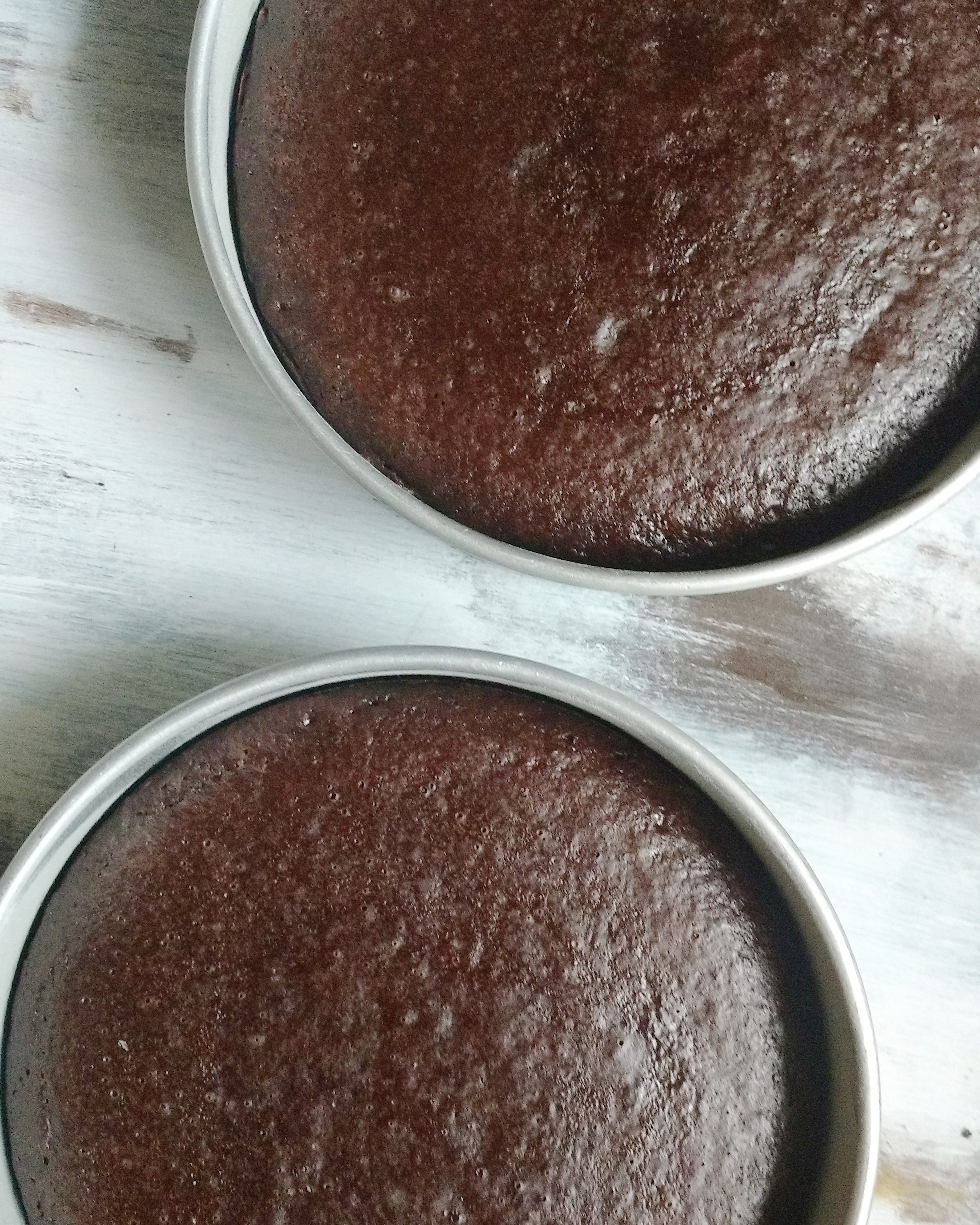 What do you say? Yay or nay ?
If you don't mind baking with eggs , I have never had a complaint with my favourite chocolate cake. If you 'd rather not crack an egg but are looking for a fudgier cake , you might like this eggless chocolate snack cake. If you would rather go all vegan, then do check out the chocolate truffle cake. And if its cupcakes that you are looking for, look no further than these super moist eggless ones!
Because every one needs a good chocolate cake . Apparently I need a zillion . But wait, its me .
Affiliate links : Just so you know, I have baked this eggless chocolate cake in my trusty Morphy Richards 52 Litre Oven
.
Happy baking !
How to make a one bowl eggless chocolate cake!