"If you're not gonna go all the way, why go at all?" – Joe Namath.
This post was an afterthought. I have shared both of these recipes on here already a while back. And it is a simple cake after all. Very home spun and fussfree .
But something about the way it tasted , pushed me to share it .
A formula that hardly goes wrong : fluffy yellow cake + buttercream. The cake is light , it is flavourful. It's the tried and tested formula of eggs , butter and sugar baking up into really good homemade cake. It needs no syrups and adornments . You can see a step by step tutorial to the yellow cake here.
The buttercream is Swiss meringue buttercream. If you know me, you will know I swear by it. I speak about it in great detail in an earlier post, which you might find good reading if you haven't tried this frosting before. For this cake , I made a small batch – barely makes a cup. But it's enough to sandwich the layers and just cover up the modesty of the sides and top. It's enough to boost up the cake while still keeping it all about the cake.
And the buttercream uses up the two egg whites that you have left over from the cake – the cake being a yellow cake has more yolks than whites ! Win, win huh ?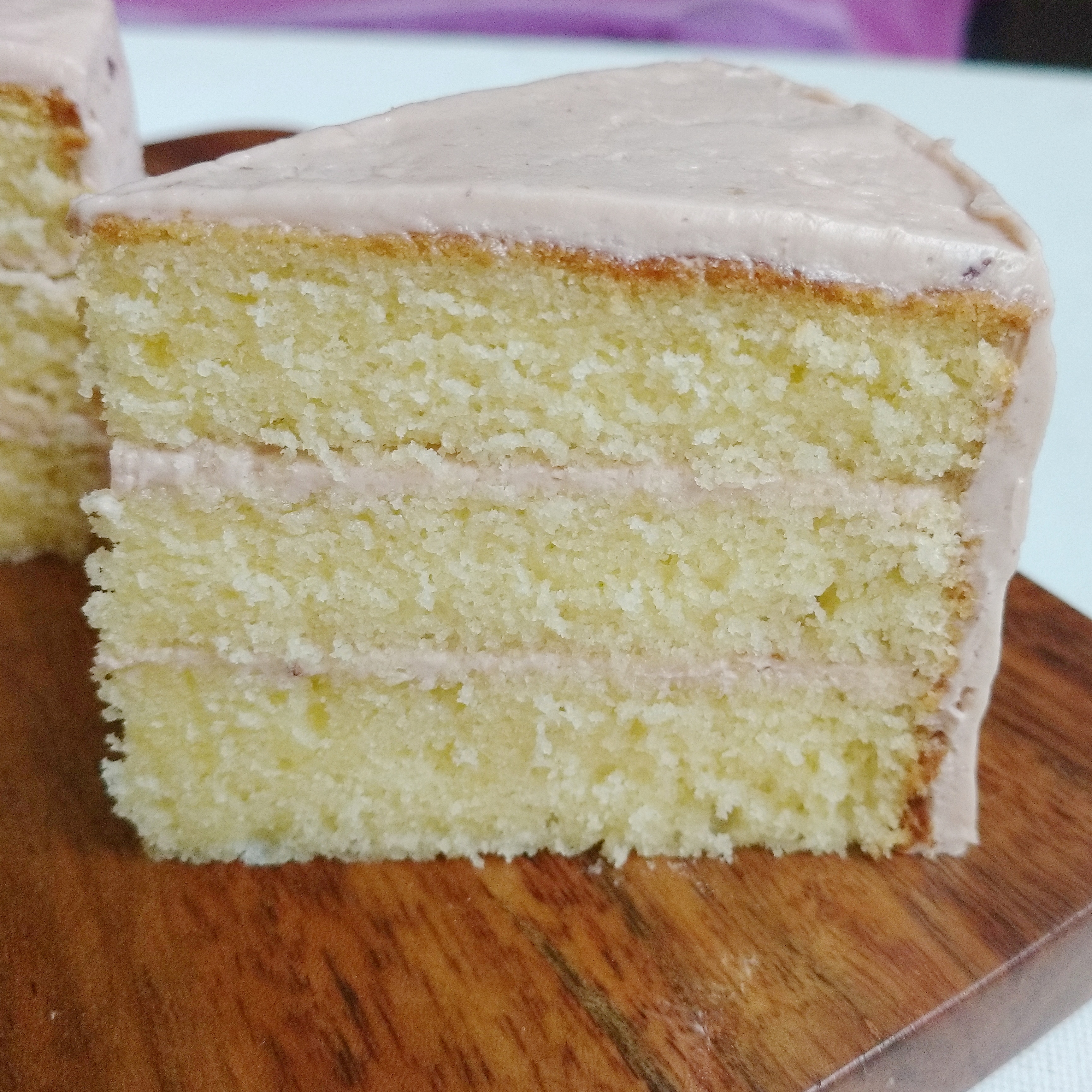 I was making this cake for someone who doesn't like chocolate (yes, I do allow some of them to be part of my life !) . So I considered keeping it all vanilla. I didn't have any flavours or fruits around at the time that inspired me. The inspiration came from a bottle of jam. Berry jam to be exact.
A little more than a tablespoon was all it took to give my buttercream a gorgeous pale lavender hue and loads of berrilicious flavour. People will tell you to use seedless jam or to strain it. But I say the tiny specks just add that little more character to your frosting.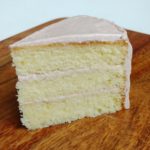 Yellow cake with jam buttercream
2017-09-23 08:52:04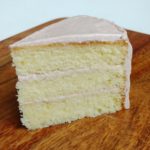 Light and fluffy yellow cake, filled and frosted with a jam swiss meringue buttercream
For the cake
160 grams or 11/4 cups all purpose flour
1 tsp baking powder
½ tsp salt
115 grams or ½ cup unsalted butter
150 grams or ½ cup granulated or castor sugar
2 eggs , at room temperature
2 egg yolks , at room temperature
120 ml or ½ cup milk , at room temperature
1 tsp vanilla extract
For the buttercream
2 egg whites
75 grams or 6 tablespoons granulated sugar
115 grams or ½ cup butter , at room temperature
1 and ½ tablespoons jam
Instructions
Preheat your oven to 160 C/ 325 F. Butter a 6 inch round pan and dust with flour well.
Whisk together the flour, baking powder and salt. Keep aside.
Beat the butter and sugar together until light and fluffy.
Add the eggs , and then the yolks and the vanilla one by one , beating well after each addition .
Now, alternately add the flour mixture and milk mixture beating after each addition. So add 1/3rd of the flour -1/2 of the milk - 1/3rd of the flour- 1/2 of the milk- 1/3rd of the flour. Scrape the bottom and sides of the bowl as necessary.
Pour batter into pan and bake at 160 C/ 325 F for 38-45 minutes until a toothpick inserted comes out dry and the top springs back on touching.
Cool in pan for 5 minutes and completely on wire rack.
For the buttercream
Whisk the egg whites and sugar in a metal bowl for a minute .
Place bowl over a saucepan with an inch of water (double boiler method) and bring the water to a simmer while whisking constantly.
Whisk and heat until all the sugar has dissolved , or a thermometer shows 160 F / 70 C.
Take off heat (and the saucepan) and start beating at medium high speed until stiff peaks are formed and the outside of the bowl is cool.
Add butter , one cube (tablespoon) at a time while whipping. Repeat with all the butter.
Beat at high until desired consistency is achieved.
Add the jam and beat for 3-5 minutes more to remove any air bubbles.
To assemble
Using a serrated knife , cut off the top crust / dome of the cooled cake.
Slice the cake into three equal layers.
Spread about 1/4 cup buttercream on one of the layers.
Place another layer on top, press down gently and spread about 1/4 cup buttercream.
Place the third layer on top, press down gently . Spread buttercream on top and sides.
Chill for 20 minutes and then using a spatula, smooth the buttercream on top and sides.
Notes
You can also bake this recipe in a 7 or 8 inch pan.
The finished cake should be refrigerated and let come to room temperature before serving.
The frosted cake will stay good for 2-3 days, Buttercream can be refrigerated for upto a week.
I used a 240 ml cup.
FLOURS & FROSTINGS http://floursandfrostings.com/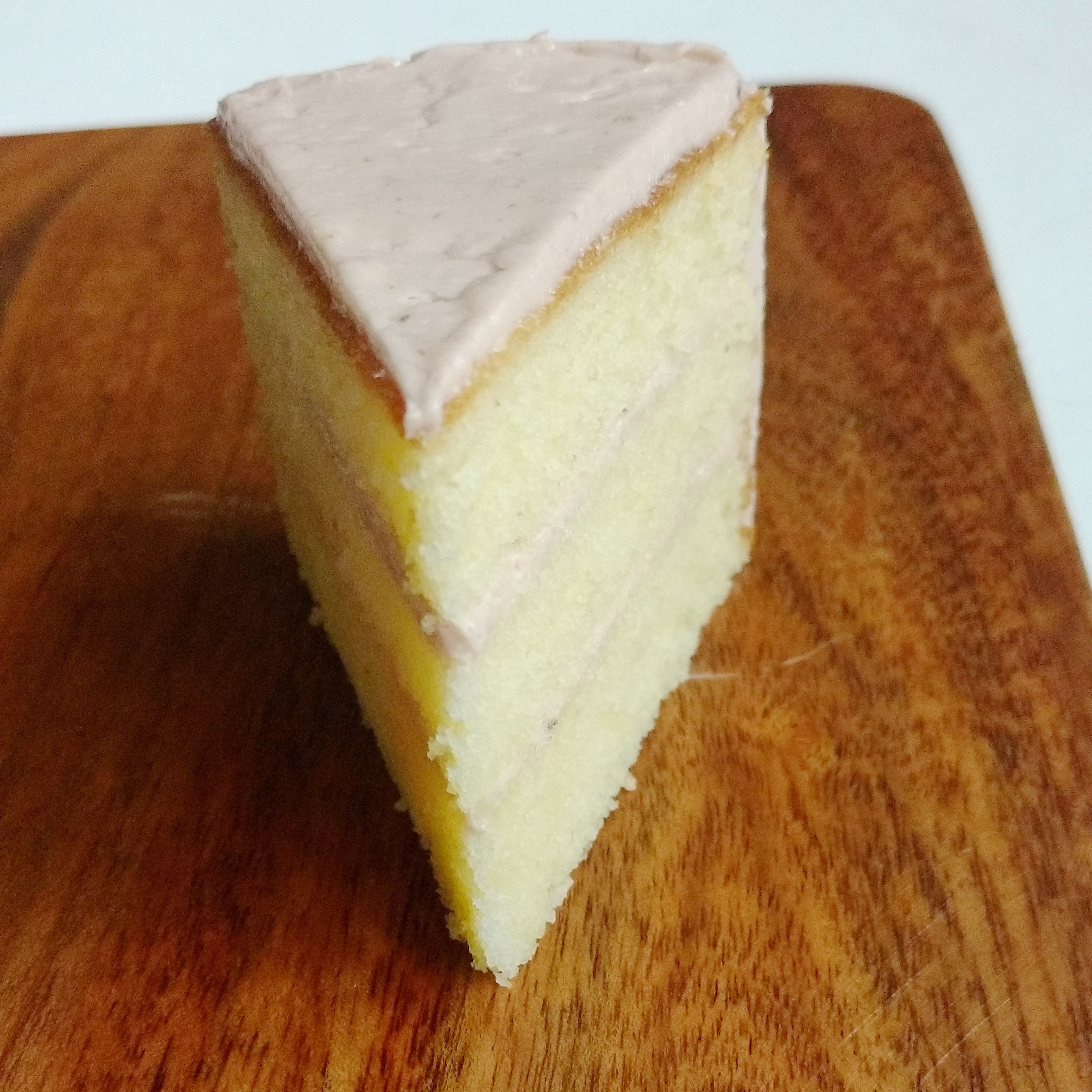 This cake will take you less than 2 hours to put together and even lesser to polish off. I know we are not reinventing the wheel here. But it's good solid baking, its classic cake and classic frosting, and all about keeping it simple and flavourful. Much like Flours and Frostings is ! I hope so atleast!