"What you see before you, my friend, is the result of a lifetime of chocolate." – Katharine Hepburn.
I know I am posting one chocolate cookie after another – but the heart wants what the heart wants. And mine seems to scream chocolate all the time.
Gluten free cookies is the theme of the Creative Cookie Exchange this month and since I don't have much experience in gluten free baking , I decided to something simple. There are far too many recipes of flourless chocolate cookies out there and almost all of them with the same basic ingredients of egg whites , cocoa , icing sugar and chocolate chips. Staying true to myself (my lazy self) I chose to do a variation of the simplest one I could find and the smallest batch I could manage.
See how simple they are to make here.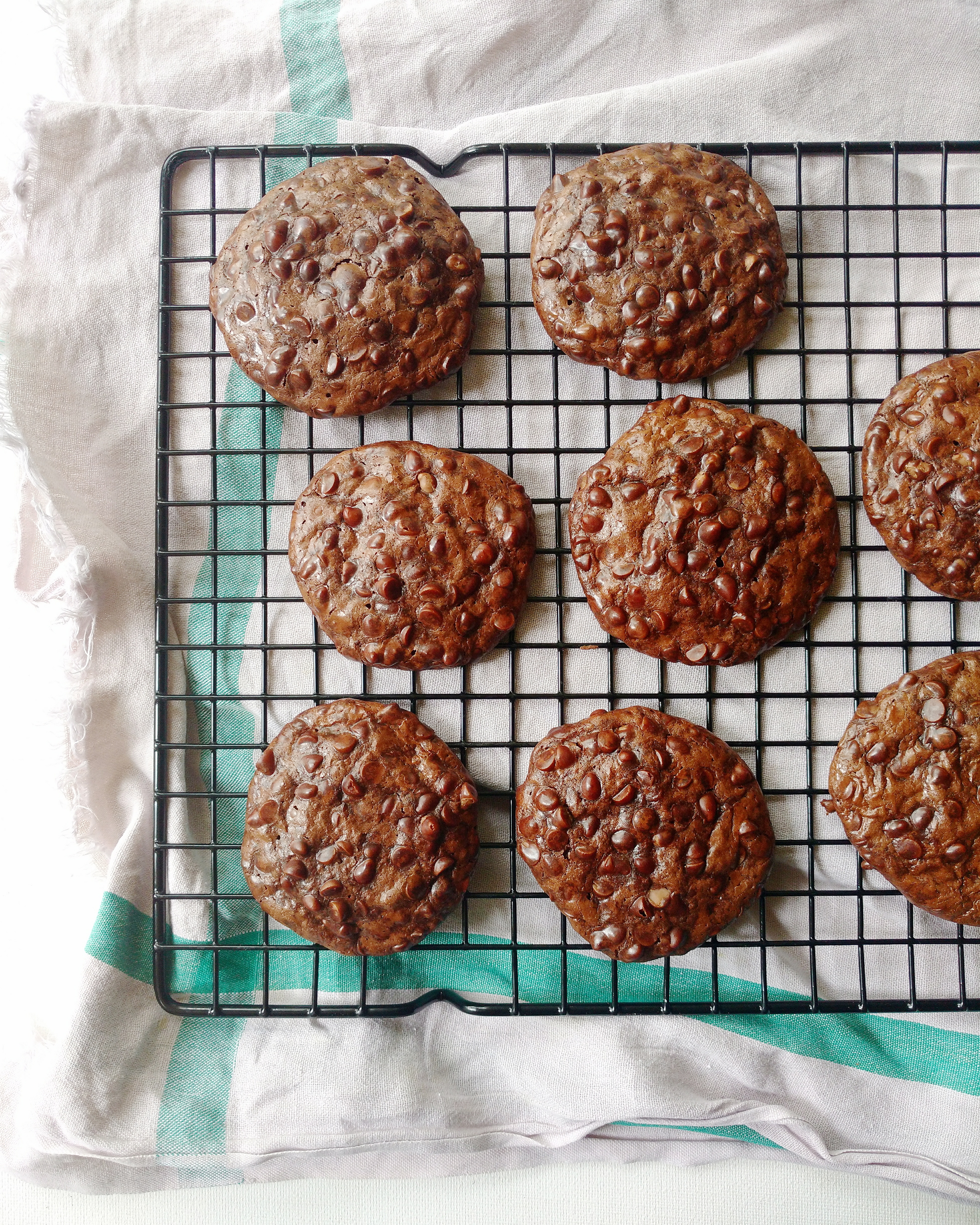 Although , when I saw the dough (for lack of a better word ), I was pretty sure I had messed up the simple part. There were just lumps of chocolate chips held together by what looked like melted chocolate. Would the lumps really bake into fudgey cookies as promised?- there was no way right? But I am not one to put any good chocolate to waste , and after saying a teeny prayer to the cookie Gods above, put my cookie sheet with the unshapely blobs of chocolate into the oven. And they baked up just fine ! Ok, you must have guessed thats where this story was heading.
The small batch part didn't exactly work out exactly as planned either. Although the recipe makes only 9 cookies , they are HUGE ones , about the size of your palm. But I could say I ate just 5 cookies ( ok, maybe more) and not feel as guilty about it. So there's that !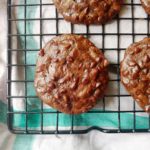 Flourless chocolate cookies
2017-09-19 02:04:57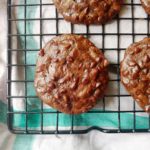 Deliciously chewy gluten free chocolate cookies !
Ingredients
1 egg white
72 grams or 3/4 cup icing sugar or powdered sugar
20 grams or 1/4 cup unsweetened cocoa powder
Pinch of salt
2/3 cup or about 120 grams dark chocolate chips or chunks
Instructions
Preheat your oven to 180 C / 350 F . Line a cookie sheet with parchment paper or grease well.
Whisk together the sugar, salt and cocoa .
Whisk in the egg white until smooth.
Stir in the chocolate chips or chunks.
Place tablespoonfuls of this dough on the prepared cookie sheet about 2 inches apart
Bake for 16-18 minutes until the top is cracked and looks set.
Cool on pan for 5 minutes and then completely on a wire rack.
Notes
This recipe makes 9 large cookies.You can double or triple the recipe.
If the cookies stick to the pan or parchment, wait for them to cool completely
The cookies can be stored for 2-3 days in an airtight container.
You can substitute half of the chips for chopped nuts of your choice.
If you overbake the cookies, they will go slightly tough.
FLOURS & FROSTINGS http://floursandfrostings.com/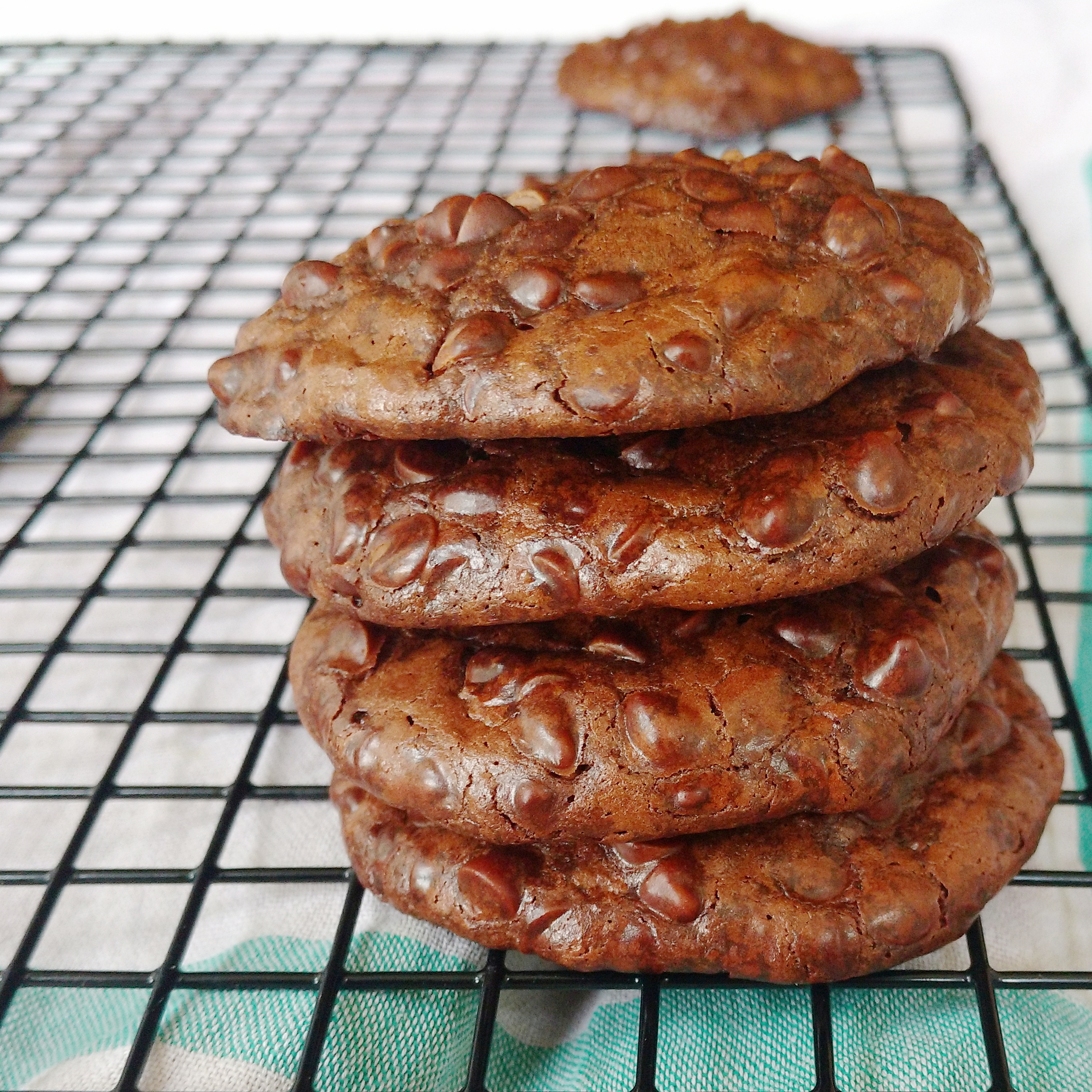 Did I mention these cookies are deliciously chewy and fudgey – they are! They don't turn out very thick but are a true chocoholic's dream cookie. They are slightly on the sweeter side so I definitely suggest using dark chocolate chips. Don't skimp on the chocolate chips either because thats what forms the bulk of the dough. They are almost brownie-ish , not that there is anything wrong with that !
Affiliate links : Just so you know, I have baked these cookies in my trusty Morphy Richards 52 Litre Oven
.
Creative Cookie Exchange!
Gluten free cookie recipes are a great idea to have on hand since you never know when you will encounter someone with a gluten allergy–and believe it or not there are tons of delicious gluten free cookies out there! Keep reading to discover the ones we've made this month.
You can also use us as a great resource for cookie recipes. Be sure to check out our Pinterest Board and our monthly posts (you can find all of them here at The Spiced Life). You will be able to find them the first Tuesday after the 15th of each month! If you are a blogger and want to join in the fun, contact Laura at thespicedlife AT gmail DOT com and she will get you added to our Facebook group, where we discuss our cookies and share links.
If you are looking for inspiration to get in the kitchen and start baking, check out what all of the hosting bloggers have made: