"Make it simple , but significant."- Don Draper.
I never made many cookies in my preblogging baking days , I started experimenting with them in order to bring more variety in the blog but I found myself oddly gratified by baking cookies – be it the aroma of freshly baked cookies in my little home , the joy of munching on one or two (ok , maybe more) even before they completely cool , offering homemade cookies to unexpected guests and packing them as little treats for my friends and family .
And cookies remind me time and again , that life is meant to be simple. Take these condensed milk cookies (one of the most popular on my blog ) or these coffee shortbread . Few ingredients and few minutes of your time are all they expect from you before they are ready for the oven ! And they taste so good for such little effort. These Horlicks (malted milk powder) cookies are just as simple and just as yummy!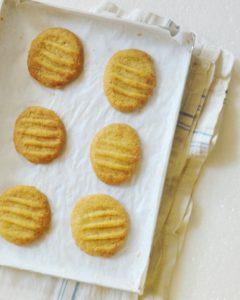 I always keep a small tin of Horlicks at home. For when people visit with their kids who can't drink coffee and would rather not have packaged or soft drinks . And then some random day , I spot a half used jar that is either nearing its expiry or I just don't want it around in my cabinet anymore. Which means my baker's brain goes into overdrive. And Horlicks makes its way into frosting , cake , ice-cream – and now cookies !
These are really quick , fuss free cookies that scream home-made by their rustic (read not-so-good) look . But they are so so buttery and the texture is fab . Somewhere between crisp and crumbly. And the malted milk powder gives it a unique , much loved flavour !!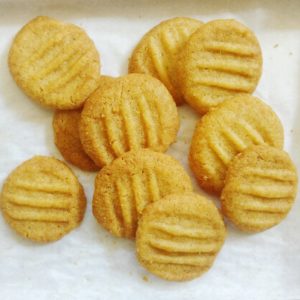 Horlicks cookies
2017-02-06 12:25:01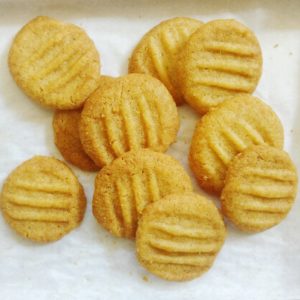 Buttery cookies with a rich malted milk flavour!
Ingredients
115 grams or 1/2 cup salted butter , at room temperature
125 grams or 1 cup all purpose flour
60 grams or 1/3 cup granulated sugar
40 grams or 5 tablespoons Horlicks (I used plain )
Instructions
Preheat your oven to 160 C or 325 F. Line a cookie sheet with parchment or grease well.
Whisk together the horlicks and flour. Keep aside.
Using an electric mixer or wooden spoon , beat the butter and sugar until light and fluffy.
Add the flour- horlicks mixture and beat until a soft dough forms.
Make balls of one teaspoonful of dough and place 2 inches apart on your prepared sheet.
Using a fork , press down to flatten slightly and give the ridged pattern. Or just press down with your finger.
Bake at 160 C / 325 F for 12-15 minutes until browning on the edges. They will still be soft to touch .
Cool on pan for 5 minutes and then completely on a wire rack.
Notes
This recipe makes about 30 small cookies.
The cookies spread a bit so leave enough space between them.
If your dough is too soft , you can chill the dough for 20-30 minutes. When you use chilled dough, the pattern on top remains more prominent.
The longer your bake them , the browner they get and more crispier.
FLOURS & FROSTINGS http://floursandfrostings.com/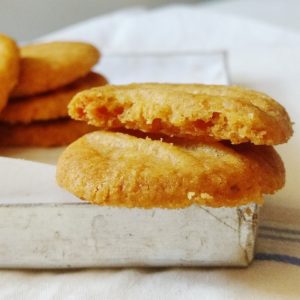 Whenever my cookies come wonky and uneven , I always am in two minds if I should put them on my blog or not. But then I figure – its homemade , its supposed to look homemade . That could just be an excuse for my laziness but life is just too short to worry about perfectly sized and shaped cookies. Especially when they taste this good !
Affiliate links : Just so you know, I have baked these Horlicks cookies in my trusty Morphy Richards 52 Litre Oven
.
Happy baking !