"A person with taste is merely one who can recognize the greatest beauty in the simplest things." ― Barbara Taylor Bradford.
We are about to shift homes and I don't intend to shift any perishables from the old one. So I am trying to use up all my stores of baking ingredients while I can. And I seem to have a lot of surplus white chocolate. And , to think, I used to hate white chocolate with a vengeance until 2 or 3 years back . 🙂
Its taking me a fair bit of searching to figure out what to do with the white chocolate.You know, I actually have three different white chocolate cakes on the blog ! Plus I have used them in truffles and frosting and blondies too. No idea was appealing to me much.
Then my friend Neha suggested I make white chocolate panna cotta with some berry coulis. I like panna cotta so that was a no brainer but the berries season had said adieu already ( and I wasn't in the mood of spending big bucks on the imported ones ) . So I scratched my brains a little and thought of doing a kiwi compote !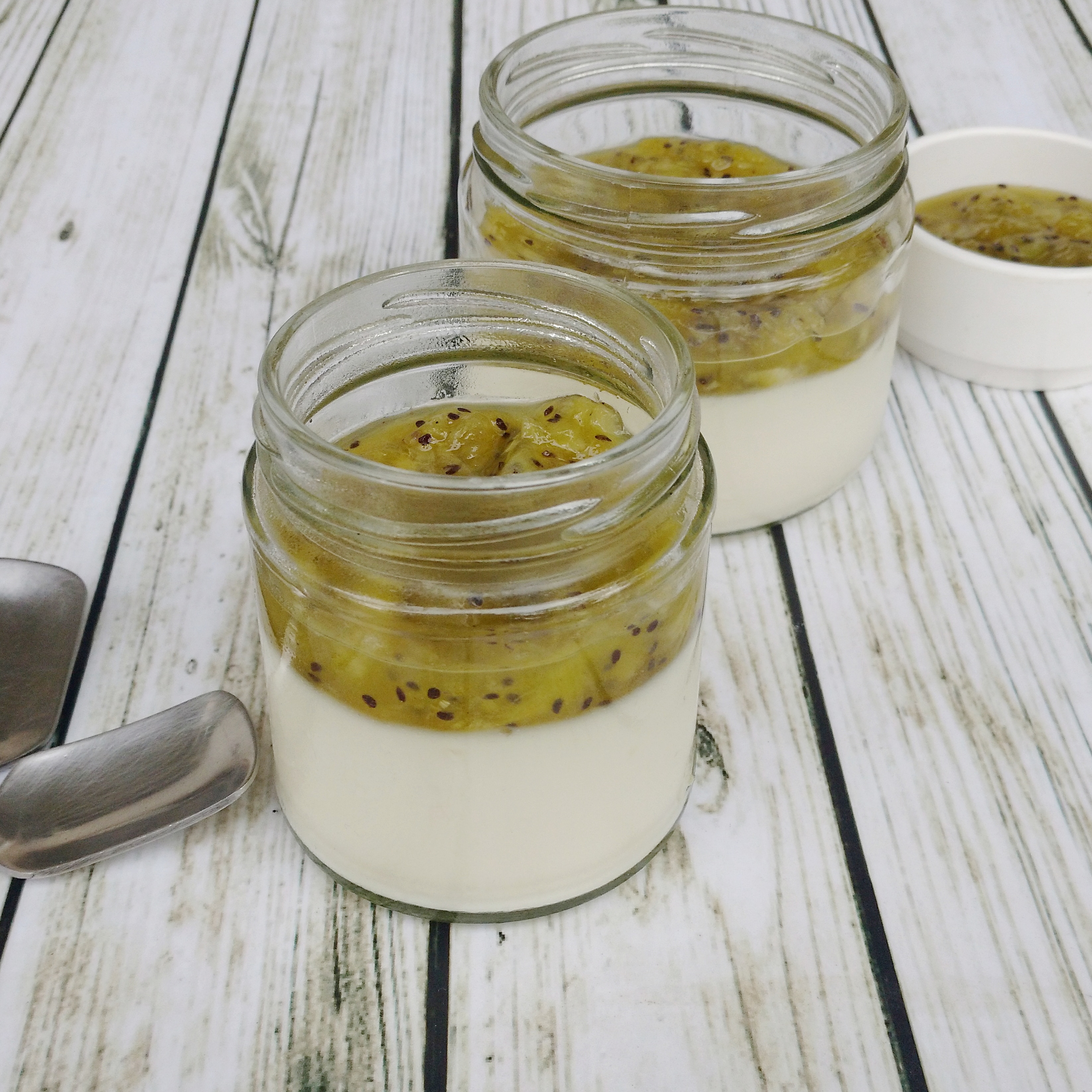 About the pannacotta… It's basically (and literally!) just cooked cream. You heat some cream ( thankfully the low fat works here) and add in some white chocolate for the flavour. Mix in some bloomed gelatin -or agar agar – and chill until set . White chocolate pannacotta does set firmer than other pannacotta , which we didn't mind. But if you would rather have it a little wobbly ( the wobble of pannacottas always reminds me of Mr Matt Preston!) , reduce the chocolate or the gelatin a little.
About the compote …. Compote is fruit cooked in syrup. Again , so easy to do and I would think kiwi is a great fruit to compote-ify as it's tart . Problem is that kiwi turns almost brownish when cooked. I learnt that from these kiwi thumbprints I had made. A Youtube video gave me a great tip – mix in some fresh pureed kiwi to the compote. I did and it brought back some of that vibrant green. If the colour doesn't bother you, you could skip that step.
About the recipe.. 😀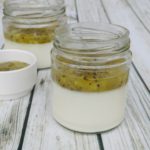 White chocolate panna cotta with kiwi compote
2018-05-12 10:54:43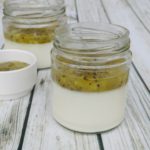 Creamy white chocolate pannacotta paired with a delicious kiwi compote !
For the pannacotta
300 ml or 1 1/4 cups low fat cream (I used Amul fresh cream)
1 tsp powdered gelatin
55 grams or 1/3 cup white chocolate
1 tablespoon sugar
For the compote
3 kiwis
3 tablespoons granulated sugar
1 tsp lime juice
To make the pannacotta
Chill 1/4 cup of the cream.
Sprinkle the gelatin on top and let stand for 5 minutes (blooming).
Chop the white chocolate into small pieces.
Heat the remaining 1 cup of milk , add the chopped chocolate and sugar.
Heat while stirring until the sugar and chocolate melt into the cream.
Stir in the bloomed gelatin- cream mixture and continue heating it , until the gelatin has dissolved.
After adding the gelatin, dont let the mixture come to a boil.
Take off heat and pour into lightly greased moulds or serving glasses.
Refrigerate for 3-5 hours .
To make the compote
Peel and chop two of the kiwis fine.
In a thick bottomed saucepan , heat the chopped kiwis with the sugar and lime juice until sugar dissolves..
Bring to a boil stirring occasionally.
Then simmer for about 10 minutes until the fruit s softened .
Let cool to room temperature. You can mash up any bigger pieces of kiwi with a fork if you wish.
Peel and puree the remaining Kiwi.
Mix the pureed kiwi to the cooled compote.
To serve
If using moulds: Gently , unmould set pannacottas onto a plate. Place a tablespoon of compote on top.
If using glasses : Place a tablespoon of compote over the set pannacotta and serve!
Notes
This recipe makes 4 small or 2 large generous servings
You can double or triple the recipe as needed.
You can use an equal amount of agar agar instead of gelatin
If you want the panna cotta more wobbly, reduce chocolate to 1/4 cup or gelatin to 3/4 tsp.
Taste the compote as it is getting cooked and add more sugar as needed.
The pureed kiwi is to restore some green colour. You can skip that if you wish.
I used a 240 ml cup.
FLOURS & FROSTINGS http://floursandfrostings.com/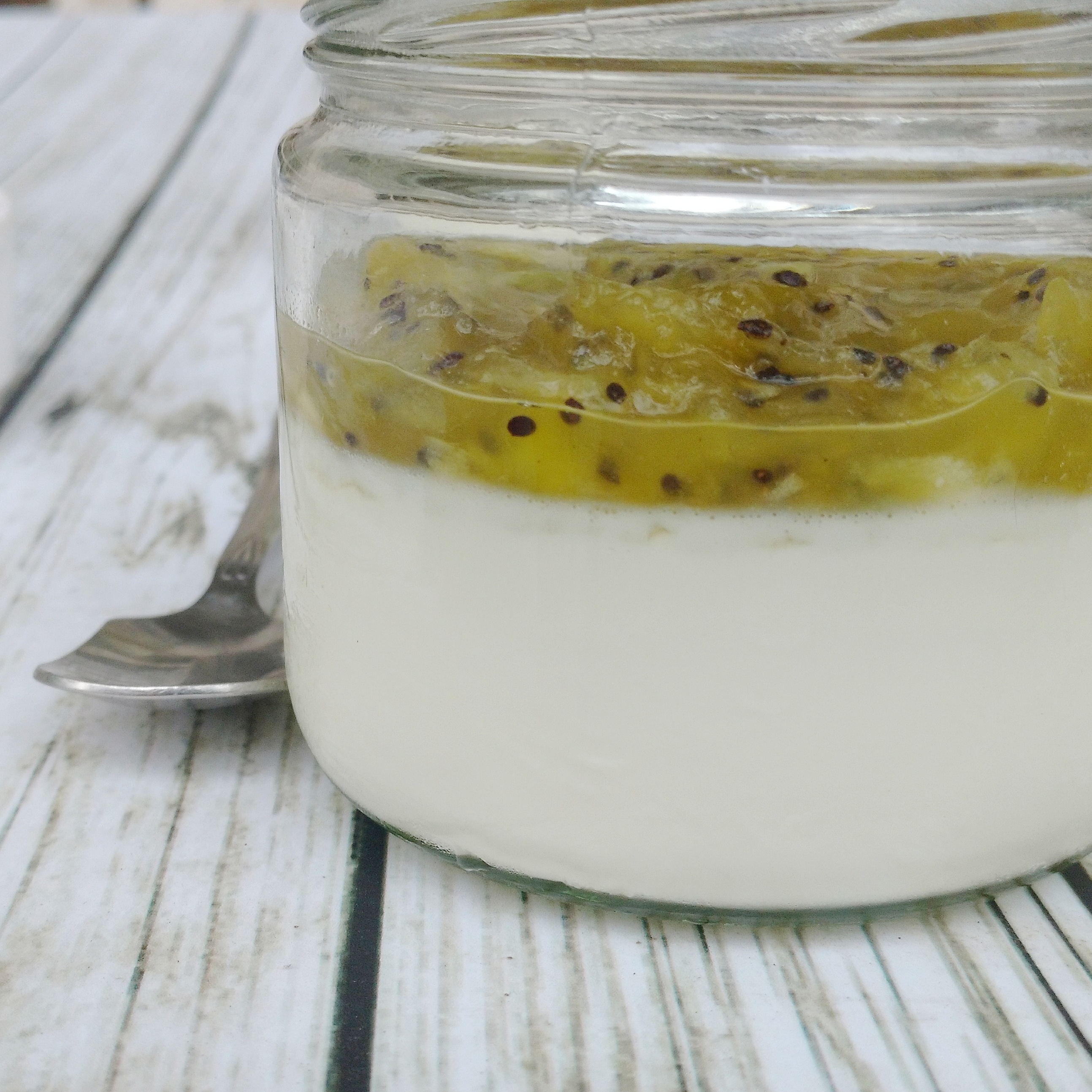 Pannacotta is all cream , add to it white chocolate and you are taking the richness to a new tangent ! Albeit a yummy yummy one ! The fresh kiwi compote gives a great counterpoint to the rich panna cotta . The zing of the kiwis offsets the sweet pannacotta well , the lovely green goes even better against the pristine whiteness of it !
That said the husband preferred the pannacotta plain by itself. As did Neha s husband. So maybe you can skip the compote. But you shouldn't !