"Don't chase the quaffle if you see the snitch!".
I know I have been MIA for a while – I think the longest since i have started blogging. Which is just in the vein of how haphazardly I live my life – online or off. A humungous thank you to all you lovely people who got in touch asking if all was well at my end ! I am touched . And grateful. Rest assured, all is definitely well !
So i crawled my way back to the blog , and right in time before the mangoes bid a final adieu this year. Two of the more popular recipes on my blog are the eggless lemon curd and the mango layer cake that is filled with a luscious mango curd. Ever since I shared that cake recipe, people have asked me an eggless version of the mango curd . So ta da!
People who are new to the world of fruit curds , let me tell you they are like the next best thing to Nutella . Or better yet? Why do I compare it to Nutella , because it can be slathered on , filled and licked off . And if you think something called a "fruit curd" should be healthy , I hate to disappoint you because it is loaded with butter and sugar ( and yolks or condensed milk depending on if you are going the eggy or egg free route!) . But its creamy and tangy and smooth and refreshing and vibrant . And if you are anything like me , just the colour will bring so much sunshine into your day , that you will want to have it with EVERYTHING !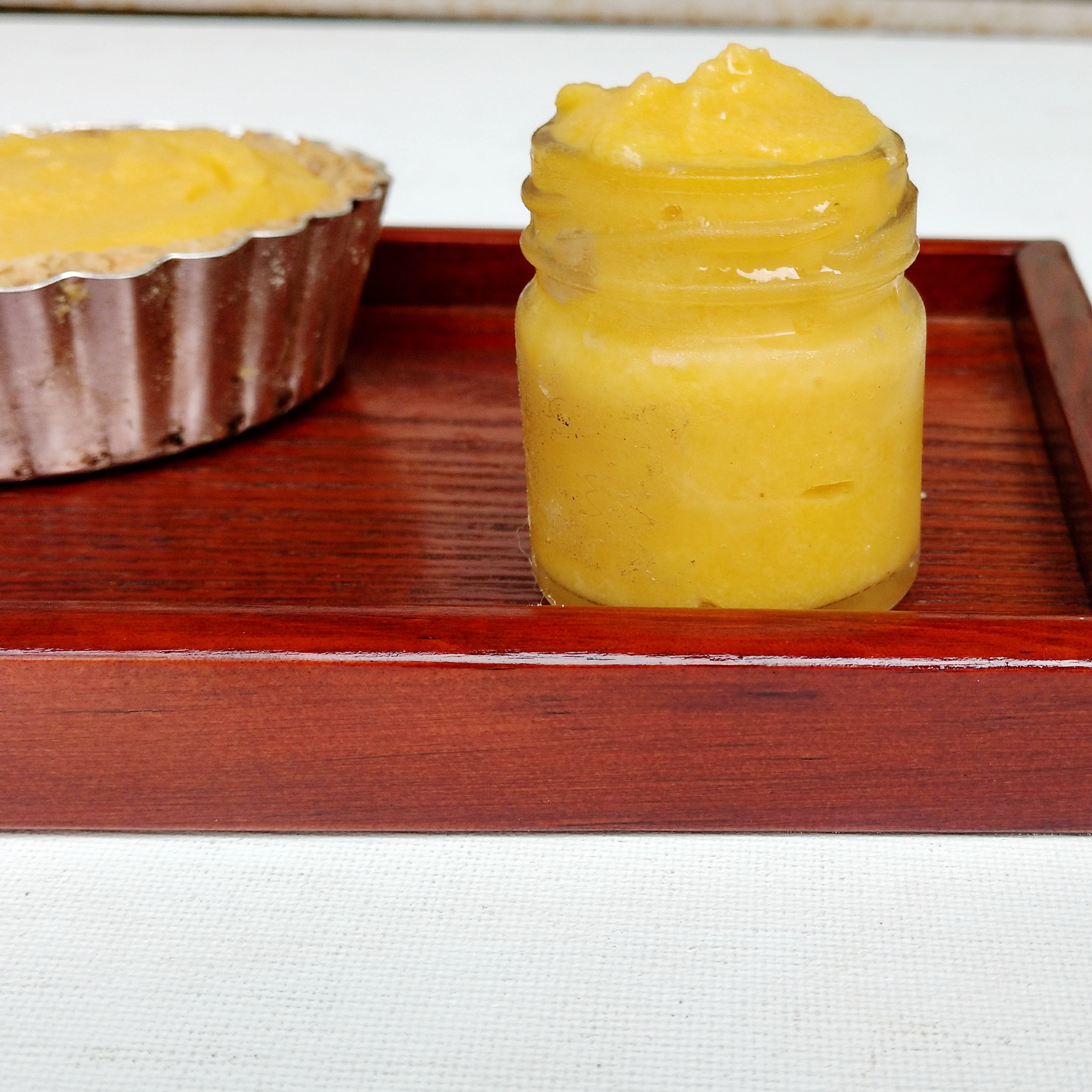 I was not sure this recipe warranted a post of its own , because it is very much like the eggless lemon curd . Then I thought of posting mango curd tarts with a pate sable or delicious buttery pie crust. But I realised that the pie crust will need a post of its own for sure. That will be coming up soon but before that I urge you try this mango curd before the king of fruits have disappeared from the markets. Ofcourse , you can use tinned mango puree too. Since mangoes are of different varieties and sweetness ( I am partial to Alphonsos) , you will need to adjust the sugar accordingly. Also , I like to add lime juice because I like that little zing , again up to you !
So are you ready to whip up some drool worthy sunshine in a jar?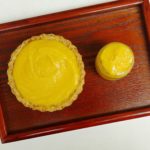 Eggless mango curd
2017-07-03 15:02:30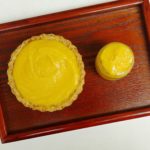 Smooth , vibrant , lip smacking eggless mango curd
Ingredients
3/4 cup or about 180 ml mango puree
3-4 tablespoons lemon juice
100 grams or 1/2 cup granulated sugar
112 grams or 1/2 cup unsalted or salted butter
2 tablespoons corn flour
2 tablespoons water
120 ml or 1/2 cup condensed milk
Instructions
Dissolve the cornflour into the water and keep aside.
In a thick bottomed saucepan , measure out the puree , lemon juice , sugar and butter.
On medium heat , heat until the butter is melted and sugar is dissolved.
Bring to a boil and then simmer for 3 -4 minutes.
At this point , taste and add more lemon juice or sugar as needed.
Mix in the dissolved corn flour and simmer for another 2-3 minutes.
Strain through a fine meshed sieve into a bowl.
Into this, stir the condensed milk until smooth and immediately cover the top with plastic wrap (the wrap should be touching the surface of the curd).
Let come to room temperature and then chill for atleast 2 hours .
Notes
The curd can be kept refrigerated for 7-10 days.
You can skip the straining but it just keeps your curd smoother.
Keep the condensed milk at room temperature . You 'll need about half of a small tin.
The curd thickens on cooling.
Placing the plastic wrap in contact with the surface of the curd prevents a film from forming on top
This makes about 2 cups of curd.
FLOURS & FROSTINGS http://floursandfrostings.com/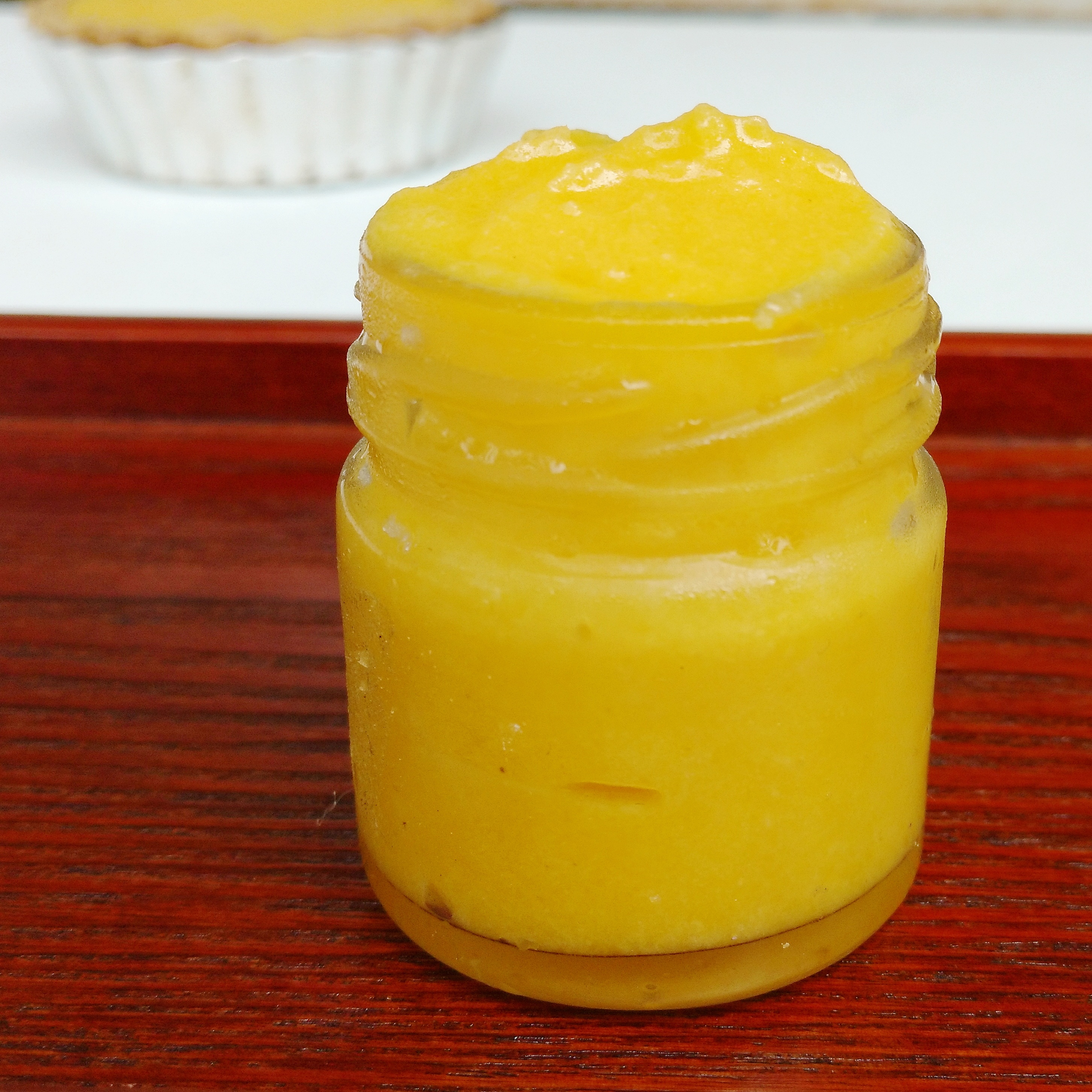 You can use this ridiculously rich and buttery curd like you would use a jam or any other spread. On top of bread, in tarts , on pancakes . Dress up your cakes by filling it ( look at the passionfruit curd and white cake here ) . You can also flavour your buttercream with some curd like in my mango layer cake. If you still have some left (which i doubt you will!), jar it up and gift it to a friend – they' ll thank you !
PS, for other mango recipes – check out the egg free mango layer cake , mango marbled loaf or a simple eggless ( vegan) mango cake .