"Who looks outside, dreams; who looks inside, awakes."- Carl Jung
Sometimes an idea for a blogpost leads to a bake which leads to me taking photographs of the bake !
And sometimes a photograph leads to a blogpost idea !
My phone was pleading with me to clear some space on it since eons . And yesterday since I didn't have anything better to do, I sat down to delete blurry selfies , supposedly cute cat videos , year long chat histories and apps whose applications i have forgotten .
And i came across a couple of pics of a cake that I had made a while back. I have generally kept this blog separate from my regular life and hence you will not find much personal info here about me and my life (including my full name!) . So when I do make birthday cakes and special occasion cakes for friends and family, I don't feature it on the blog. Another reason is that the cake is usually massacred before its polished off and i never get a click of a neat slice to show the inside!
The case is quite the opposite here , I have only the insides of the cake to show u !! The only pic I have of the outside has too personal a message to feature here – atleast to feature without me getting beaten up by my friend for whom the cake was made !
I hope you all don't mind that you are being shown only the innards of the cake ! Its whats on the inside that matters na!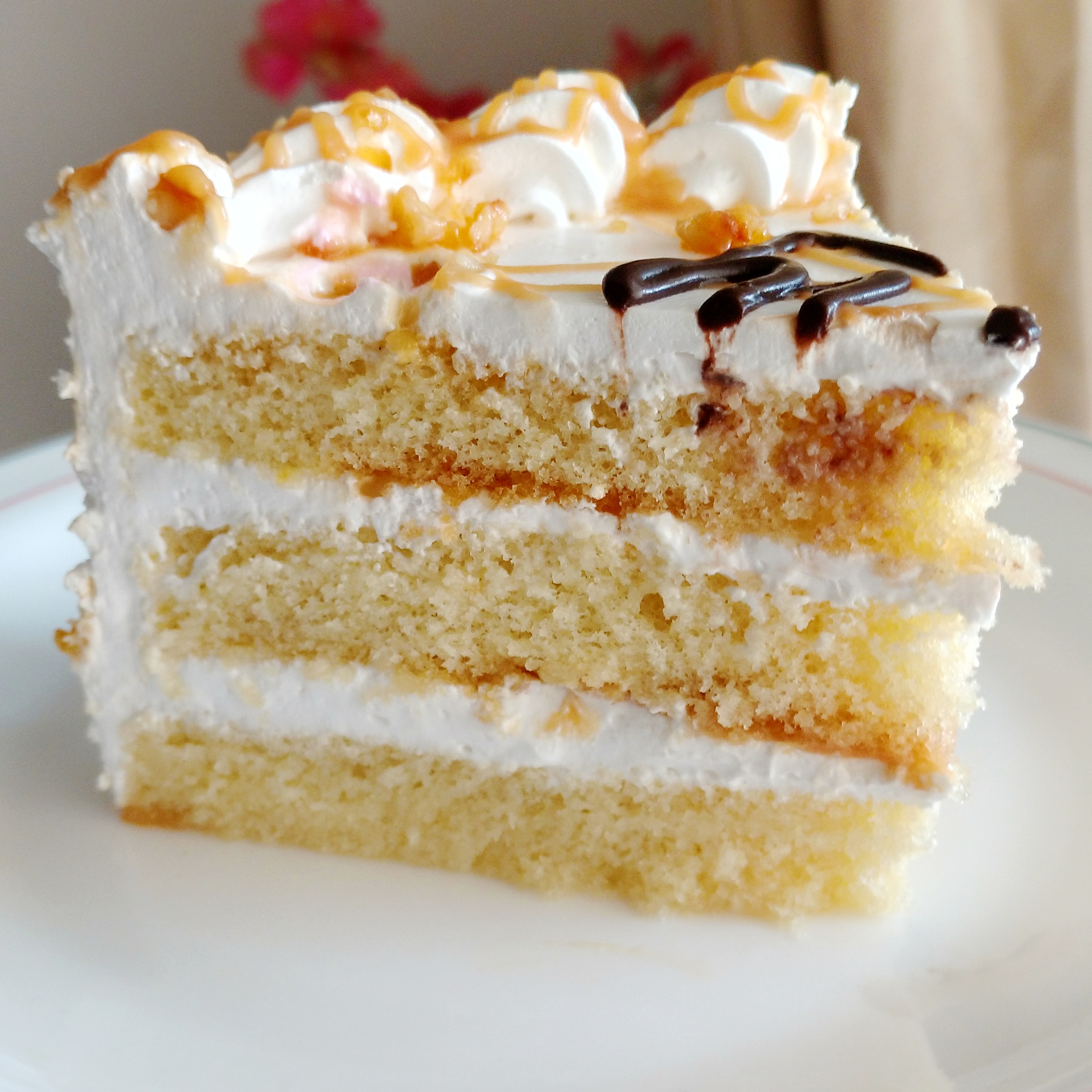 So most of you might know what is called the Butterscotch cake or butterscotch pastry that is one of the traditional Indian bakery favourites (before the era of the red velvets, tiramisu cakes and the likes ) . Most of these "butterscotch" cakes are Vanilla cake with caramelised nuts (praline) and whipped cream. There is rarely a true Butterscotch element to these cakes , that is, nothing that has brown sugar . I have a variant of a butterscotch cake from the earlier days of the blog that has moist buttermilk cake layers with a brown sugar buttercream.
But the cake we are talking about today is reminiscent of the bakery "Butterscotch" cake but i more aptly call it my "praline and cream" cake. Although most people have a bite and say "ooh… butterscotch cake " – and i try not to do a face palm. Anyways, call it whatever you wish- this cake is absolutely impressive despite its simplicity. It has light as cotton vanilla cake layers , soaked in a sugar syrup,and filled with an almond praline , frosted with whipped cream. It is a super simple cake, one that you can make in under two hours . You can use any sponge that you want in the recipe , I do prefer a fatless sponge that really soak up the syrups . You can also use any nuts of your choice to make the praline . Make the cake your own !
Praline and cream cake (the "butterscotch" cake)
2018-03-18 13:14:36
Light sponge cake layers soaked in syrup, filled with an almond praline and frosted with airy whipped cream.
For the cake
4 eggs, at room temperature
1 teaspoon vanilla extract
100 grams or 1/2 cup castor or granulated sugar
125 grams or 1 cup all purpose flour
1 tsp baking powder
For the praline
150 grams or about 1 cup almonds
100 grams or 1/2 cup granulated sugar
1 tablespoon water
For sugar syrup
240 ml or 1 cup water
50 grams or 1/4 cup granulated sugar
1 tsp vanilla extract
For the frosting
240 ml or 1 cup whipping cream ( dairy or non dairy)
2 tablespoons granulated sugar
1 teaspoon vanilla extract
To make the cake
Preheat the oven to 180 C / 350 F.
Butter and flour a 7 inch round pan , line the bottom with parchment.
Separate the eggs .
Whisk together the flour and baking powder in a bowl, keep aside.
Beat the whites using an electric mixer or whisk until stiff peaks form. This takes 2-3 minutes.
Add the yolks little by little while continuing beating.
Once the yolks are incorporated , add the vanilla and then sugar one tablespoon at a time while continuing beating.
Beat for a minute or two after the last of the sugar is added.
Sift in the flour- baking powder mixture on top of the batter.
Using a spatula, gently fold in the flour until you can't see flour anymore .
Immediately pour batter into prepared pan and smooth the top.
Bake at 180 C / 350 F for 25- 32 minutes until the cake springs back when touched and the edges are coming away from the pan sides.
Cool in pan for 10 minutes . Remove and cool completely on wire rack.
To make the praline
Blanch and peel the almonds and dry completely .
Spread the almonds on a parchment sheet .
in a light coloured saucepan , heat sugar and water until sugar melts .
Continue heating until it turns a golden colour (do not stir after sugar dissolves) .
Take off heat and pour over the almonds immediately so that all the almonds are covered.
Let cool to room temperature.
Break into small pieces by hand or food processor or a rolling pin.
To make the soaking syrup
Heat the water with sugar and water in a saucepan on medium heat.
Let the sugar dissolve and water boil.
Simmer on low heat for 5 minutes until syrup thickens.
Remove off heat and stir in the vanilla .
Let cool to room temperature.
To whip the cream
Chill the whipping bowl with the cream and the whisk/ beaters in the freezer for 10 minutes.
Add the sugar and vanilla .
Beat until you get firm peaks. Keep chilled until use.
To assemble
Slice the top crust off the cooled cake (extremely thin layer).
Slice the remaining cake horizontally into three layers using a serrated life.
Place one layer on a cake board / serving plate .
Using a pastry brush or spoon, brush the syrup over top and sides of the layer until moist.
Spread about 1/4 cup whipped cream on top and sprinkle a little less than half of the praline . Make sure the edge is free of praline . You could also pipe a ring whipped cream around the edge (like a dam) and sprinkle praline only inside so that praline doesn't get into the outside frosting .
Place the second layer on top , press gently.
Soak and fill in the same way
Place the third layer on top and soak.
Spread whipped cream on the top and sides of the cake.
Smoothen the whipped cream using a spatula .
Chill the cake for 15 minutes.
Apply another coat of whipped cream or pipe decorations as desired
Notes
This cake can be stored refrigerated for upto 3 days.
You can serve it chilled.
If you are new to slicing cakes, you can go for two layers instead of 3.
Store the praline in an airtight container to prevent it getting sticky.
The whipped cream amount is just enough to do some simple piping. You can whip more cream if you want to do more piping on the cake.
You can use any nuts of your choice for the praline.
FLOURS & FROSTINGS http://floursandfrostings.com/
Cream + sponge + nuts = one fantabulous cake. With three simple components, you get a contrast of textures and flavours. Not great on creativity maybe , not perfect on symmetry maybe, but super high on deliciousness !
Do you have an old school bakery style favourite ? So far, I have made the black forest cake, pineapple pastry , the truffle cake ( vegan version) and litchis n cream cake (eggless) and the butterscotch. Is there any cake that i missed ?
SaveSave
SaveSave