"Childhood is measured out by sounds and smells and sights, before the dark hour of reason grows."- John Betjeman.
Long before the baking bug bit me , and i got fascinated with choux and sponge and ganache, there was one form of French pastry which I was introduced to really early on in life – albeit unknowingly. Me and most Indians I guess. The puff ! Mom and dad used to pick some up from the town bakery for teatime every once in a way. A random childhood memory tells me that when they picked an assortment of puffs , I would rush to pick the triangular one , because that would be a chicken puff, while the rectangular one was a veg puff ( much less appealing to a young me ) and the semicircular shaped one from that particular bakery would be an egg one ( second best choice!) .
Now of course I know that puff is not just an Indian bakery snack but infact a French pastry form called Pate feuillettee. And can be used in a thousand different ways probably . Not only that, I have nailed the puff pastry making ( a proud achievement for me !) and am certifiably obsessed with puff . But ironically enough , i have used the puff for everything from simple palmiers to the fancy galette des rois , from mille feuilles and shortcut croissants and vol au vents to even carrot halwa pies. But i never got around to making THE PUFF !
I wish I could convince more people to make puff pastry. The time and steps involved deter most people from trying it. But the fact of the matter is , that the time involved is mostly resting time and the steps are just repetitive. So , if you plan ahead , you can make it while the rest of the day's work goes on alongside , and you will have delicious homemade puff pastry the next morning ! And since it freezes well, your effort will give you several batches of puffs ( or other sweet and savoury pastries if you wish!).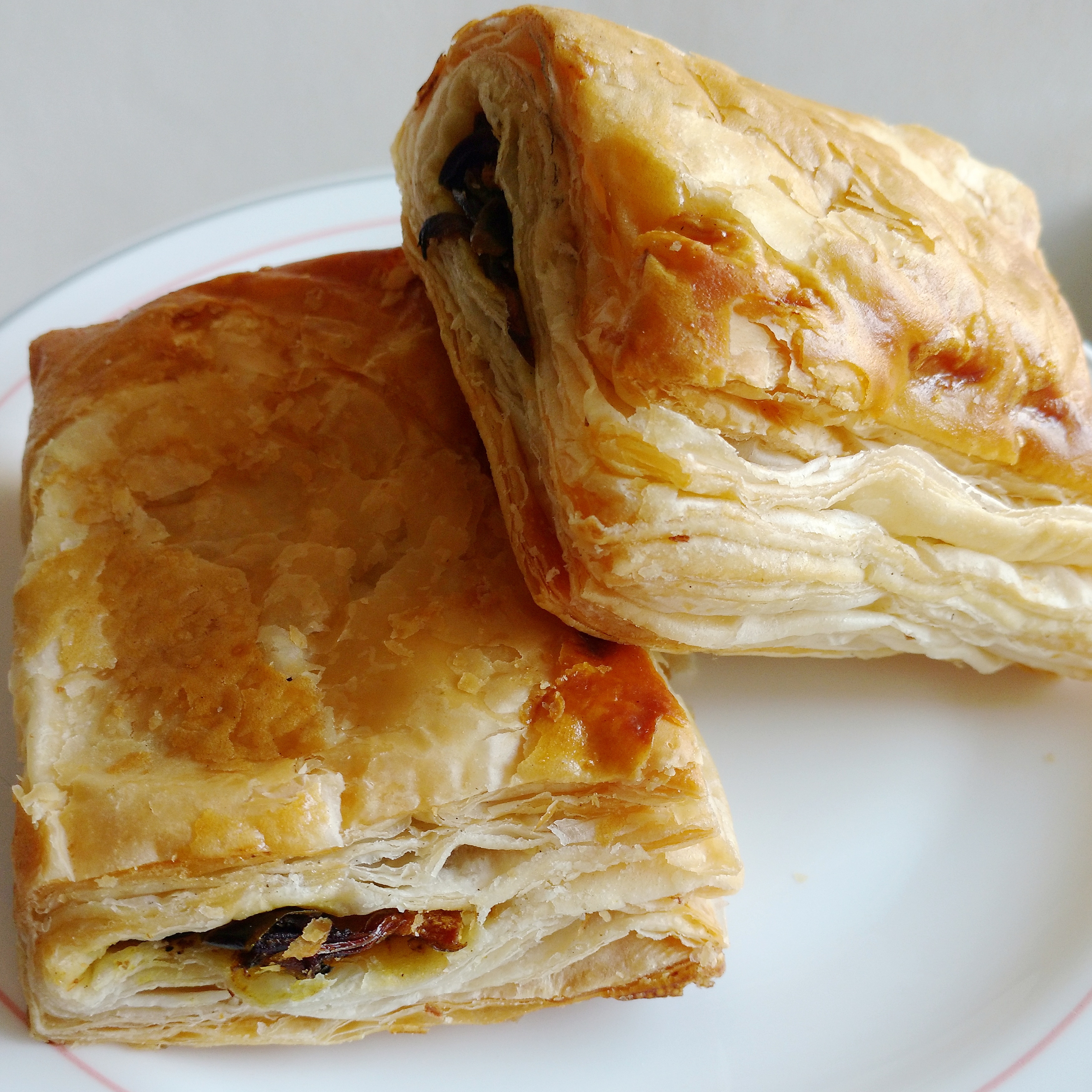 Adult me also knows that bakery puffs aren't very good for you as the dough is laminated (layered ) with shortening.Although if you ask me , the loads of butter that goes into homemade puff pastry dough doesn't exactly make it health food. But of course , its a much more safe devil . and tastier of course. Much much tastier.
You might think why go through all the effort to make puff pastry , then make puffs , when you can go to a bakery and just pick them up for a fraction of the time. I wouldn't blame you for thinking so. Its just that " Homemade is homemade " and if you believe in that philosophy , you can read ahead 🙂 .
The recipe for the puff pastry you can find in detail in this earlier post . You can also choose to do a 15 minute puff if you like , which when made well, gives you quite a bit of flakiness if not as many layers. You can just as easily do a egg or a chicken puff. I chose to do a vegetarian filling to make it more universal – and because i now am more fond of vegetarian choices in food! .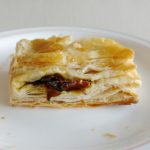 Veg Puff
2018-03-05 14:24:49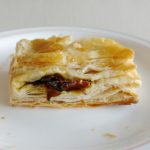 Buttery and flaky homemade veg puff!
Ingredients
250 grams puff pastry (store bought or homemade)
For the filling
2 tablespoons oil
2 onions, thinly sliced
2 tomatoes , finely chopped
50 grams or 1/2 cup finely chopped green beans
50 grams or 2-3 finely chopped carrots
2 medium potatoes , boiled and mashed
1/2 tsp ginger garlic paste
1/4 tsp turmeric powder
1/2 tsp coriander powder
1/2 tsp red chilli powder
1/4 tsp cumin powder
salt to taste
2 tablespoons milk ( for was)
To prepare the filling
Heat the oil in a wok or pan on medium heat.
Saute the sliced onions until golden brown.
Add the ginger garlic paste and sauce for 2-3 minutes until the raw smell disappears.
Add the chopped tomatoes, carrots and beans . Mix and cook until soft.
Add the mashed potatoes, mix well.
Add all the spice powders and salt , mix well
Saute for 3-4 minutes more.
Cool the filling.
To make the puffs
Thaw the pastry if frozen.
Preheat oven to 240 C .
Roll out the puff pastry to about 1/2 inch thick.
Using a sharp knife or pastry cutter, cut the pastry into rectangles of roughly 3 x 4 inch size.
Place a heaped tablespoonful of filling on one half of each rectangle and fold the remaining half on top along the longer side of the rectangle (like closing a book).
Press down on the edges on the three open sides to seal. You can also use a fork to crimp the edges.
Repeat with all the rectangles of pastry.
Place on a parchment lined or greased baking sheet , with 2 inches gap between them.
Using a pastry brush or spoon, brush milk on top of all the puffs.
Bake at 240 C for 20 minutes , and then lower the temperature to 180 C and bake for 15 - 20 minutes until they are puffed up and top is golden brown.
Serve warm.
Notes
This recipe makes about 10 puffs , but you can make them any size you want.
You can customise the filling to your taste with vegetables of your choice (like beetroot , capsicum , peas etc) and adjust spice levels too.
You don't have to be accurate about weight of puff pastry . Just roll whatever pastry you have to 1/4 to 1/2 inch thick and cut into the size you want.
if you using the puff pastry recipe from the blog, then you will need only half the puff pastry for this amount of filling.
FLOURS & FROSTINGS http://floursandfrostings.com/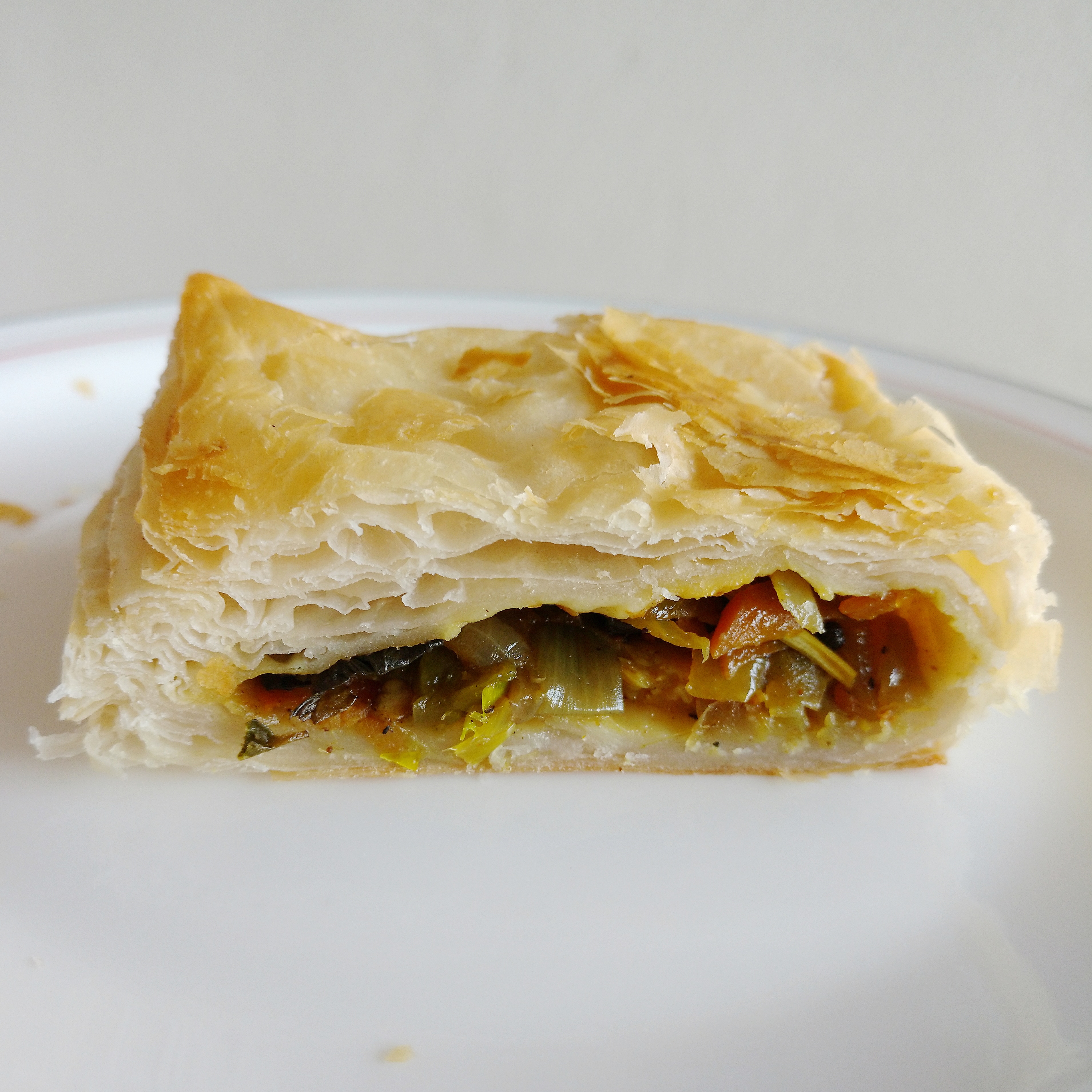 Look at those layers . I hope they entice you enough to try puff pastry !
You know, atleast the realisation of the bakery puff struck me earlier on- I only realised that the Khari is also puff pastry just a few months back! Go figure….
SaveSave
SaveSave
SaveSave
SaveSave