"My point is, life is about balance. The good and the bad. The highs and the lows. The pina and the colada."- Ellen Degeneres .
Yup… I know. Too long between posts. Too much happening, life s changing – I am still trying to keep up with it.
And it took the third anniversary of the blog for me to finally get back to blogging ! I am only a part time hobby blogger so it makes me so happy to see how well it has done with so little effort on my part! Thanks for all the love !!!
I am all the more excited because I have a great cake today for celebrating . Have wanted to make a pina colada cake since long and finally got a chance.
So Pina colada is a cocktail that has pineapple, coconut and rum. Now, if you browse through the blog, you will know I love baking with coconut. And pineapple makes an occasional appearance on here too. But I was making this for a group of teetotallers and not-so-teetotallers, so I skipped the rum.
So I guess it's a virgin Pina colada cake.
The cake is my trusty old coconut cake recipe which is a classic butter cake and is fluffy and flavoursome with fresh coconut. I baked it in a 6 inch pan and sliced it into three. But you can bake double the recipe in two 7 or 8 inch pans if you wish. This cake is good enough to have on its own but is amazing in layer cakes as well.
The filling is a bright and just sweet enough pineapple curd that I made with fresh pineapple (i use too much curd!). I frosted the cake with a coconut version of yet another favourite – the Swiss meringue buttercream. The coconut flavour comes from some coconut milk added in but if you have any coconut extract, add that in for an extra boost of coconutiness.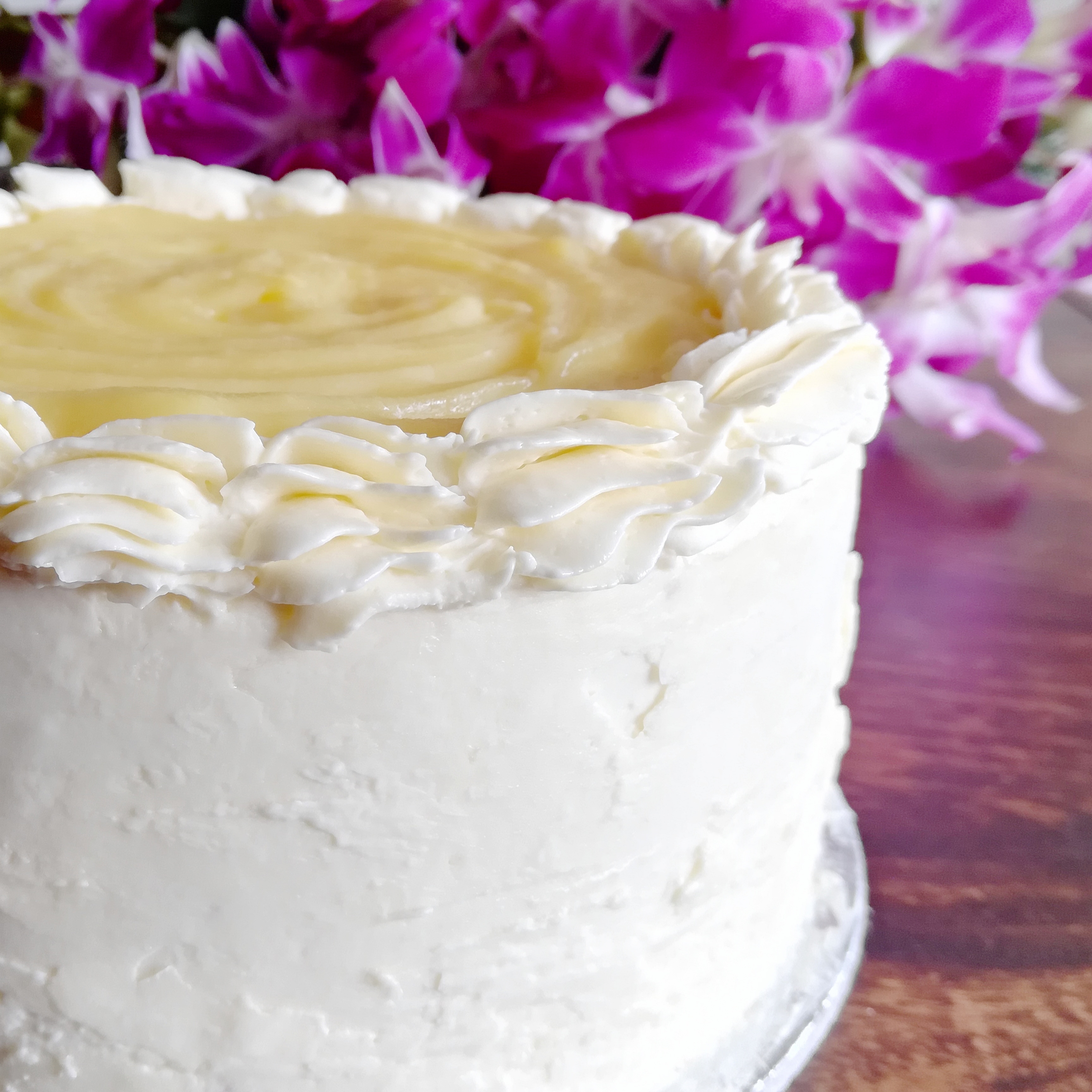 I realised somewhere when I was assembling the cake that this cake has a hell lot of butter! There is butter in the cake, in the frosting, butter in the filling. It's not exactly health food. But then again it's not meant to be. It's not meant to be Wednesday night dinner. It's supposed to be made for a celebration or a birthday or a reunion or a party (or a blog anniversary!). If you do end up making it on Wednesday night, have a slice and share the rest. If you don't share and have it all, go for a long run on Thursday morning ( and maybe Friday and Saturday too!!)
So ready for this utterly butterly delicious cake?
Pinacolada cake (Coconut and Pineapple Cake)
2018-08-06 17:49:13
Cococnut cake filled with pineapple curd and frosted with coconut swiss meringue buttercream
For the coconut cake
155 grams or 1 1/4 cup all purpose flour
200 grams or 1 cup granulated sugar
113 grams or 1/2 cup unsalted butter , at room temperature
2 eggs , at room temperature
1/2 tsp vanilla extract or essence
120 ml or 1/2 cup milk , at room temperature
3/4 cup shredded unsweetened coconut
1/2 tsp baking powder
1/4 tsp salt
For the pineapple curd
120 ml or 1/2 cup fresh pineapple juice (from 1 cup chopped pineapple)
75 grams or 1/3 cup caster sugar
3 egg yolks
100 grams or little less than 1/2 cup unsalted butter
1 tablespoon cornflour
For the coconut swiss meringue buttercream
3 egg whites
150 grams or 3/4 cup granulated sugar
170 grams or 3/4 cup unsalted butter, at room temperature
80 ml or 1/3 cup coconut milk
1 teaspoon vanilla or coconut extract
To make the cake
Line a 6 inch round cake pan with parchment (bottom and sides) or grease with butter and flour well. Preheat oven to 160 C or 325 F.
Whisk together the flour, salt and baking powder. Keep aside.
Beat or cream the butter for 3-5 minutes in a medium sized mixing bowl. Add the sugar and beat for another 3-5 minutes until light and fluffy.
Add the eggs one by one and beat each time until well incorporated. Scrape bowl as needed.
Add the vanilla and beat well.
Add 1/3rd of the flour mixture and beat at slow speed until combined.
Add half of the milk and mix . Now repeat with the second 1/3rd of the flour - remaining half of milk - last 1/3rd of flour mixture , beating well after each addition. Scrape the bowl well.
Add the coconut and mix until well combined.
Pour batter into the prepared pan and smooth the top. Bake at 180 c/ 350 F for 55-60 minutes.
The cake is done when the top springs back when touched , the sides come away and a toothpick inserted in the centre comes out clean. Cool in the pan for five mins and on a wire rack until completely cool.
To make the curd
In a saucepan . heat together juice, sugar, yolks and butter over medium heat until sugar is dissolved.
Add cornflour and continue heating while stirring, until mixture thickens.
If you dip a spoon in and run your finger across the back of it , it should leave a clean path in the curd.
Take off heat , let cool and chill for a couple of hours until set.
For the buttercream
Chop the butter into small cubes and keep aside .
Take the eggwhites and sugar in a metal or glass bowl.
Place this bowl over a saucepan with some water - the bottom of the bowl should fit into the saucepan but not touch the water.
Heat the saucepan over low heat while stirring the egg white and sugar mixture with a whisk.
Continue until all the sugar is dissolved - if you rub the mixture between your fingers , there should be no grittiness.
Take the bowl off the saucepan and beat the mixture using an electric mixer until it is white , glossy and has soft peaks . The outside of the bowl should be cool by now.
Add the butter cube by cube and continue beating between additions.
When all the butter is added , keep beating until you get fluffy buttercream consistency.
Add the coconut milk and extract and mix in well.
To assemble the cake
Slice cooled cake into three slices horizontally using a serrated knife.
Place one slice over cake board or serving plate.
Pipe a ring of buttercream over the outside edge. This acts as a dam so the curd doesnt leak out.
Spread about 1/4 cup curd within this ring using a spatula, spoon or piping bag.
Place second layer of cake on top, press gently.
Dam and fill , place the last layer and press gently.
Place about 1/2 cup of buttercream on top and using a spatula , spread on the top and sides as evenly as possible . This is the crumb coat.
Chill for 2o minutes.
Now , you can either use a spatula for smoothening the sides if you want a simple naked cake look or you can spread more buttercream on the top and sides .
You can spread the remaining curd on top and pipe buttercream around it to decorate
Notes
This cake is best eaten the day it was made or the day after but can be refrigerated for upto 4 days.
Always get to room temperature before serving.
Since this is a butter based cake,it will harden in the fridge to a certain extent. It softens once it comes to room temperature. If you are serving the same day , keep unrefrigerated .
You can make both the curd and the buttercream upto three days beforehand. Get to room temperature before using. You may need to beat the buttercream for a minute or two if still hard.
During any step of the buttercream making, if the mixture seems too loose, chill for 15 minutes and continue.
You can add a tablespoon of rum in the curd or the buttercream to give a more authentic pina colada flavour combination.
FLOURS & FROSTINGS http://floursandfrostings.com/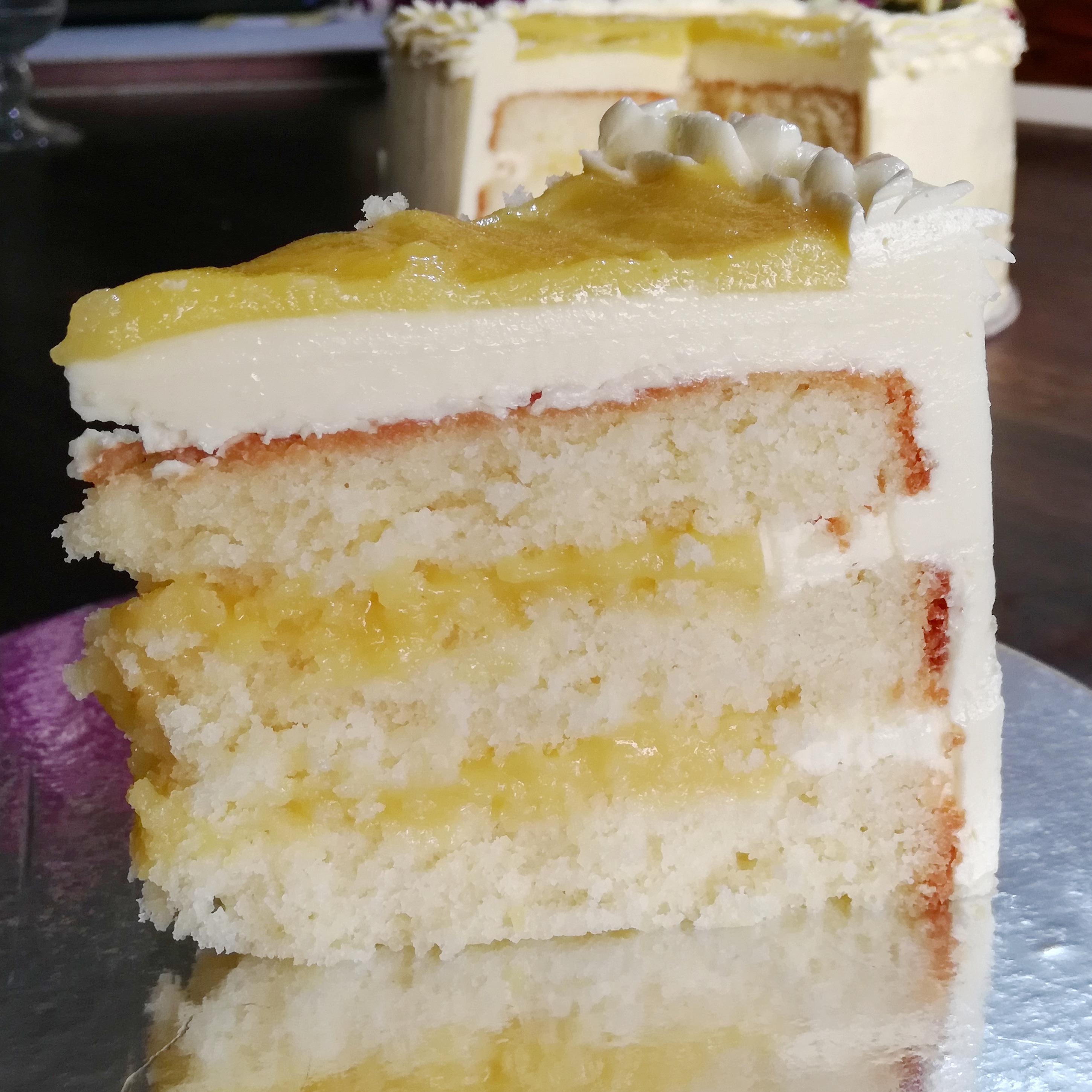 The cake was a runaway hit. Do not expect a super moist, soaked type cake. This cake is fluffy and the curd is smooth and rich. The buttercream is uber buttery and super coconutty.
So if you cant get enough of your favourite mock tail , u can slurp up some cake too!
If you like coconut , you might also like :
Caramelised banana and coconut cake
White chocolate and coconut truffles