"A milestone is less date and more definition."- Michael Lopp.
This is the 200th time I am doing this !
For a person who changes her mind about things as often as she flips channels on the television , and who has the concentration span of a 5 year old ,200 posts is no small feat. I am surprised I have stuck to blogging for this long ! Which is exactly what I felt when I shared my 100th post .
And another thing you should know about me is that I would never let any milestone (big or small) pass without a) getting a little mushy and b) some cake !
Fair warning : To escape the mush, skip a paragraph !
For me, the best gratification from blogging will always be the wonderful people I have connected with over the last 200 posts.. the people who were once faceless encouraging comments and who have become good friends now. The ones who trust me to suggest their kids birthday cake flavours. The ones who inquire about my health when I take a while between posts (the "while" is usually due to laziness than ill health!). The ones who read every post . The ones who always have something sweet to say .The ones who are nice enough to let me know when my recipes turn out less than what I promise (always pushes me !). The ones who share the pictures of their cake just out of the oven. The ones who call me on messenger because they have a doubt while making those cookies. The ones who tell me they fell in love with baking after Flours and Frostings – I know I had little to do with it , but it still is a tremendous high that you would be nice enough to say so !
So THANK YOU ! For all that and more. This post and this cake is for you .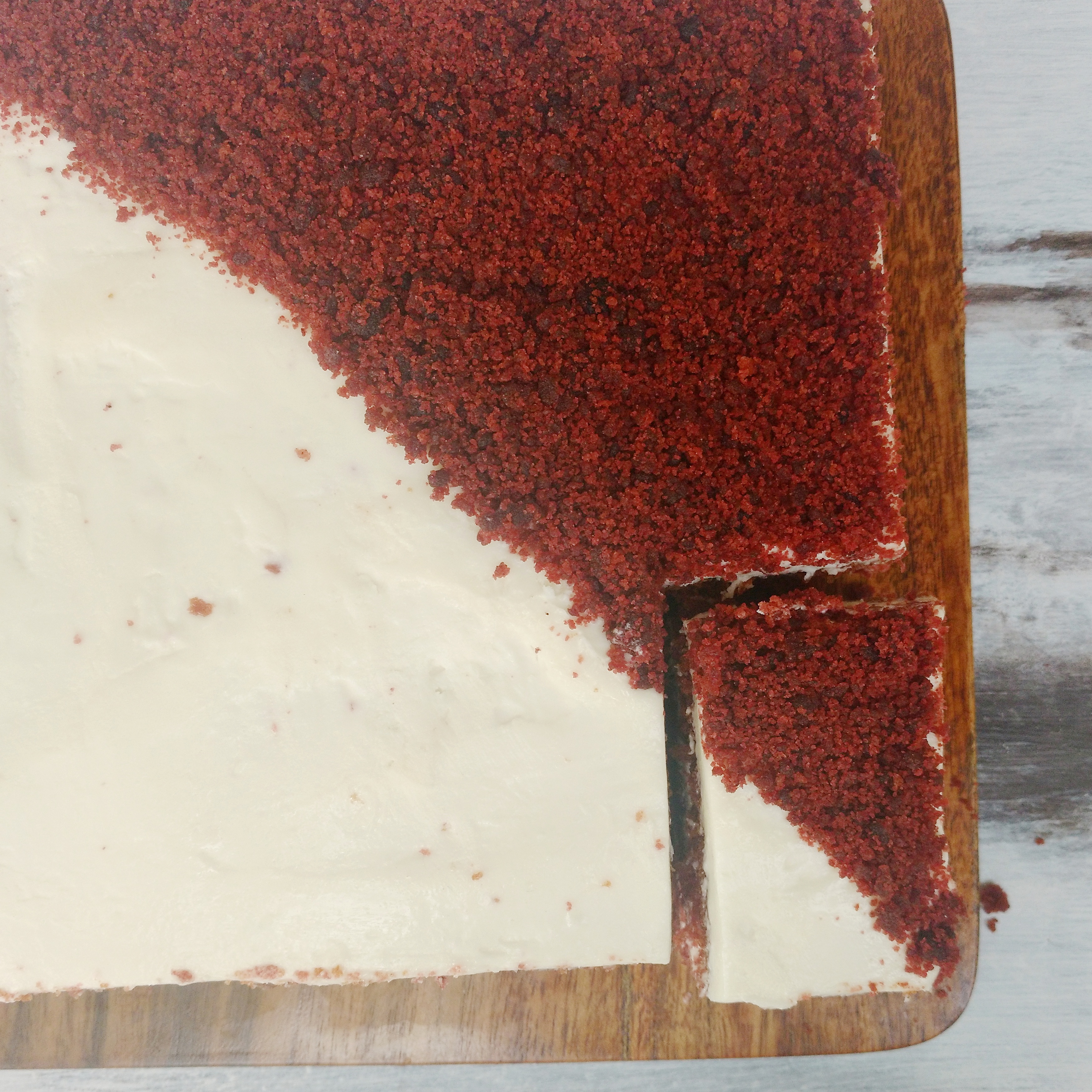 Done with the mush, on with the cake. This is a recipe I have shared before and I thought of sharing it again – It was the first cake I had made with the intention of sharing on the blog. And it was the first post which got me some decent viewership and recognition. It is also the cake I make most often , because my friends simply love anything and everything red velvet. And it just happens to be one of the most popular recipes on my blog even today.
I have never tried a red velvet recipe I have liked more than Gretchen 's . Its really really delicious and so so simple. What I particularly like about it , is that it isnt too sweet. So it can handle all the cream cheese and icing sugar you lather on there.
I know I overdid it with the icing a little bit but I aint sorry ! . I used different proportions to the cream cheese frosting than I usually do and I must say I quite like this version. If you don't have cream cheese or would rather not use it , you can try the flour frosting which goes really well with red velvet.. or maybe you fancy some white chocolate with it !?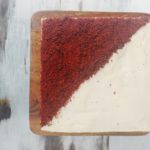 Red velvet layer cake
2017-07-19 12:36:46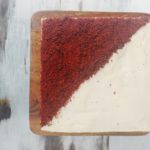 Moist , delicious red velvet cake with some beautiful cream cheese frosting !
For the cake
312 grams or 2 1/2 cups all purpose flour
1 tsp baking soda
24 grams or 2 tablespoons cocoa powder
1 tsp salt
300 grams or 1 1/2 cups granulated sugar
240 ml or 1 cup buttermilk, at room temperature
2 eggs , at room temperature
180 ml or 3/4 cup vegetable oil
1 tsp vanilla extract
1 tsp vinegar
1 tsp or few drops red gel food colouring
For the cream cheese frosting
200 grams or about 1 cup cream cheese
350 grams or 3 1/2 cups icing sugar
50 grams or about 1/4 cup unsalted butter
1 tsp vanilla extract
To make the cake
Preheat your oven to 160 C / 325 F. Butter and flour a 8 inch square pan , cover the bottom with parchment paper.
In a bowl, whisk together the flour, soda , salt and cocoa. Keep aside.
In another bowl , whisk together the sugar , eggs , oil , buttermilk and vanilla.
Add to the liquid mixture , the vinegar and food colour.
Whisk in the liquid mixture into the dry ingredients until smooth.
Pour batter into the prepared pan and bake for 45- 48 minutes until the cake springs back when touched or a toothpick inserted in the centre comes out clean.
Cool in pan for 10 minutes and unmould to cool completely before slicing.
To make the cream cheese frosting
Melt the butter and let come to room temperature.
In a large bowl , sift the sugar .
Beat the sugar with the cream cheese and vanilla until smooth.
Continue beating while adding the butter little by little.
Beat until desired consistency.
To assemble
Level or cut off any dome off the cake with a serrated knife. Save the scraps for decoration if you wish.
Slice the cake into two or three layers.
Spread about half a cup or less of frosting on one layer , top with another , press gently and continue with all layers.
Notes
You can bake this recipe in two 8 inch pans (for 32-35 minutes at 180 c) or two 7 inch pans (for 35 - 38 minutes at 180 C) or make 18 cupcakes . You can also half the recipe and bake accordingly.
I used 4 drops of Americolor red red gel food colouring.
You can make your own buttermilk by adding one tablespoon vinegar to a scant one cup milk and let it stand for 5 minutes before using. You can also use 1/2 cup curd and 1/2 cup water for one cup buttermilk.
You can try using less sugar for the icing , but I find atleast 3 cups needed for a good consistency.
Keep this cake refrigerated once assembled , and bring to room temperature before serving. It stays good for 2-3 days .
FLOURS & FROSTINGS http://floursandfrostings.com/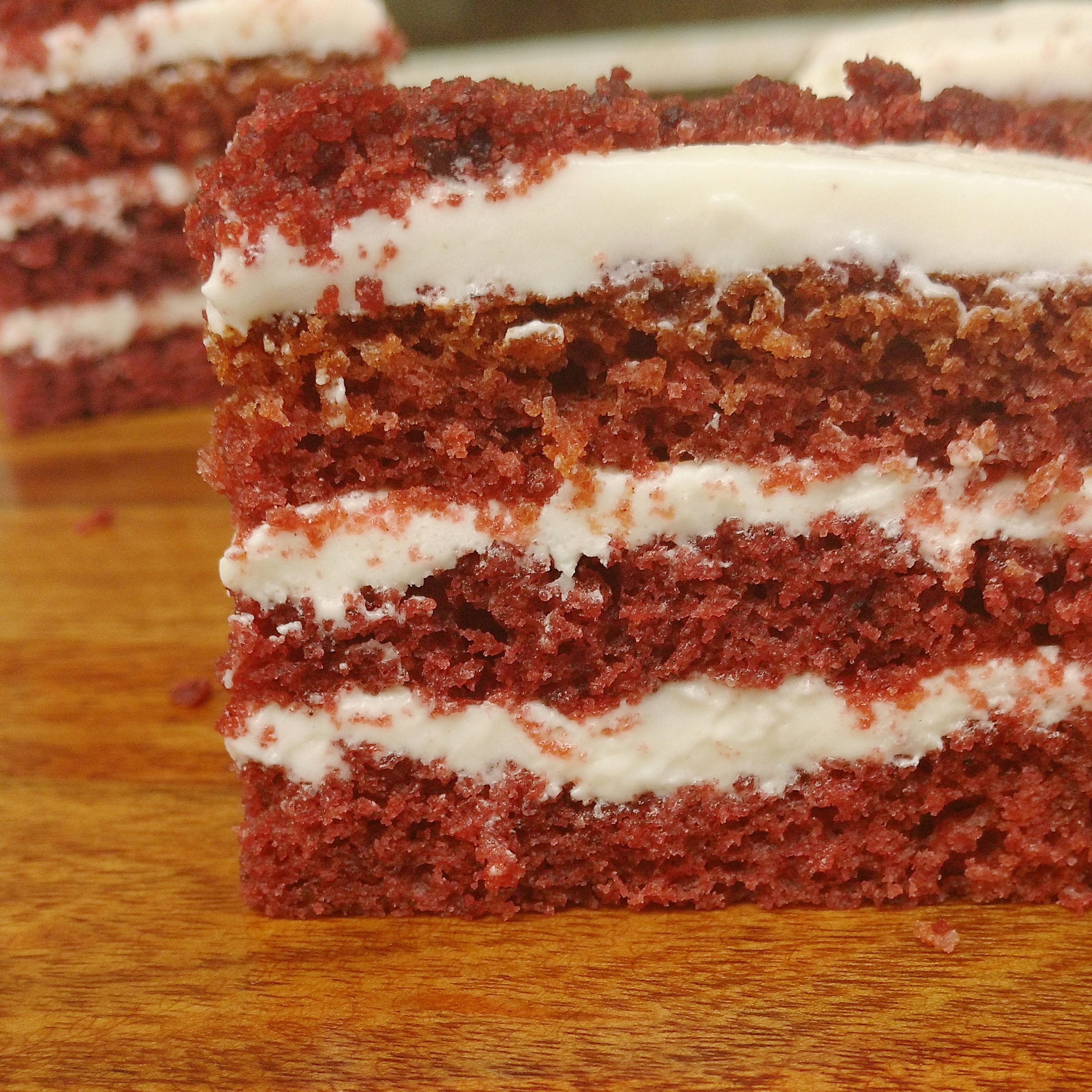 Does that look like a slice of celebration to you ? Sure does to me ! Oh, if you prefer cake without eggs, I have a mean recipe for an eggless red velvet… totally reader loved and approved !
Once again, thank you for being part of Flour and Frostings .If this is your first visit here, hope you find something that will keep you coming back.
Do write in to let me know what you like on the blog, what you don't , and what you might like to see. And do show some love( only if you want to!) by liking my Fb page or following me on Instagram.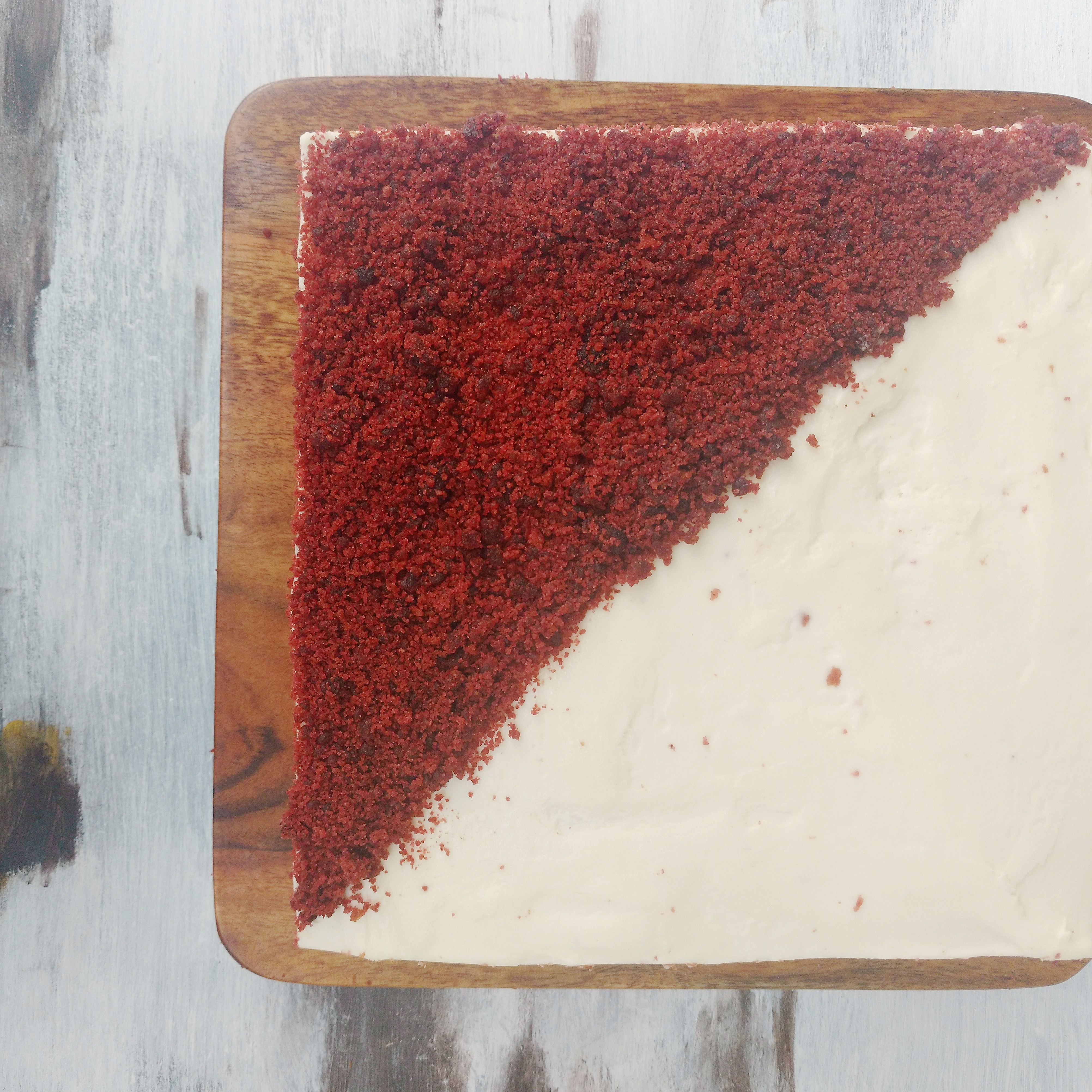 Affiliate links : Just so you know, I have baked this cake in my trusty Morphy Richards 52 Litre Oven
. I have also used Americolor Gel Color and
D'lecta Creme Cheese
.
Happy baking !